In February 2018, Maynard James Keenan tweeted: "Started getting music files from the boys w the word FINAL in the title a few months ago after 11 years of begging."
The "boys" in question were the Tool vocalist's bandmates – guitarist Adam Jones, bassist Justin Chancellor and drummer Danny Carey – who for years had been methodically working on the follow-up to the quartet's 2006 album, 10,000 Days.
It wasn't the first occasion Keenan had aired his frustration with the amount of time the process was taking. In an interview on the Joe Rogan Experience podcast in 2017, he admitted he was "always butting heads with the guys in the band to get things done, it's just not their process".
Speaking from his home in Arizona just weeks before the release of Tool's long-awaited new LP, Fear Inoculum, he admits to wondering at times whether he'd ever receive those completed music files, on top of which he could finally start locking in his lyrics and vocal melodies.
Ask him if he feared the songs would never be completed, and in typically succinct fashion he says, "Correct".
Turns out he wasn't the only one. Calling from his home on the outskirts of Los Angeles, bassist Justin Chancellor concedes he too had concerns over whether the band – which formed in LA in 1990 – would produce a successor to 10,000 Days.
Check out 'Vicarious' by Tool:
"Absolutely. I would say it was never a real threat, but more out of frustration. There were some dead ends we went down, and I'm talking working on stuff for a year or two, and then getting really frustrated – whether it's one person wants [the song] to go one way or another, or just differences of opinions about the vibe of it, the specifics of it.
"We had those moments where we really had to step back and take a break from each other and then seriously wonder whether we were ever going to get through it.
"But somehow we really know how rare and perfect our situation is," he adds. "We really respect it. We know we're not just going to step out and step into something else of similarity.
"So I think everybody really values what we have, and will always come back to that place and give it another go and really try and keep it together."
Keenan admits his comments were designed to provoke a reaction from his bandmates. "It was my attempt to get them to push back. To go, 'Fuck you, we're going to get more done.' Bummer! [Laughs] 'Oh no, you retaliated by finishing a song to prove me wrong.' It didn't really work. I tried."
Check out 'Sober' by Tool:
While Danny Carey points to some of the band's earlier output as having been written as a collective in one afternoon – songs such as 'Sober' and 'Crawl Away' from their 1993 debut full-length Undertow – he estimates that Tool's songwriting process changed while penning their second album, 1996's Ænima.
It was then that he, Chancellor and Jones started engaging in lengthy jam sessions, after which the music would be presented to Keenan for his vocals. It seems the frustration around the writing process for Fear Inoculum wasn't limited solely to the singer.
"Adam's probably the one who wants to try every little thing more and more, or maybe doesn't quite trust himself right away," offers Carey from Maui, where he's holidaying with his family.
"Maynard's at the opposite end, he doesn't even want to work on anything. There's the flash of inspiration, he commits, and he considers it finished. Both of those guys drive me nuts! Can't we just do something in the middle here?
"We all have our own views on it, but that's just what makes the band what it is. Putting up with each other, making sacrifices for each other, it leads to the great payoff in the end."
Check out Tool's 'Schism':
That payoff is Fear Inoculum. Produced by Joe Barresi, with whom the band worked on 10,000 Days, it's arguably Tool's most ambitious album to date.
A staggeringly intricate collection of songs which stretch between 10 and 16 minutes in length, it also features four brief interludes, with the members contributing one each. (All will be available on the LP's digital release, but only Carey's 'Chocolate Chip Trip' will make the physical CD due to restrictions on the length of the format.)
At points sombre, angry, ethereal and crushingly heavy, Fear Inoculum is always very distinctly Tool.
"I think people are going to like it because it's definitely an alternative to anything that's available from anybody else on the planet," says Carey.
According to the drummer it wasn't until around 2014 that they really knuckled down to work on Fear Inoculum in earnest. Chancellor points to the fact that the band would tour each year – sometimes for a week, other times for a month – as slowing progress to that point, while legal issues involving the group and their former insurance company also contributed.
Ultimately, though, it seems like writing a Tool song is simply a long, drawn out process.
"We've always been a band, we've always been four parts and looked at it that way," says Adam Jones from his home in Los Angeles. "And there's a lot of discipline and honour in our band, and part of that discipline and honour of collaborating is letting the other person be who they are and approach music the way they want to.
"It's not like, fuck everything, the four of us are going in a room. It's more, this person takes a little longer, or this person has to work like this or in this area or these kinds of conditions. So that's the biggest thing, and that's to me the payoff.
"When it's done it's rewarding, there's a sense of satisfaction, a sense of self. But it's a gruelling, painful, cursed process where you go, 'This sucks!' But as soon as you're done you go, 'Let's do another one!'"
Check out 'Stinkfist' by Tool:
Chancellor estimates the tracking took around nine or 10 months, with drums laid down in Hollywood's Henson Recording Studios (formerly A&M Studios, one-time home to artists such as Carole King and the location of the 'We Are The World' all-star charity recording) and guitars and bass in LA's Universal Recording Studios.
Due to his extracurricular career as a winemaker, Keenan was forced to multi-task while recording his vocals in his home studio after Barresi and engineer Matt Mitchell travelled to his property in Arizona.
"It was during [wine] harvest," he explains. "I would spend time on the forklift, do some inoculating, do some wild ferments, whatever we were doing in the cellar while [Barresi and Mitchell] gathered things together.
"Then I would come in and do about an hour of vocals, two hours of vocals, and then they'd take a beat to organise it and comp [the takes] and figure out some of the better takes.
"Then [we'd] listen back and go, 'I can beat that, let's beat that.' Meanwhile I'm in the cellar working on the wines. That's just logistically what it had to be. I didn't have the luxury of time. So I made time."
Throughout Fear Inoculum's lengthy gestation, Carey says the goal never changed. "Being honest with ourselves and being honest to the songs we've written, that place where we meet together, that's the goal," he says.
"We just get together and jam and whatever happens is what happens. It's a real organic process and we don't try to force it. Maybe that's why it partly takes so long, which is a bit of a drag for the fans. But it's the way we've always done it, so we don't really have much of a choice about it."
Tool's Fear Inocolum is set to be released on August 30th. Pre-orders for the record are available now. 
Check out 'Fear Inoculum' by Tool: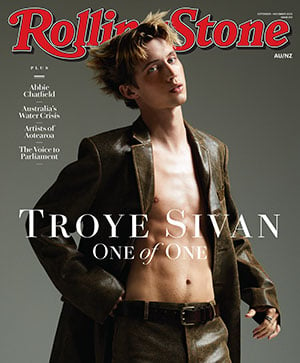 Get unlimited access to the coverage that shapes our culture.
Subscribe
to
Rolling Stone magazine
Subscribe
to
Rolling Stone magazine