For a band that has toured Australia as often as they have, you could very easily be forgiven for thinking that The Wombats are almost as prolific as acts such as King Gizzard And The Lizard Wizard. While this is not the case, the Englishmen have today announced the release of their fourth studio album, and have dropped a new single in anticipation.
Back in January, the group spoke to triple j's Ben & Liam ahead of their appearance on the Groovin' The Moo lineup, during which time guitarist Matthew 'Murph' Murphy said the band should have new music by the time they hit Aussie shores.
"I've been working out here in L.A. on new stuff and gonna go see Dan (Haggis) and Tord (Øverland Knudsen) in two weeks in Oslo to work on even more stuff," he said.
"There's lots of songs in the works and there's going to be more once we get to Oslo," Murph said. "[…] It'll be the back-end of the summer – if not the album then a single."
Of course, that deadline that they had initially promised has come and gone, but today we've finally seen the fruits of their labour, as they've announced they're set to drop their fourth record, Beautiful People Will Ruin Your Life, on February 9th.
Murphy says that the band's new single, 'Lemon To A Knife Fight', "came around after my wife and I had a huge argument on Mulholland Drive."
"I'd been watching tons of David Lynch too, the song just kind of fell out of me," he continued.
"I wanted to make an album that had more swagger, was a bit more laid back, something that wasn't punching you in the face every time you listen to it," Murph stated. "On every level, musically and interpersonally, we're much closer."
"The last album was about me meeting someone and my life going upside down in Los Angeles, partying too hard and getting myself in trouble. This album is about me battling against that, trying to live an adult life. And failing."
Check out The Wombats' 'Lemon To A Knife Fight':
The Wombats' Beautiful People Will Ruin Your Life Track List:
1. 'Cheetah Tongue'
2. 'Lemon To A Knife Fight'
3. 'Turn'
4. 'Black Flamingo'
5. 'White Eyes'
6. 'Lethal Combination'
7. 'Out Of My Head'
8. 'I Only Wear Black'
9. 'Ice Cream'
10. 'Dip You In Honey'
11. 'I Don't Know Why I Like You But I Do'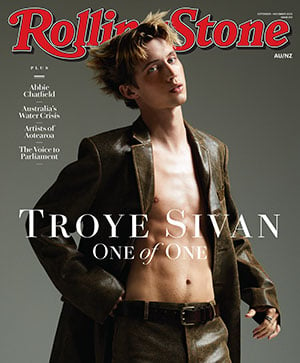 Get unlimited access to the coverage that shapes our culture.
Subscribe
to
Rolling Stone magazine
Subscribe
to
Rolling Stone magazine