It's been a cracker of a year so far for fans of music in 2018. A lot of it has been released, and a lot of that released music has been great. However the beautiful thing about it being only the start of July is that there's just under half a year for more good music to be released!
Of course there's every chance that 2019 will be as good as 2018 has been so far, but there's also every chance all the albums on this list could be total garbage. Either way I've written a list of exciting albums that are either due out soon or expected to be released before the year ends.
N.B. Not all of these albums have confirmed release dates, but are expected before the end of 2018.
Wet – Still Run – July 13
It's been a while since Wet released their debut album full of songs that pulled at our heartstrings in a way not much music can. This year they've been steadily releasing tracks and finally this Friday we get to hear their second offering in full.
Whilst "Softens" is especially as emotional as a lot of their previous work, the production on all the songs released so far feels stronger and more put together. With layers of strings and even a bouncing horn section on "You're Not Wrong", this album is already shaping up to be bigger, and maybe a little bit happier than the groups raw debut.
The Internet – Hive Mind – July 20
It's been a while since The Internet released their incredible debut album Ego Death, since then they've toured here three times (most recently for Laneway Festival 2018), because apparently they can't get enough of Australian crowds. A bunch of them have also released solo albums, because overachieving is cool. Now their new album is due out in just over a week so chances are it won't be too long until we see them on our shores again soon.
Tash Sultana – Flow State – August 31
It's taken a while for Australia's looping prodigy to get her debut album out, but on August 31st you'll be able to hear Tash's full length debut. The worldwide sensation has sold out tours and played festivals around the world over the past few years, and shows no signs of slowing down with this release ahead.
Troye Sivan – Bloom – August 31st
Another Aussie icon! Troye Sivan announced his album release date in style; by getting Taylor Swift to do it with him on stage at her show. Still a few weeks away, the first few songs we've heard so far are great. We're still trying to wrap our head around how incredible the video for the title track is, the fact he got Ariana Grande on a song, and #BopsAboutBottoming.
Christine and the Queens – Chris – September 12
The new album from the French pop artist promises to be something incredibly special. Following the incredible success behind her debut Chaleur Humaine, Christine – real name Héloïse Letissier – was thrown into the spotlight. Her performances have wowed audiences around the world, and now she's back to do it all again.
The new album explores gender identity and relationships between the genders. The two tracks already released are both an exciting step up from the first record, we can't wait for more.
Grimes -TBC
Since Grimes released her experimental pop masterpiece Art Angels she has been struggling with her label. However, she has confirmed that new music is indeed on the way. An Apple ad recently surfaced featuring the artist and backed by a new demo.
She's also been teasing tracks on Twitter, but there's no confirmed dates for anything.
Sky ferreira – Masochism – TBC
Just like her first album, Sky Ferreira's second full length has hit many road bumps along the way. Originally slated for a 2016 release, Ferreira has been keeping fans updated on the delays behind Masochism. With two singles nearly ready, we hope that we'll have the full album by the end of the year.
Robyn – TBC
We have been waiting too damn long for a new Robyn record. Yes there was the great "Do It Again" EP with Röyksopp, but we want a full on Robyn album. It's coming up on 8 years since the Swedish pop goddess released the instant classic album "Body Talk" and fans are getting antsy.
So far all we know is the album is due out by the end of 2018, and she recently played a new track called "Honey" at a surprise visit to a Robyn themed party and even though the quality isn't great it does sound amazing.
The 1975 – A Brief Inquiry Into Online Relationships – TBC
The 1975 are great at messing with their fans and brewing excitement. For two years now they've been teasing fans about "Music For Cars" – what was assumed to be the new album. The band's third EP was also named Music For Cars. Now with the lead single being released, they have confirmed that Music For Cars is an era of new music.
On top of this they announced that it will contain two albums, ABIIOR being the first is expected in October. The second album is titled Notes On A Conditional Form and is expected in May 2019. What a time to be alive!
Vampire Weekend – Mitsubishi Macchiato – TBC
It's been 5 years since Vampire Weekend released their third album, the incredible Modern Vampires of the City and everyone has been waiting patiently since. After founding member Rostam Batmanglij left in 2016, fans assumed there might be a bit of a wait. Since then Ezra Koenig has stated that the album was 80% done last year, but we're still waiting on any news and dates.
In their recent return to live performance over two nights in Ojai, California, the band performed a new song "Flower Moon". The trio are also coming to our shores next week for an exclusive headline slot at Splendour In The Grass!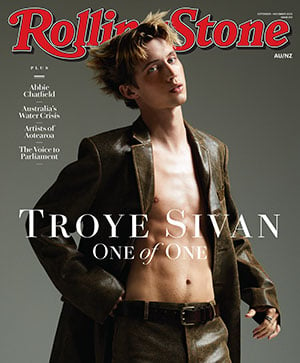 Get unlimited access to the coverage that shapes our culture.
Subscribe
to
Rolling Stone magazine
Subscribe
to
Rolling Stone magazine