All That Remains' Phil Labonte has inadvertently kicked off some controversy, having claimed that most of Metallica's mid-'90s work is sonically "very, very close" to Nickelback.
When Nickelback first released their debut album Curb in 1996, the group were still riding high off the grunge boom that had encapsulated most of the early '90s. Only a few weeks after the Canadian rockers released their debut, thrash icons Metallica returned with their first album in five years, Load.
Though Load and it's 1997 follow-up, Reload, topped the charts and sold well, they attracted some criticism from fans due to a perceived shift in sound. Falling more into the hard rock sound rather than traditional heavy metal, the records somewhat divided fans, though the band's popularity did not wane.
As Blabbermouth has pointed out though, All That Remains vocalist Phil Labonte appears to have noted a parallel between Metallica's mid-'90s records and Nickelback's sound, claiming that any of the latter's tracks could easily fit on Load or Reload.
Check out Phil Labonte of All That Remains on the Breaking The Ice podcast:
Speaking to the Breaking The Ice podcast, Labonte made it clear he wasn't criticising Metallica, but noted that their mid-'90s material has 'sonic' similarities to that of Nickelback.
"I wanna point one thing out about Nickelback that I think a lot of people know but they don't realise they know it. Nickelback records are Metallica Load and Reload sonically," he began.
"If you listen to Nickelback records and you listen to Metallica 'Load' and 'Reload', almost any of the Nickelback songs could go on Load or Reload, and almost any of the songs on Load or Reload could go on a Nickelback record.
Love Metal?
Get the latest Metal news, features, updates and giveaways straight to your inbox Learn more
"And just get James Hetfield to sing the stuff on a Nickelback record or vice versa, and you would not know the difference. And that is not a criticism — that is not a criticism."
Labonte was quick to defend Metallica's albums though, noting they're exceptional albums full of  "phenomenally crafted songs".
"So me saying that is not me shitting on Load or Reload or Nickelback," he continued. "I just think that they literally have so many similarities that most of the songs — maybe there's a couple that wouldn't work, but the vast majority of them would be interchangeable and you'd be okay with it if you had James Hetfield singing."
Check out 'Fuel' by Metallica:
Of course, Labonte was quick to receive criticism for his comments on social media, with many defenders of Metallica interpreting his claims as an insult towards the group.
"LOAD, RELOAD, AND EVERY NICKELBACK SOUND INCREDIBLE AND THE SONGS ARE ALL GOOD!!" he wrote on Twitter. "They my not be your cup of tea but they are good! Jesus people acting like I made some controversial statement."
Later on in the same interview, Labonte also claimed that Nickelback could easily cover Metallica and receive widespread praise for their work.
"Nickelback could absolutely do 'Fuel' on any Nickelback record and people would be, like, 'Fuck yeah!'" he claimed. "They would still be jamming along, bobbing their head, being like, 'Yeah, I kind of dig this song. I like it.' They're good songs, and they're very close. I'm telling you. I fully believe this."
As it turns out though, he's not wrong. In fact, back in 2018 an unearthed video of Nickelback covering Metallica's 'Sad But True' went viral online, with fans appearing furious that they now had something to like about the oft-maligned group.
"I'm convinced Nickelback should release a cover album of Metallica songs," wrote one user on Twitter. "Fuck. Now I actually have to say I like something Nickelback has done," added another.
Maybe Phil Labonte is onto something after all? Who knows, considering Nickelback said they want to record a Slayer cover album, there's no saying they won't make a note-perfect recreation of Load or Reload afterwards.
Check out Nickelback covering Metallica: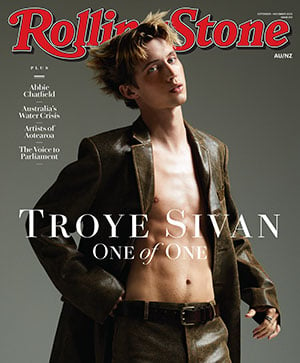 Get unlimited access to the coverage that shapes our culture.
Subscribe
to
Rolling Stone magazine
Subscribe
to
Rolling Stone magazine