"What a great singer that young man is – wow, wow, what a voice!" When none other than the beloved Marcia Hines praises your musical talent like so, you know you're doing something right. The young man Hines was hailing was Blake O'Connor, one of the most promising new voices in Australian blues and country music.
Hines was enamoured by one song in particular, "Time to Kill", when she praised O'Connor, and the fledgling star has today released a music video for the song. Directed by Sinead Burgess with Silver Quinn Productions, the vintage clip transports viewers back in time, ending in a gleeful church singalong.
The video is all well and good, but the main attraction in O'Connor's music is his powerhouse voice: he's a rugged and arresting vocalist, while there's plenty of underlying sweetness when he sings. Again, Marcia Hines knows a thing or two about singing.
"Time to Kill" led O'Connor's second studio album, Finding Light, released last month, which felt like the logical next step in his journey to the top of Australia's blues and country music scene. With a number one ARIA Country Album and a Golden Guitar Award for New Talent of the Year already secured, his upward trajectory has been clear for a while.
To celebrate the release of his new music video, Tone Deaf caught up with O'Connor as part of our Get to Know series to find out more about his life and music.
Blake O'Connor's Finding Light is out now.
Love Country Music?
Get the latest Country Music news, features, updates and giveaways straight to your inbox Learn more
How would you describe your music to your grandma?
A mix of soul, blues and country! Think Joe Cocker meets Bill Withers meets Bonnie Raitt.
Tell us about a few of your tracks; their titles and what they're about?
"Time to Kill"
A friend of mine had broken up with his longtime girlfriend right around the time I was attending APRA SongHubs, a songwriting camp where myself and 20 artists and producers wrote songs over four days. We were told each morning who we would be working with for the day and we had eight hours to write, record and produce a complete song.
I was singing a melody in the shower while getting ready to start the final day, and once I teamed up with writer Sinead Burgess and production duo MSquared (Michael Paynter and Michael Delorenzis) in the studio, it was like we plucked it straight to of the air!
Every time I hear it feels like I'm playing an old school country blues song with a church choir somewhere along the Mississippi. 
"Chained to the Ground"
"Chained to the Ground" is up there as one of my favourite songs I've ever written. I woke up one night with this song in my head, grabbed my phone, and wrote down seven verses in about 20 mins and then went back to sleep.
I woke up the following day and looked over it, wrote a chorus and bridge, and the song was complete! The song is about an outsiders point of view of person being trapped by the company they keep and not being true to themself, and the effects it has on them and the people closest to them.
"Little Bit Longer"
This song came to me a few days before I was set to head into the studio to record the second half of the album. I was playing a very old out of tune piano we have in our house. After messing around for a while I had a piano riff that made me feel something so I wrote "Little Bit Longer"! It's about the emotions you feel when you can see the one you love slipping away, and those desperate last efforts you take to hold on.
What do you love about your hometown?
There so many things I love about Port Macquarie – the beautiful beaches are some of the best in the world! Also the support my local community has for me is just the greatest, I can always count on the hometown show to be the best on the tour!
Career highlight so far?
Playing main stage at CMC Rocks with my 10-piece band! Everyone on that stage locked in and that feeling is something I'll never forget.
Fave non-music hobby?
I love fixing/ building things. I grew up building LEGO all the time, so naturally as I got older that grew into messing around with old cars and even building lighting rigs for my tours! 
Dream music collaboration?
It would have to be Randy Newman! I absolutely love Randy's music, I remember first hearing his music when he composed the Toy Story soundtrack and ever since then his music has stuck with me!
The emotion he portrays, not only with his lyrics but the chord changes, just make you feel something every time you hear him!
Where do you see yourself in 10 years?
Touring/making records. Same thing I am doing now, just on a much larger scale. Red Rocks Amphitheatre, I'm coming for you!
What's your go-to karaoke song?
It's hard to go past "Don't Go Breaking My Heart" – Elton John and Kiki Dee! That song was on a PlayStation game SingStar when I was a kid and my sister and I sang the hell outta that one! Closely followed by "Video Killed the Radio Star"!
What's the best advice you've ever received?
To write songs that relate to you, because if they relate to you then they will connect with others!
 What's one obsession you have that no one would guess after listening to your music?
I've always been a massive fan of Anne Murray! My nan actually showed me her music and I love it! I guess you probably wouldn't expect a 22-year-old soul, blues and country musician from the coast to be an Anne Murray fan!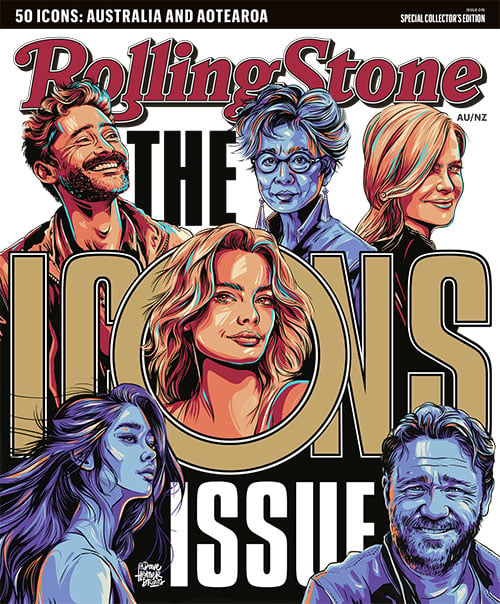 Get unlimited access to the coverage that shapes our culture.
Subscribe
to
Rolling Stone magazine
Subscribe
to
Rolling Stone magazine