Mount Gambier punk rock outfit Chelsea Manor are back with their latest single 'Lotion', dropping the summery music video today.
If the name Chelsea Manor sounds familiar to you, then you might recall the trio opening up triple j's One Night Stand in Lucindale last year, or you might have heard their single 'Breathe' getting a spin on the airwaves.
Since then, the group have been hard at work on their debut EP, playing as many shows as possible, and cultivating a strong following in the process. Earlier this month though, Chelsea Manor decided to give us another taste of their collective brilliance, dropping their latest single, 'Lotion'.
Scoring heavy rotation on idobi Radio, appearing on triple j's Short.Fast.Loud, and serving as a worthy addition to Spotify's Local Noise playlist, the catchy track has been a live favourite for some time. Now, the group have unveiled the accompanying clip for the track, and it's both a masterclass in punk, and a testament to being sun smart.
"'Lotion' is the second single from our forthcoming debut EP, which each track was produced by Tyson Fish & co-produced by Aaron Damon (Captives), who amongst it have become two of our best friends, both of them bring out the best in us, not only in music but life," explains guitarist and vocalist Bianca Hendy.
"We were just starting to write songs for Chelsea Manor, and Ivan [Heenan, bass] showed me this really cool riff at practice one day, but it was super jazzy and complicated ('cause he's sick at guitar, in case you don't know). So I had to tweak it down to my level and that's where 'Lotion' began."
"As far things went on the low end of scale, it was a lot of controlled chaos," explained Ivan. "We did everything from straight up bass lines, to letting the Rainbow Machine spasm out, to sneaking a fretless into do lead parts. I recorded all my parts for 'Lotion' while the rest of band was doing a Macca's run."
Love Emo?
Get the latest Emo news, features, updates and giveaways straight to your inbox Learn more
Check out 'Lotion' by Chelsea Manor:
Directed by Paul Maland, the track's music video sees the group rocking out on a South Australian beach, before some pretty gnarly special effects (provided by Kassie Davies) show an extreme need for some of the titular lotion.
"We filmed the video in one day at Sellick's Beach with Paul Maland, who made the day so much more comfortable," explained Bianca. "He did all the filming, editing and those VFX you see on screen, Plus he's just generally a great dude.
"We were really lucky to have Kassie Davies whip up those gross SFX for us on set, so the rot, decay and bubbling was done on the day. She did an incredible job.
"I kind of wanted to look at the song and the music video, the same way I see the band, In parts we don't make sense, but together we compliment each other," Bianca adds.
"The music video kind of completes the message of the track. There's a bit of an underlying meaning, the lotion itself is whatever bad habits you use to cope with, but like most things, the more you rely on it, the worse you become.
"Or if you don't like to read into things too much, then it's just some mates at the beach with really bad sunburn… Whatever you need it to be."
"I actually forgot about all the things we did on the beach until I watched the video back," added drummer Michael Collins. "The day was spent just like a day on the beach with friends, it was a super fun and super comfortable environment, and I think Paul really captured that.
"Plus, I didn't have to physically play drums so it was practically a holiday for myself."
While all of Chelsea Manor's upcoming gigs have since been shelved due to the ongoing COVID-19 outbreak, you can still support the group by streaming their music on Spotify, or by hitting them up on Facebook to grab a shirt. Just be careful not to get any lotion on it!
Check out the video for 'Lotion' by Chelsea Manor: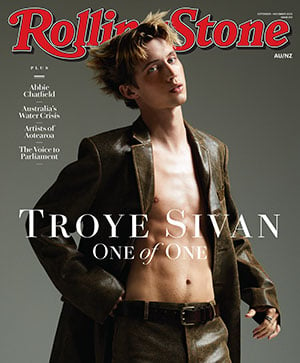 Get unlimited access to the coverage that shapes our culture.
Subscribe
to
Rolling Stone magazine
Subscribe
to
Rolling Stone magazine