Lars Brandle looks at the upward trajectory of Dean Lewis' career, and how the Australian grown singer-songwriter still has so much more to conquer.
Success comes and goes in waves, but for Dean Lewis, it's been more like a tsunami. With a breakthrough single came a bunch of hits, awards, and now, a lot of love pouring in from abroad. Lewis has emerged with "next big thing" status, and with his debut full-length album ready to drop, he's having the ride of his life.
It's only March but Dean Lewis' year is already at full-tilt. Another national solo trek behind him, Lewis is juggling media duties, showcases, long-haul flights and international tours. And he wouldn't have it any other way.
Everything is moving towards a goal, for his debut album A Place We Knew, to reach as many potential fans as possible when it drops on March 22. After all, this is shaping-up to be his year.
The Sydney singer and songwriter is already at (or at least very near) "star" status, at least in his homeland. Hits can do that for a career, and Lewis has racked them out in quick succession. 'Waves' crashed through first, then 'Be Alright,' and now '7 Minutes'.
Watch the clip for 'Waves' below:
Lewis, like countless artists before him, plodded away for years writing songs, never quite knowing his place in the music world. Not sure whether he was actually any good.
Four years ago, Lewis stepped up at an open-mic night. His performance gave him confidence that he belonged, though he wasn't sure where.
"When I first started, I was writing songs for other artists," he told Tone Deaf from Sydney, just ahead of his latest U.S. tour. "I didn't love it that much. You'd write a great song with someone and their mother didn't like it and it didn't get released. I was doing it for three months and quickly decided, 'nah, this is definitely not right for me'. I want to be the guy in control and doing it all."
"I want to be the guy in control and doing it all."
Lewis also knows the sting of rejection, and the old familiar tune of being in the right place at the right time. After sending his tunes to about 30 industry professions and getting no bites, Lewis saw his chance when the music industry gathered for a boat party on Sydney Harbour.
At his request, a buddy presented his demo to Leonie Conley, former manager of Savage Garden. "It was a lot of luck and I needed my mates," he recounts. "And then all the doors quickly started opening as the team built around me."
If a career in music is a journey of swings and roundabouts, it was fitting that Lewis returned to where it started, and this time as the guy in control. On February 6, Lewis and his fellow labelmates Eliott, Winterbourne, Vera Blue, and Briggs showcased their works for the Australia industry and media on a boat party hosted by Island Records.
In a glorious twist of fate, Lewis headlined on the same spot were his mate passed on that demo years earlier, the place he got his break. His career has been smooth sailing ever since.
Songs can be deceiving. Lewis tends to write from a place of heartbreak.
It's there in the melancholy 'Waves,' and it's written all over the vulnerable 'Be Alright,' (his first No. 1 which took seven weeks to climb from No. 19 to the summit of the ARIA Singles Chart and finished 2018 as the No. 4 best-seller, according to the ARIA charts compiler). Its follow-up '7 Minutes' also pulls at the heartstrings.
Don't be fooled though, Lewis is anything but a miserable git. He loves gaming, particularly first-person shooters. He counts Noel Gallagher and Bruce Springsteen among his heroes. He doesn't care much for sport, there just isn't time.
"I'm a pretty happy-go-lucky guy. People aren't weirded out but they're often surprised to learn it", he admits.
Lewis isn't just taking it all in his stride. "I'm super ambitious," he confesses. "I write down my goals. I didn't used to. I wasted a lot of opportunities in the past and I've sort of focused on grabbing this opportunity."
"I'm a pretty happy go lucky guy. People aren't weirded out but they're often surprised to learn it."
Lewis stockpiled songs for his LP, which includes the 5-times platinum 'Waves,' 'Be Alright,' '7 Minutes' and nine others. It's shaped from personal experiences, busted relationships, and "little bits and pieces that have happened over the years, things that have happened to friends and family," he explains.
On it, Lewis finds a touch of Ray Lamontagne, and of course, some Springsteen inspiration.
"I wasted a lot of opportunities in the past and I've sort of focused on grabbing this opportunity."
"I'm so proud of it. I've got to a place where I can play any track to my friends and family and not say, 'hey, it's not finished.' He's particularly fond of the opening tracks 'Hold of Me,' and 'Stay Awake.'
Make no mistake, Lewis and his music is traveling. "Be Alright" just missed out on the top ten in the U.K., peaking at No. 11. The track cracked the top 40 in the United States, a feat he boasts as "the coolest thing in the world".
Lewis is now a priority for the Australian arm of Island Records, a famed label founded by Chris Blackwell, an all-time great of the music industry who signed and guided the careers of U2, Bob Marley and many others.
But talent, looks and networks take you so far in the music biz. The 31-year-old worked 'Be Alright' tirelessly last year in Europe and the United States, opening plenty of doors along the way. The track is currently #1 on the Hot AC radio in U.S., while U.S. music industry "bible" Billboard even welcomed Lewis for a special showcase, interview and photo session in a chilly NYC setting.
Lewis still pays attention to plaudits and the charts, but less so these days. When 'Be Alright' went to the top in Australia, he captured the "truly unbelievable" moment with a snap taken on a rooftop in Los Angeles, where he splits his time with his hometown.
"I keep an eye on it. I used to watch them daily but now it's like once a week.  Sometimes it can take over and consume your whole life," he explains.
"There's something to be said about, if you're looking at the charts you're looking at what you've done in the past. You've got to keep your head on what's the next thing you've got to do."
Studying the numbers is a job for his team, which these days spans the globe. The singer-songwriter signed his first music publishing deal in 2015 and recalls the enthusiastic immediate response from Mike Taylor, Managing Director, Universal Music and, today, Lewis's A&R guy.
"You've got to keep your head on what's the next thing you've got to do."
"He walked into the room and on the spot said he was going to sign me. I'd been turned down by a lot of record labels previously, so it was really special," he recounts.
Taylor first heard a demo of Lewis' songs while he was driving in Sydney traffic. He knew straight away the kid was the "real deal," he tells Tone Deaf. "I remember pulling the car over and replaying 'Be Alright' five times in a row," he says. "it was just so good." 
There's been many special moments for Lewis. There was the time in February 2017 when 'Waves' was synced to Riverdale. And the time he and his manager packed up and went to New York to showcase for power-player David Massey, then president/CEO at Island Records (he's since taken the reins at Arista Records).
"That was so surreal, when we got the call that they were going to pick me up in America. I've had lots of those moments, man. Every week there's something new and amazing happening."
There was the moment his six-song EP, Same Kind of Different, arrived in 2017, with its lead single 'Waves'. And his first win at the ARIA Awards last year, for best video (for 'Be Alright').
"Every week there's something new and amazing happening."
And there was the time 'Be Alright' went top five on the U.S. Adult Pop Songs airplay chart, cracked the top 20 of the Pop Songs airplay tally and also hit No. 40 on the all-important Billboard Hot 100. Amongst all this action, Lewis vaulted to No. 2 on Billboard's Emerging Artists chart, just behind 'Sweet But Psycho' singer Ava Max.
'Be Alright' is six-times platinum certified in Australia, where it finished 2018 as the second-best selling homegrown track. Radio support has flooded in from commercial networks Nova and Triple J (its listeners voted "Be Alright" in at No. 6 on the Hottest 100).
Global streams of his music have raced past one billion, prompting Billboard to recognise his "Chart-Breaker" status. 'Be Alright' alone has notched up more than 700 million streams worldwide.
Legendary Australian concert promoter Michael Chugg reckons Lewis can go all the way. "I think he's got a good shot. A very good shot," he tells Tone Deaf. "His songs are good, he's got the profile going. It's all happening now. He's just gotta keep at it."
Dean's 2019 calendar is crammed. He's currently playing his first headline tour of North America, with shows sold out from Los Angeles to New York City. A European jaunt follows.
Then, in May, he returns home for his 'A Place We Knew' Tour. What comes next is more dates, more interviews, more fans to reach.
"It feels like it's a really special moment for Australian artists overseas," he says. "A lot of our artists seem to be breaking now where in the past it seemed impossible. It's awesome for it to all be happening (for me). I'm blown away every day."
A Place We Knew is out Friday March 22. Pre-order it here.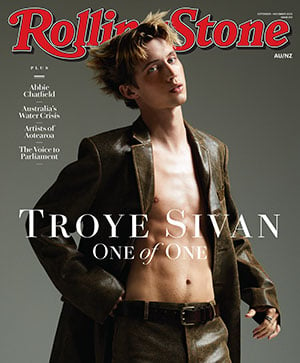 Get unlimited access to the coverage that shapes our culture.
Subscribe
to
Rolling Stone magazine
Subscribe
to
Rolling Stone magazine