Long an artist devoted to advocacy, it was only this year that Eliza Hull felt ready to release a song about her disability; hiding your disability from record labels, from industry professionals and even from fans will do that to someone.
Hull's new single, "Running Underwater", her first release since her well-received 2018 EP How We Disappeared, is about her life living with a condition called Charcot-Marie-Tooth, a degenerative nerve disorder that has affected the singer-songwriter's walking for a long time.
After becoming an outspoken accessibility advocate within the music industry in recent years, her work reaches a  powerful point on  "Running Underwater".
"This song is about pushing up against society's view of disability, it's about letting go of the fear and being authentic and true to myself and showing that it's ok to be different," the Melbourne-based artist explains.
Working with ARIA Award-winning producer Pip Norman (Baker Boy, Missy Higgins), Hull's words are allowed to dominate, her formidable vocals making every intensely personal lyric truly felt.
The accompanying music video, directed by Keiran Watson-Bounce, features the exquisite work of dancer 'roya the destroya', and the clip shows disability onscreen in a way not often seen.
To celebrate Hull's new single, Tone Deaf caught up with her as part of our Get to Know series to find out more about her life and music. You can also read Hull's excellent essay on accessibility in music on The Music Network.
Hull can be caught on tour in Australia this August and September, with dates confirmed in Melbourne, Sydney and Brisbane (tickets available here).
Eliza Hull's "Running Underwater" is out now.
How would you describe your music to your grandma?
Ethereal, heartfelt with touches of live instrumentation and electronic elements.
Tell us about "Running Underwater"; what is this one about for you?
It's about being disabled, which is something I used to hide. I have had my disability since I was five-years-old which is Charcot-Marie-Tooth Disorder that affects my walking. But I was often told I should hide my disability in the music industry and found it hard getting onto stages, so I always thought it would be best if I didn't talk about it.
Only in the last couple of years have I began to talk about it openly and drive change. I realised I wasn't being true to myself if I didn't speak about who I was. I now advocate within the music industry and work with radio and organisations to be more accessible, including APRA, Music Victoria and The ARIAS. 
My hope is that future disabled musicians will feel more invited and included than I once did. The song is about pushing up against the barriers, and taking the weight off myself, to show people the real me, and ultimately celebrate being different.
What do you love about your hometown?
I live in Castlemaine. I love the people, I have such a beautiful community who are supportive and inspire me.
Career highlight so far?
Having my music used in TV shows Awkward, Saving Hope, Teen Wolf and The Heights I also loved performing at Sydney Opera House and Hamer Hall, and I have been on tour all this month in the UK with disabled artist Ruth Lyon and have had the most incredible time.
Fave non-music hobby?
Swimming.
What's on your dream rider?
Never-ending amount of strawberries dipped in chocolate.
Dream music collaboration?
Florence and The Machine, Carole King, Kate Bush, Bat For Lashes.
Where do you see yourself in 10 years?
Mentoring disabled musicians, touring still, and writing my most honest album to date.
What's your go-to karaoke song?
Queen – "Another One Bites the Dust"
What's the best advice you've ever received?
To show up like you belong.
What's one obsession you have that no one would guess?
I am obsessed with taking photos.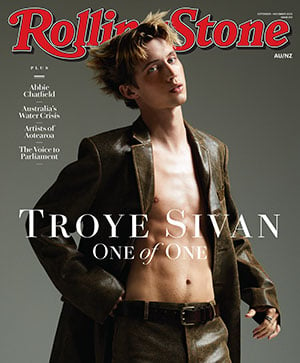 Get unlimited access to the coverage that shapes our culture.
Subscribe
to
Rolling Stone magazine
Subscribe
to
Rolling Stone magazine