Longtime Faith No More keyboardist Roddy Bottum has revealed that members of the band have been working on new music.
Back in 1998, Faith No More called it quits after almost 20 years together. Thankfully, this split only lasted until 2009, with the group getting back together and performing a couple of world tours.
Although the band performed new material during their reformation, frontman Mike Patton revealed that the group probably wouldn't be recording a new record. Thankfully, this was proven false when in 2015, Faith No More released Sol Invictus, their first record in 18 years.
Since then, fans have been wondering if this is the first of many new albums to come, or if they should treat this record as the band's final effort. Now, in a new interview, Roddy Bottum has revealed new music is being workshopped.
Speaking to The Ring, The Cage, And The Stage's Chandler Sorrells (via Blabbermouth), Bottum confirmed that Faith No More's members have been working on new music.
"The last record was a real struggle to make," Roddy Bottum explained. "It felt really good and it was a really great exercise in taking us and our inner family creative process to the next level. It was a place that we kind of needed to go to make Sol Invictus."
"We had spent a lot of time sort of coming back together and getting to know each other again and making music again and playing old songs, and then it kind of reached a point where it felt kind of dirty to just do what we were doing, just [playing] these shows of old songs. So we took it to the next level [by making an album] and that felt really good."
"I think we all walked away from that — even though it was like a really hard process to get through that record — I think we walked away from it with really positive and optimistic sort of perspectives."
"I will periodically go to San Francisco and make music with those guys. What we do is a really special, unique thing that we kind of share — especially like me and Mike Bordin and Billy [Gould]. We were super young — we were, like, 18 [or] 19 years old — when we started making music, so we kind of get in the room and we have a language that speaks really loud and really clear, at least to the three of us."
"I mean, where it goes is questionable, but we have sort of a language that's kind of undeniable in a really sort of family sense. And I think we all acknowledge that it's not something that any of us want to turn our backs on, and it's kind of fun to do."
"So in the hopes of pushing things forward and making new music, we continue to do that, to get together and make new sounds and just have a dialogue about prospects and songs and where we go in the future."
In an attempt to clarify, host Chandler Sorrells asked Roddy Bottum if this means they've been making music, but without a certainty of where it will end up, the keyboardist simply stated, "Yeah, that's fair to say. Yes. Absolutely."
While vocalist Mike Patton noted in 2017 that Faith No More are currently "on an extended break", the famed frontman has been rather busy in the last couple of years, fronting hard rock supergroup Dead Cross.
Consisting of members of Slayer, Retox, and The Locust, Dead Cross made headlines back in 2017 when they were detained, searched, and briefly arrested by US police while on their way to a show. While the band were let go by police without incident, just days later they were forced to cancel a concert after Mike Patton was involved in an accident.
Here's hoping Mike Patton will choose to get involved with Faith No More again – a decidedly safer band to tour with.
Check out Faith No More's 'Ashes To Ashes':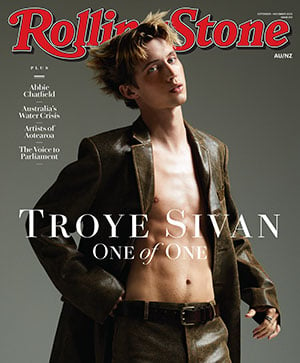 Get unlimited access to the coverage that shapes our culture.
Subscribe
to
Rolling Stone magazine
Subscribe
to
Rolling Stone magazine