Teenage Joans are the Adelaide duo who have firmly cemented themselves as ones-to-watch, despite only being fresh out of high school. 
The pair have gone from strength to strength since taking out the triple j Unearthed High Crown in 2020, releasing singles, playing sold-out shows and performing sets at festivals like Summer Sounds and Mountain Goat Valley Crawl.
On top of that, they have just dropped their debut EP 'Taste of Me', which features their latest track 'Ice Cream'.
As if that wasn't enough, they have also just completed an Aussie tour supporting the likes of The Chats and Bugs.
To celebrate the release of Taste of Me, we had a chat with Blakers and Borg as part of our popular Get To Know series.
How did your artist name come about?
Cahli [Blakers, vocals/guitar]: SO our best bros TOWNS used to do this sick TV show cover medley. I went to one of their gigs at the end of 2018 and they had a few extra minutes in their set, so they asked the crowd if they wanted to hear a cover or the TV show medley. The crowd started chanting "TV shows!" over and over and the frontman Aston said, "I thought you guys were saying Teenage Joans!". Then the drummer Dan started a "Teenage Joans" chant and at that moment I had a huge epiphany moment that all those people were chanting our band name (spoiler: they were!).
How would you describe your music to your grandma?
Cahli: I always have to tell my nonna that it's "way too loud for you" because she always insists on coming to shows – I think she thinks it's a lot quieter than it is!
Love Indie?
Get the latest Indie news, features, updates and giveaways straight to your inbox Learn more
Tahlia [Borg, vocals/drums]: "Hey nan, I play in this really cool band and we play music that's super loud and fun. We don't sound like Smokie or Air Supply but I think you'll still love it.
Tell us about a few of your tracks; their titles and what they're about?
Cahli: 'Wine' – Although it feels happy and upbeat, it talks about the strenuous push and pull of two people growing apart in a relationship and the bittersweet feeling of it being no one's fault.
'Apple Pie' – The song is about someone romanticising the idea of you without really knowing you.
'Ice Cream' –  'Ice Cream' is about feeling like your best just isn't good enough. Sometimes in life, it feels like you're trying so much harder than the people around you, but you're still falling behind (like getting a head start in the race of life, but still placing last).
What do you love about your hometown?
Cahli: I love that Adelaide is a small-big city! It's definitely got big smoke vibes (I'm very much a city kid) but it's so easy to navigate, especially with everything being central. The community here is small but so damn cosy, you can feel the love from a mile away!
Tahlia: South Australia is super wholesome! Especially the music scene. Everyone is just super supportive and welcoming towards each other, it's so special. I also love it because my family and I live together on a farm so sometimes when we are on tour I start to miss the fresh air and hanging out with my mum.
Career highlight so far?
Cahli: I think the given is winning Unearthed High, but one of my personal favourites moments was the first show post winning. We played at Fat Controller in Adelaide, and the crowd belted the words to 'Three Leaf Clover' back to us (to the point where they sang the whole first verse without me!). The response to 'SABS' (our first single after UE high) all over Aus was also so beautiful – that song means a lot to me.
Tahlia: It would be having the opportunity to play on the rotating stage at Yours and Owls festival. It was such a sick experience. I remember I'd be playing to one side of the crowd then a few moments later, the other side, and then we also played to the wall at some stage. I also remember seeing Cahli nearly fall a few times because the stage would jolt and then start spinning towards the other side.
Check out 'Ice Cream' by Teenage Joans:
Fave non-music hobby?
Cahli: Lately I've been really enjoying making silly art on my phone! I don't show too many people but a lot of the time when I can't turn my lyrics into songs I try and turn them into visual art, just for something different and to get the inspiration flowing.
Tahlia: I really like making jewellery in my spare time. It's just super relaxing and I can create whatever I want. Sometimes if I don't have a pair of earrings to match my outfit for a photo shoot or just to go out somewhere, I'll just whip up a pair to match. It's super fun!
What's on your dream rider?
Cahli: Honestly, a backstage bed would rule. Sometimes I'm just so damn tired surrounding a show!
Tahlia: For me personally, I think it'd be cool to have unlimited pasta with freshly baked bread, Blue Healer puppies because they're the cutest, a TV with at least two Adam Sandler movies and canned water. Canned water is the best, it's literally an out-of-body experience.
Dream music collaboration?
Cahli: The dream is definitely Camp Cope. I'd literally feel so honoured if we got to collab with them in any way, they are the reason I wanted to start this band in the first place! Oh and also writing a song with Yungblud would be SICK.
Tahlia: Collaborating with Camp Cope and Tired Lion would be a dream!
Where do you see yourself in 10 years?
Cahli: Hopefully writing the best music I'll have ever written! Fingers crossed I haven't hit my songwriting peak just yet. I'd also love to be a music producer one day so maybe I'll be doing that too! As long as 29-year-old Cahli is doing what makes her happy, that's all that matters!
Tahlia: Hopefully playing music still. I'm also currently studying a bachelor of behavioural science so hopefully, I've put that to good use.
What's your go-to karaoke song?
Cahli: Okay DEFINITELY anything by Taylor Swift, but if I had to pick one it'd be 'You Belong With Me' (Taylor's Version, of course).
Tahlia: This is a hard question but I think it would have to be 'No One' by Alicia Keys because it's such a banger.
What's the best advice you've ever received?
Cahli: It's a classic, but you're never going to be everyone's favourite – so be who you want, wear what you want, and love with your heart on the outside of your chest!
Tahlia: I think the most important advice I've received would be from my parents. They always tell me to stay humble and to always remember to be grateful for everything in my life.
What's one obsession you have that no one would guess after listening to your music?
Cahli: I'm not quiet about my Taylor Swift obsession, but if you didn't know that about me I can imagine you might be surprised! I think she's such an incredible songwriter, and I think a lot of her music really shaped the way I song write today.
Tahlia: I think it would have to be Adam Sandler. Literally, all his movies are iconic (except Uncut Gems) and I think I've watched nearly all of them at least 50 times throughout my life. I think my favourites would have to be The Wedding Singer, Happy Gilmore and Big Daddy (that movie is so sad and I cry every time I watch it). I swear I find myself quoting his movies at least twice a day. I also have this beaded necklace that I wear all the time that says "what would Adam Sandler do".
For more on this topic, follow the Indie Observer.
Check out Taste of Me by Teenage Joans: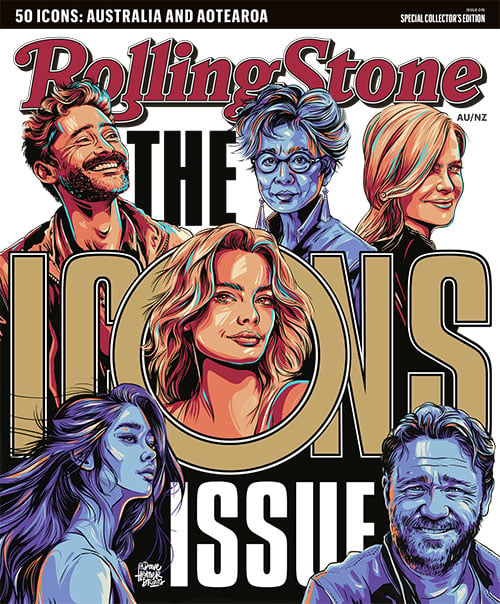 Get unlimited access to the coverage that shapes our culture.
Subscribe
to
Rolling Stone magazine
Subscribe
to
Rolling Stone magazine