When Swedish theatrical rockers Ghost last touched down on Australian soil in 2019, little did fans know that the band's Download Festival set and Brisbane sideshow would mark the last time Aussie audiences would catch a glimpse of the enigmatic collective, or live music in general, for many years to come.
Since Ghost previously appeared Down Under to them announcing their jubilant return and first-ever full headline run in Australia this October, the group have released a fifth studio album, Impera, appeared on Metallica's 30th anniversary tribute album for The Black Album, had a song featured in a Hollywood slasher movie and even scored a viral TikTok hit.
And while Ghost are presently gearing up to release a brand new five-track covers EP PHANTOMIME on May 18th, the band's vocalist, Tobias Forge, is sensibly hesitant to interfere significantly with the band's current live DNA in the coming months.
"At some point, of course, you can take anything out," he says of the careful curation behind a Ghost setlist. "Just so everyone understands, I have nothing against bands who go up in t-shirts and no backdrop and just sort of do the Pearl Jam thing. I love bands like that as well – like Bruce Spingsteen just comes up and is like: 'what song do you want me to play?' And they just burst into anything. That's fine! But that is not how we operate at all."
"Obviously with our show, there is an element of spontaneity in there. But, especially nowadays, we're nine people on stage, everything is played live, everything is sung, with the odd exception of an intro or some sort of effect. But everything sits together really well, and everything is very rehearsed.
"The flow of the set is also very thought through – you don't end a song on a certain BPM and then start something else that would feel uncomfortable. We can't really do that, it would go against what we're doing if we just started to be like: 'okay, here, we can play anything!' Or all of a sudden just throw everything around because we feel like it. That would fuck up all the coordination it takes, let alone just the ideas of guitars coming in with different tunings and all of that too."
Love Metal?
Get the latest Metal news, features, updates and giveaways straight to your inbox Learn more
Ghost are heralded as having one of the most remarkable live shows in the current scene, but Forge is certainly not opposed to mixing things up as the band evolve with each new release – as he reveals, it's no small feat to bring this unique brand of magic and creative vision to life. 
"We have spoken about the possibilities of being more spontaneous," he reveals. "I'm definitely gonna throw it out there saying that it is definitely a possibility. But it's such a different thing that will take the right time in the right spot, right down to the songs that we're doing now and primarily playing."
"Especially for every new record that comes out, we sort of pick the songs that have worked best, and more often than not it ends up being the "hits", if you will. And now five, almost six, records into our career, and with the covers and all that stuff too – it's like 60 songs, 60 to 70 songs, something like that. And we are primarily focused on maybe 25 of them."
Forge continues: "You end up with a backlog of songs, of course. And there's nothing wrong with them, but they have just been left out. What is most likely to happen in the future at some point is that we're gonna do shows where it's gonna be only those songs, build a completely different set list that will focus on the rarer gems. But in order for them to be presented the way that I think, we basically need to subtract most of the others so that you have it a bit more fluent, a bit more al dente."
Changing the entire vibe and logistics of an established stadium-level show for a band like Ghost comes with unique challenges, including appeasing both new and old fans in an era where fan outcry surrounding setlists and non-negotiable songs has reached fever pitch.
"You have to be super clear with people," insists Forge. "There's sometimes the stigma of evolving, and for us as a band, obviously there's a lot of people who did not know about us five or 10 years ago. And you wanna get them on the train! You want them to be educated into the old material.
"But then again, a lot of the material that I wrote on the first two records, for example, I'm super proud of them, but a lot of them don't really work, and they don't really correspond in the really big format that we're playing now. If you don't understand what I mean with that, it's hard to explain it. But with certain songs, you need a certain type of movement and other things for it to elevate on a big stage with big production."
"I'm sort of ranting a little," Forge laughs, "but that is definitely something we've been talking about. And it's also really important if we do that, to explain it to fans that want to come and hear the last five years of hit radio sort of songs, or TikTok songs. It'll be like: 'you're not getting that! That's not what we're doing, so don't get bummed out.' But we're not there yet. For now, we're gonna do an arena show in Australia."
On the topic of TikTok, Ghost recently tasted viral fame via the popular app thanks to their 2019 single "Mary On A Cross", initially featured on a Stranger Things-based clip that ultimately spread like wildfire and catapulted the track to number 10 on Spotify's 50 Most Viral list (scratching the surface of the group's already sweltering 9.1 million monthly listeners on the platform).
And while fan reaction was divided and gatekeeping became rampant following the sudden surge in more mainstream popularity, as Forge himself attests to, the Ghost appeal has continuously been a multi-generational affair – and he personally understands both sides of the fence in this scenario.
"Ever since we started touring and doing our headline shows, there's always been a great variety, especially age-wise," he says. "The demographics haven't really changed, but it has always made for a very non-homogenous group of people. And that has just kept going."
"When we started touring about 10-12 years ago, I saw kids at the shows even then," Forge continues, "You had a lot of metal, like the really heavy vanguard of metal warriors. And then there'd be these indie chicks there as well, and their parents. And that just keeps getting filled up with more of all of those things. There's also now a lot of kids coming to shows who weren't even born at that point! I've met several people who had come to one of our shows and they met and ended up getting married and had kids – and now their kids come to the shows, after their parents met each other at a Ghost show like 10 years ago."
Forge has an example in mind. "How many people do you know who knew who the fucking Rolling Stones were in 1962? That is very rare. But you still have a lot of people who are old school fans of The Rolling Stones and saw them for the first time in 1989. How cool is that? That was their fucking comeback tour! But that's still over 30 years ago. So who's old school here?!
"On the other hand, when it comes to my underground extreme metal, I'm also very anal about what's true and what's not. So, I can relate in a way to that. But I must say that TikTok and everything that went on with "Mary On A Cross" – it was a completely unexpected smack from the side. It was a huge bonus in terms of recognition to the band. We were on a US tour when that was starting to take off, and you could tell that all of a sudden there were more people and a few more kids, and people were reacting very well to a certain song. But I was very happy about that!"
As Forge explains, the band have tried to maintain a positive view of going viral. "We've always tried to have a positive sort of acceptance and an inclusive message here. You know, we can't just be inclusive at a certain point and then as soon as others come in be like: oh, we were just inclusive for these people, but not those.
"But you know – that's also natural. That's how things work. I was also the only guy in my school who liked a certain kind of music. Anyone else coming in claiming that they liked the same thing as me, I would also be like, 'what Kreator album do you like? Oh, that's the wrong one, you don't know fucking Kreator!'"
As for Australia, Forge can't wait to return Down Under, unveiling a remarkably on-point Australian accent to make his point. "We have an Australian drummer, so that's why the accent is so good, I can imitate him. And I am really looking forward to coming back to Australia."
For more on this topic, follow the Metal Observer.
Ghost 2023 Australian Tour
Tickets available via destroyalllines.com
Tuesday, October 3rd
Hordern Pavilion, Sydney, NSW
Wednesday, October 4th
Margaret Court Arena, Melbourne, VIC
Saturday, October 7th
Riverstage, Brisbane, QLD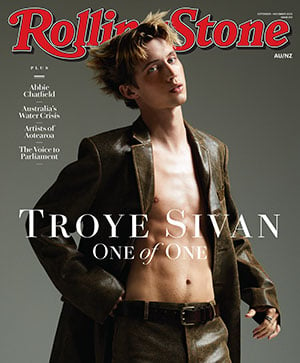 Get unlimited access to the coverage that shapes our culture.
Subscribe
to
Rolling Stone magazine
Subscribe
to
Rolling Stone magazine