The fight to ensure a digital future for community radio in Australia has been a tough one, ever since the Federal Government revealed that cuts to their latest budget would result in many community stations having to be switched off digitally.
Allocating $2.2 million per annum from 2012-2016, that leaves a $1.4 million annual shortfall in the funding, without which community radio will not be able to operate on the digital network.
Community digital radio services were launched nationally in 2011 and there are currently 37 metro-wide digital radio services in Sydney, Melbourne, Brisbane, Adelaide and Perth, but many risk being axed if they don't receive the financial assistance they so desperately require.
Over 40,000 supporters have signed the petition that was sent to Communications Minister Stephen Conroy, urging him to amend the shortfall, yet so far to no avail. Many big names (in and out of the music industry) have also thrown their weight behind the campaign; Paul Kelly, Andrew Denton, and The Honourable Michael Kirby to name a few.
Now, ARIA and Grammy award-winning Melbournian, Wally De Backer a.k.a. Gotye, has made a public display of affection for community radio in an open letter to Minister Conroy.
Highlighting his musical credibility – "Recently my music has enjoyed a great amount of success both locally and internationally, garnering hundreds of millions of views on YouTube, selling 10+ million records worldwide and receiving a number of awards" – he goes on to emphasise that "Australian community radio has been instrumental in my recent international success."
He singles out the bigger community stations like Melbourne's 3RRR and Sydney's FBi, for their support, but also gives credit to smaller networks, including the youth-run SYN, who he says "supported me for many years as I developed my music and started finding an international audience." "I urge you Minister, rectify this budget shortfall. It will ensure that young musicians starting to develop a unique sound and vision can find an audience." – Gotye
De Backer is impassioned in his support for Australian community radio as a whole, stating "We are fortunate to have one of the most diverse and vibrant community radio landscapes in the world, something that has become clearer to me since travelling."
Echoing the sentiments of many, De Backer urges Minister Conroy to "rectify this budget shortfall" to "ensure that young musicians starting to develop a unique sound and vision can find an audience and connect with a diverse community of supporters before hopefully moving onto significant endeavours on the world stage."
Not just a fundamental platform for musicians, he also tells the Minister, "It will ensure that millions of Australians can discover cultures and communities that are rarely represented in other media, promoting diversity and engagement between people from many different backgrounds."
It's not the first time the internationally recognised musician has thrown his support behind music initiatives at a community level. De Backer also showed his support for live music by contributing to SLAM's cause through their crowdfunding campaign, recording an a capella cover with Perfect Tripod of The Reels' 'Quasimodo's Dream' to help raise money for the live music activists.
"People like Gotye may never need to play a small gig again, but he understands how important they are for the development of a vibrant culture," enthused Helen Marcou of SLAM.
Mr. De Backer's open letter to the Communications Minister is also well timed, as today marks one week before the Federal budget is announced.
Aforementioned youth station, SYN, is holding their own Day Of Action today to spread the message of the Commit to Community Radio campaign. From 4pm, regular programming will be replaced by a repeating message to demonstrate the future of community broadcasting, and volunteers will take to the streets "to highlight the very best of what makes community radio so essential to Australian culture," as stated in their newsletter.
The official Commit To Community Radio national day of action, on March 17th, saw community stations across the country hold special events to raise awareness of the campaign. Over 20,000 people showed their support and signed the petition within 24 hours.
Visit committocommunityradio.org.au/  to sign the petition to ensure that community radio services get the funding they need and deserve, and you can read Gotye's open letter to Communications Minister Stephen Conroy below.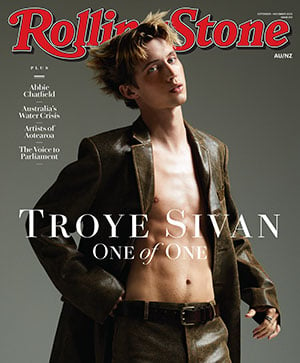 Get unlimited access to the coverage that shapes our culture.
Subscribe
to
Rolling Stone magazine
Subscribe
to
Rolling Stone magazine