Green Day are cleaning out their closets, putting up 25 years' worth of instruments and musical equipment for sale.
For over 30 years now, Green Day have been tearing up the pop punk scene, giving us countless albums, singles, and riffs that still get played to death each and every day.
One of the more accessible punk bands, the group have also served as a favourite for aspiring musicians, with bedroom rockers learning the band's classic hits to play at their first concerts. After all, you haven't heard 'Basket Case' until you've heard a group of high schoolers play it with out of tune instruments.
However, Green Day are now giving their fans the chance to learn these tracks on some of the instruments they were written on, with the band clearing out their band room.
With Billie Joe Armstrong having previously sold off some instruments back in 2017, he and his bandmates are at it again, teaming up with Reverb to sell some iconic pieces of musical history.
Dubbed The Official Green Day Reverb Shop, the band are putting up more than 100 guitars, amps, drums, and other pieces of gear that they've used throughout their career.
Launching in February, the store will see items such as a 1958 Gibson Les Paul Goldtop, and a Harmony Stella Parlor acoustic, Armstrong's first guitar, and the one he used to record 1994's 'F.O.D.'.
Likewise, you can also pick up the Marshall 4×12 cabinets used on the Dookie and Insomniac tours, complete with the marks from the Woodstock '94 festival.
Check out Green Day's 'F.O.D.':
"Every guitar has its own character," explained Billie Joe Armstrong. "Each one reflects who you are—the kind of songwriter you are, the kind of guitar player that you are."
"Used guitars, in particular, come with a history to them. I love the character you can see looking at a fretboard that's been used."
"If you hoard the right shit long enough, they call you a collector," added drummer Tré Cool. "So I'm selling off just a wee bit of the collection."
"I'm not doing it any justice sitting around when someone could be using this stuff. I haven't really sold anything ever—this is the first time," he continued. "I'm probably just going to buy all this stuff back at like three in the morning, because I'm going to have a hard time parting with it."
"In all seriousness, I hope whoever buys this stuff gets some enjoyment out of it…rocking it on their stage or putting it in their studio. I really hope they just don't sit around and get dusty. Except for the burned stuff. Don't even try and fix that, it's not going to work. It's just burned."
Green Day's big sale kicks off on February 7th. Now might be the time to start raiding between the couch cushions to find some of that much-needed loose change.
Check out Green Day talking about their upcoming gear sale: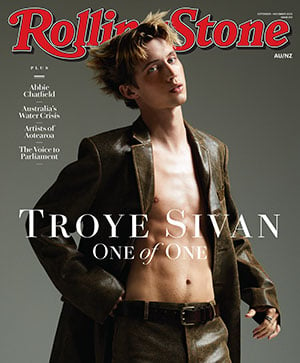 Get unlimited access to the coverage that shapes our culture.
Subscribe
to
Rolling Stone magazine
Subscribe
to
Rolling Stone magazine