The Noble Art of Self-Destruction, the third studio album by Welsh rock band Holding Absence, is a love letter to the band's journey together as a unit, and as individuals. 
Forming in 2015, the Cardiff group has been through a lot; we're talking changes in personnel, changes in sound, and an emergence of a solidified artistic vision that has brought them fans and praise across two impactful records – 2019's Holding Absence and 2021's The Greatest Mistake Of My Life. 
This year, with the release of The Noble Art of Self Destruction, Holding Absence put an emotional bow on what they describe as a trilogy of albums. 
Like the Japanese art of kintsugi, the album explores a central idea of how something flawed, something broken and on the outside, perhaps irreparable and ugly, can ultimately find its rebirth. Kintsugi – as a philosophy – considers the treating of something broken, instead of discarding it, highlights its elevated value. Wearing our scars as reminders of what we have overcome, in time, they can become marks of pride.
With this album, light is found in the dark, and Holding Absence have stepped into a new spotlight as musicians and for frontman Lucas Woodland, a more ambitious songwriter than ever before.
A self-described cynic with ever-present imposter syndrome, Woodland is immensely proud of the work Holding Absence have done on The Noble Art…, now able to exhale and enjoy the music as they have been able to bring the recorded material into venues around the world. 
The journey has brought Holding Absence to Australia, where the band is currently touring around the country with Thornhill, as well as some exclusive headline shows of their own on the East Coast (see full dates below).
From Brisbane, Woodland checks in to take us through the realisations he's made about himself as an artist as a result of making such an album; and what's still to come for the band.
Holding Absence's The Noble Art of Self Destruction is out now. 
Tone Deaf: I started listening to this album before I read that it was the final piece of a trilogy. So now when I listen to The Noble Art of Self Destruction as a whole, it does feel like there is a sense of completion to it. I can only imagine the sense of fulfillment it brought you guys, at the end of the process?
Lucas Woodland: It's always quite the gauntlet, doing an album. It's not just all of the time you have over the last few years, it's pretty much been every thought I've had. Every creative thought that I've had over the past few years, I've been stockpiling. 
This is not just two years of thinking and feeling, it's five. It's surreal to have it finished. I feel confident that we've stuck the landing with it. I'm very proud of what we've created. It is quite the task, but it's so fulfilling and enriching when it's done. 
Because the album encapsulates such a long stretch of songwriting for you, is there any sort of anxiety that starts creeping in? When the songs and the ideas have been so much of your creative identity for so long, how hard is it to let it go?
Great question. It's something that I've been fortunate not to struggle with too much. I think a big part of our music is the relatability; a big part of our band's identity, is the relatability. I like to think that when people listen to our band, they know they can trust me. They know I'm being real and they know I'm being candid about a lot of stuff. 
Truthfully, I don't think this band exists if I'm not completely honest. At the same time, it's been five years of doing this, so it almost feels like a live journal. I've told everybody I'm going to be real with them now and so I've got to keep being real!
One of the things that kept coming up for me when I was listening to the album, was that so much of it did feel very stream of consciousness-esque. It's very fluid, there's a big connection to emotional, reactionary behaviour; it ties into the arrangements, and this theme of self-destruction in a way that can breed beautiful rebuilding. Was this something that was a constant presence for you during songwriting, or was it something that came together organically?
That's a really good observation. One thing about me is that I'm a massive pessimist and I'm a massively cynical person. For me, I almost can't put a full stop on a song; I have to put a glimmer of hope somewhere throughout. A big part of it is finding light in the dark. It's a big part of what I do. 
I always think to myself, I'm very fortunate: I started singing in a band because I was okay at singing. All these years later, I'm essentially a poet – I'm being leaned on for a completely different skill that I almost didn't choose to pursue. It is funny, the lyrics were (at the beginning) an afterthought. I wasn't really here to speak or to tell stories, I was here to perform and to sing. They share the light with each other now, which is cool. 
A big part of it now is in how can I portray the way I feel, with as much eloquence and honesty as possible while at the same time, offering some sort of insight? This album is very much about growing through hardship. I think it sums up our band. We're always trying to find beauty in the ugly and I think in the moment, there's nothing uglier than being hurt; being damaged. There's nothing more beautiful than owning and redefining that.
View this post on Instagram
I feel like there are certain moments on this album that really capture that space in between such extreme emotions and viewpoints. Songs like "Scissors" and "Her Wings"… to tie the album up with a song like "The Angel In The Marble", that sort of song could only be at the end of a project. It's a beautiful jump off point, indicating where things can go next. 
100%! The three albums have all finished with quite a conclusive closer track. We've almost become notorious for having a six minute long closer track! 
The first two albums, with "Wilt" (from 2019's Holding Absence)…it was a very sad song about saying goodbye to someone…I'm very proud, I think I was able to capture a unique emotion with that song. A bittersweet goodbye, essentially. 
And then with "Mourning Song" (from 2021's The Greatest Mistake of My Life), it's a song about learning from grief. Both of those songs are about finding a little bit of light, but those songs are very dark-ruled. There's not much joy to be had in those. 
With "The Angel in the Marble", in my mind, it's a conclusively positive song. It's so embracing. One thing I really liked about that song is that you're almost waiting for a happy chord at the end. You want somebody to strum one perfect cadence chord at the end, to let you know the song is finished. I like the idea that the song almost never feels like it finishes, in a great way. Because we aren't finished. We will never be finished. As people grow and learn from themselves, there is no perfect cadence chord to finish things off.
I felt like that was a poignant way of finishing this trilogy; saying that in the past, I've closed these books with sad endings. Ultimately, the compendium that it's all part of, does close on a positive note.
One of the big reasons why people love your band so much is because there is such a clear identity behind the music. As music fans, that's almost the portal for us to go through and find our own sense of connection to it. It's beautiful to see how evolved the band continues to become with each record. 
On the theme of evolution and this album completing a huge phase for Holding Absence; if you were to think about where this album positions your band as a group, what do you think it says about Holding Absence as a performance unit or creative unit?
Great question. First and foremost, I think we're a very tangibly grown band. If you watch footage and see pictures from back in the beginning, we are different people. It's almost funny, how the source material of these songs is about growth; if you go back and watch the videos from the beginning of it, there has been that tangible growth. It's been very profound, tying a knot on the top of this and acknowledging such growth. 
On top of that, it's a very creative experience and a very introspective experience. None of this happens without the people on the other side. It's not just, "Look at me and my friends, we've grown," it's like, "Look at this community, this family, this world, that we have all been a part of." 
I think the coolest thing for me is that I felt, if we named it a trilogy, then we would have to finish a third album. We'd have to put out a third album, it's not just going to go up in flames one day for some reason. I feel like I'm constantly worried that the wheels are going to fall off, for no actual reason other than my own self-doubt! 
The nicest thing to say about this experience, this trilogy, this growth, is that for the first time, I'm excited to see what's next. For the most part, I feel like I've had this vision that I've had to sketch out; but my hands can only move so fast. Now, I don't actually know what's next and I think that is exciting. 
I believe in this band and I believe in the people who have shown us support over the years. For the first time ever, I'm excited to see what happens next! It's a really unique feeling.
Holding Absence Australian Tour Dates
More information available via destroyalllines.com
Friday 20 October
The Forum, Melbourne
Supporting Thornhill
Saturday 21 October
Magnet House, Perth
Supporting Thornhill
Sunday 22 October
Unibar, Adelaide
Supporting Thornhill
Tuesday 24 October
La La La's, Wollongong
With Thousand Below, Keepsake, Closure
Thursday 26 October
The Tivoli, Brisbane
Supporting Thornhill
Friday 27 October
Hamilton Station Hotel, Newcastle
With Thousand Below, Bloom, Closure
Saturday 28 October
Liberty Hall, Sydney
Supporting Thornhill
Sunday 29 October
Stay Gold, Melbourne
With Thousand Below, Tapestry, Closure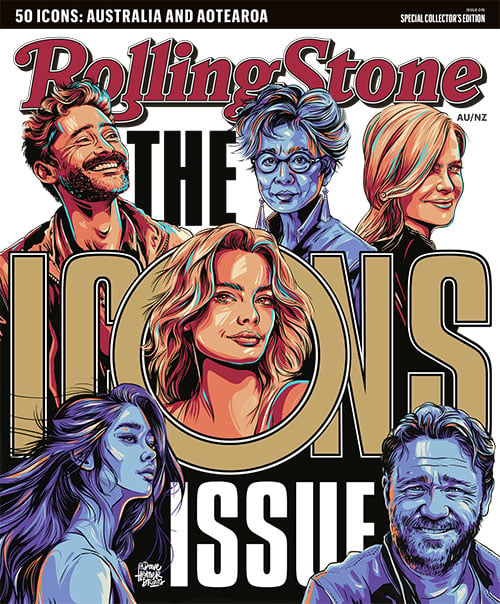 Get unlimited access to the coverage that shapes our culture.
Subscribe
to
Rolling Stone magazine
Subscribe
to
Rolling Stone magazine