For those lucky enough to be of music-consuming age at the time, the late '90s were a veritable golden age for Aussie rock music.
While bands like Powderfinger, Regurgitator, and Jebediah were leading the charge at every turn, the local scene was a thriving source of phenomenal musicians as ambitious young outfits sprung up at every turn, showcasing their skills without ever having anything to prove.
As 1999 came to a close, Melbourne's Klinger were gearing up to release their biggest collection of songs yet. Having formed a few years earlier, the quartet had released a pair of EPs by this point, supported a bunch of famous names, and had become a constant feature of the local live scene.
Sadly though, despite a penchant for crafting alternative rock gems bolstered by catchy, clever choruses, Klinger were never anywhere near as big as they should have been.
In fact, most of those who were around at the time likely bear little memory of the group, maybe boasting a beat-up CD or T-shirt in their collection, or potentially offering up a hazy recollection of seeing them perform as a support band almost two decades ago.
Now, 20 years on, join us as we take a look back at not only one of the most-overlooked and underrated Australian bands of all-time, but also, their phenomenal EP, Grimshaw St.
Check out Klinger's classic single 'Hello Cruel World':
The Klinger story begins back in 1996 when a bunch of four Melbourne musicians came together in what was called a "freak genetic experiment involving four vibrant young teens, an unfashionable suburb and a shit-load of telly" to form a new group, inspired by the alt-rock and power-pop sounds of the time.
Love Indie?
Get the latest Indie news, features, updates and giveaways straight to your inbox Learn more
Featuring Ben Birchall on guitar and vocals, Shayne Willey on guitar, Darren Vlah on drums, and Heath Bernhardt on bass, Ben and Shayne had previously performed in a grunge-based covers outfit called Broken Ground, before deciding to start crafting their own originals in a new outfit.
Recording and releasing a demo cassette titled No Manners, Nice Trousers, the band received their big break later that year when their song 'Like Brandon Does' won a high-profile triple j competition.
Winning the chance to have the tune included on as a B-side to the Australian version of Everclear's 'You Make Me Feel Like A Whore' single, the comp also saw them score a coveted support slot for the US rockers, appearing alongside Brisbane's Screamfeeder.
Bolstered by this newfound success, the quartet hit the studio in 1997 to record their next release, I Like Your Spirit Kid.
The last EP to feature Bernhardt before he was replaced by Dave Rogers, the new collection of songs followed a busy year for the band, which included a spot in LaTrobe University's Battle Of The Bands, a stint as the house band on Recovery, and numerous gigs supporting the likes of Pollyanna, Snout, and Moler.
Check out Klinger in TISM's 'Thunderbirds Are Coming Out':
Following another brush with fame as part of the film clip for TISM's 'Thunderbirds Are Coming Out' video, Klinger spent most of 1998 and 1999 juggling their music with their professional lives, appearing on a Rubber Records compilation alongside the likes of Eskimo Joe during this time, and recording copious amounts of new music.
Although some of the sessions from this time would eventually make up Sounds Of Science (a mini-album that would remain unreleased for almost two decades), the group ended up concentrating on a shorter collection of tracks, eventually emerging again at the end of 1999 to share their next EP, Grimshaw St.
Subtitled Songs From Northern Melbourne, the EP was officially launched at Fitzroy's Punters Club on December 4th, 1999, with support from local legends Mach Pelican and The Tigers, and helped to welcome into the world one of the finest Australian releases of the decade.
With recording beginning in March of 1998 in Spotswood's Trueform Music, Klinger were in good hands along the way, with Peter Farnan of Boom Crash Opera sitting behind the desk and serving as producer for these sessions.
Featuring songs that spoke of suburban life and the dreams of young adults, the EP itself was likely lyrically inaccessible to those outside of Melbourne and its surrounding suburbs, though it spoke to countless fans via its simplistic, catchy compositions.
Despite this, a lack of chart success and widespread popularity meant that Grimshaw St. never quite saw the fame that it deserved back in the day. To help rectify this wrong somewhat, let's take a brief track-by-track look back at this classic piece of Aussie music history.
'Hello Cruel World'
Kicking things off with what would become their best-known track, 'Hello Cruel World' is rather simple in its construction, with chords that borrow from Johann Pachelbel's famous 'Canon In D'.
Serving as a love song at its heart, lyrical references to Paul Kelly's 'From St. Kilda To Kings Cross', public transport to northern Melbourne, and the pure joy of hearing Split Enz on your turntable are in abundance.
Chuck in a catchy chorus and a number of memorable lines ("my head feels like my mouth's been drinking" is more slick than you'd care to admit), and it's easy to see why 'Hello Cruel World' was the track that helped to put Klinger in the hearts and minds of countless Aussie music fans back in the day.
'Sometimes You Hear The Bullet'
Named for the heart-wrenching episode from M*A*S*H's first season, 'Sometimes You Hear The Bullet' could possibly find parallels with the wartime themes of its namesake and the lyrical references of high school and the social hierarchy.
A succinct summation of high school politics and the struggles that would ensue between PE and period two, it's a classic reminder of sexual frustration ("it's a concept that takes a little grasping, that she'll go down on him and not talk to you"), teenage anxieties ("PE's not really the safest place for the knobbly knees and the pasty face"), and the hassles of staying in vogue ("complete disregard of others' worth, the jacket is cool but the shoes don't work"), all wrapped up in just a few minutes of power-pop brilliance.
'Laundromatic'
Presumably taking place in the Montmorency Laundromat, 'Laundromatic' is one of those lovesick anthems that tells the story of an unrequited love in an unusual place, only to be shot down by the pressing burdens of common sense and harsh realties. (Plus, it's likely the best laundry-themed love song since Fuck's 'Laundry Shop'.)
In this brilliant piece of lovelorn songwriting, 'Laundromatic' showcases a classic tale of 'boy meets girl', except boy spies the girl at the Montmorency train station, follows her into the nearby laundromat, and eventually realises that any attempts to woo her with techniques for getting the stains out are clearly going to be fruitless.
A cute, memorable cut from the record, Klinger fans were lucky enough to get a taster of this one during Slow Fades' EP launch last year. What better way to be reminded of the timeless romantic rebuff of "shut up and wash your clothes"?
'Twenty'
Of all the songs on Grimshaw St., it's impressive that only one of them feels to be dated these days. That song in particular is 'Twenty', a fearful ode to ageing as a teenager, and the impending threat of your twenties.
Sure, high school might have been a hassle and a half at the time, but it all seems pretty great once you're out in the big bad world. With references to being in teenage movies with the likes of John Cusack, Molly Ringwald, and Matthew Broderick, Say Anything, Sixteen Candles, and Ferris Bueller's Day Off remain classics to this day, though their big stars are no longer the envy of wistful teens these days.
Still one of the most fitting and relatable songs for teenagers on the cusp of their twenties, 'Twenty' also has to go down as one of the few songs to reference a Blue Light disco, with further kudos awarded to its gutsy rhyming with the phrase "school night".
'Soldier In A Dress'
In case the origins of their name was unclear, Klinger drop any and all mystery here, with lyrics that refer to Corporal Maxwell Q. Klinger from the classic series M*A*S*H. An observant track about the world and its relationships, its all summed up succinctly with the repeated line of "it's a funny old world we live in when the sanest one's a soldier in a dress."
A slick number which sees the band at their most ferocious, it's amazing that 'Soldier In A Dress' wasn't enough to serve as another staple of alternative radio of the time. Maybe references to M*A*S*H were a little bit passé by 1999? Who knows, but it remains one of the finest examples of the group's powerful musical abilities of the time.
'Watsonia'
Ask anyone who has ever left their small, suburban hometown and they'll likely find something in 'Watsonia' that they relate to. Written about their northern Melbourne origins, 'Watsonia' sees Klinger lamenting the dull lifestyle found in the track's namesake, yet expressing the fear of moving on to bigger and better things.
With conflicting emotions and acoustic instrumentation, this humble track serves as a fitting closer to an all-too short EP, summing up the group as a whole, while touching on their fears and plans for the future. Undoubtedly, this would have served as a perfect segue into that debut album, and helping to showcase their next big step in life.
Of course, for anyone who hasn't spent time in Watsonia, this tune might be a little bit lost on you. For residents and those in similar small towns, its a far-too accurate look at what life was like, and the worries around what the future holds.
While the release of Grimshaw St. was undoubtedly a major moment in the life of a band who had been described as the "Foo Fighters beating Weezer silly with a club fashioned crudely from Elvis Costello", its lack of widespread success hampered the band's chances of truly making it to the big time as they so deserved.
Following it up the next year with the double A-side of 'Sayonara Anyway' and the humorous diss track 'Ben Lee', both the latter and 'Hello Cruel World' managed to find their way into the triple j Hottest 100 for 2000, showcasing just how popular they were with radio listeners of the time.
After a support slot for Green Day on their Australian tour and the departure of Shane Willey, Klinger again embarked on a period of studio hibernation, attempting to lay down tracks for their debut album.
While a bunch of demos managed to emerge behind closed doors, the only concrete proof of these sessions that fans heard came by way of 2002's double A-side, 'Geography' and 'Acne & Peroxide'.
Sadly though, this release would be the last that most fans would hear for quite some time, with a run of shows (including a spot above a newly-formed Jet while supporting TISM at the Prince Of Wales) preceding their eventual dissolution in 2003, following Dave Rogers' decision to move to Japan.
Over the coming decade though, the band's members wouldn't exactly sit on their hands. While Dave Rogers would kick off a solo career, Ben Birchall would also go solo, before launching The Corrections alongside former Klinger bandmates Darren Vlah and Glenn Arnup, and eventually appearing as Duke Batavia a few years later.
Check out Klinger's final single, 'Geography':
In 2014 though, Klinger once again found themselves as a somewhat active band. Launching a reunion with a few hometown shows, the band also polished off a few recordings and eventually released Shooting For The Chorus, the long-awaited debut album that consisted of tracks written during their final years.
A handful of other reunion shows also followed, while the band also saddling up to once again support the great Everclear during their 2015 appearance at Melbourne's Corner Hotel.
Sadly for diehard fans of the band though, this is where the Klinger story officially stops, with their final show to date taking place in Sydney in August of 2015.
However, the story is far from over for the musicians at the heart of it all, with 2018 seeing the launch of Slow Fades, a new indie-rock quartet which features the familiar lineup of Ben Birchall, Dave Rogers, Darren Vlah, and Glenn Arnup.
Showcasing "the widescreen sound of four musicians who know each other inside and out", Slow Fades launched their debut EP last year, and have spent most of this year working on a second EP, which is set to be released at some point in 2020.
If you're keen to see what the members of the band are up to these days, you're in luck, with Slow Fades set to hit up Melbourne's Red Betty bar on December 12th for a special show which will see them previewing songs from their forthcoming EP in stripped back mode.
Check out the debut EP from Slow Fades, along with all the details of their upcoming live show, and think ahead to the future sounds of these phenomenal musicians while happily reliving the stunning discography they've created for us.
Check out Slow Fades's exceptional 'Leave The Canyon':
Slow Fades at Red Betty
Thursday, December 12th
(With Hannah Marjorie and Jess McGuire)
Red Betty, Melbourne, VIC
More Info: Facebook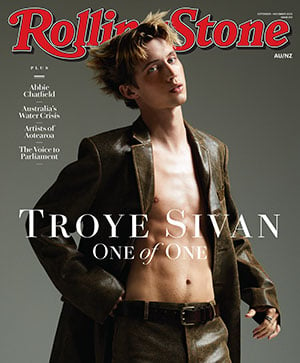 Get unlimited access to the coverage that shapes our culture.
Subscribe
to
Rolling Stone magazine
Subscribe
to
Rolling Stone magazine