US rapper Lil Pump has found himself in hot water again, this time over the controversial language in his latest song.
Over the last few months, rapper Lil Pump has found himself making headlines for the wrong reasons.
Back in September, it was revealed that Lil Pump was set to go to prison for a "couple months" due to a parole violation. While most of us thought this sentence must still be incoming, his manager revealed back in October that Garcia had already completed his jail sentence, but did not explain when this occurred.
However, the troubles didn't end there, with Lil Pump being arrested by Danish police (and missing a show in Finland as a result), and arrested for disorderly conduct after allegedly being found with drugs on a US flight. Needless to say, he's a bit of a divisive character.
Now, Lil Pump's latest song has come under fire, with some calling it racist.
Check out Lil Pump's 'Butterfly Doors':
Taking to Instagram on Monday, Lil Pump posted a snippet of his new track, 'Butterfly Doors'. Featuring a rather similar sound to the rest of his music, the track contains lyrics such as "Smokin' on dope, they call me Yao Ming cause my eye real low."
While that line already appeared to be rather problematic, Lil Pump follows it up by ad-libbing "Ching Chong" after its delivery, and stretching his eyes in the accompanying video.
Now, a number of outraged people have taken to social media sites such as Twitter to vent their frustrations.
that ching chong part aint it

— jugnu (@afreen_02) December 17, 2018
https://twitter.com/o733Rr8MAx4thbK/status/1074895687580446720
https://twitter.com/hai_mianye/status/1074873829728477184
One of the most prominent criticisms of 'Butterfly Doors' happened to come from Crazy Rich Asians actress Awkwafina, who condemned the line in a since-deleted Tweet.
"Always nice to hear a new song with a Ching Chong adlib," she wrote. "Guess it's better than 'eyes chink' like some other verses I've heard. But can we at least think of some more creative racist epithets? @lilpump."
As the South China Morning Post reports, the track has also been met with anger from a lot of Chinese citizens. One of the more notable responses came from Sichuan rap group CD Rev, who released a diss track titled 'F*** Lil Pump', and features lyrics criticising him for his racist language.
"The fact is you and white racists the same / Respect yourself, you've suffered the pain / You don't know anything 'bout the history / Cuz you a nation of immigrants, and if you really won't take it serious, check it out on those Indians," the lyrics read.
In an interview with the SCMP, CD Rev's Li Yijie explained that he wrote the group's song immediately after seeing the controversial clip.
"My first reaction was anger," Li explained. "Not only were the lyrics insulting, he made the face gesture, the whole package."
"It means that he understood what it meant – understood that it is discriminatory language. It's quite irresponsible."
In related news, Lil Pump is set to make his Australian debut early next year when he tours the country as part of the 2019 FOMO Festival. He is yet to respond to the latest criticisms of his song.
Check out Lil Pump's 'Gucci Gang':
FOMO Festival 2019 Lineup
Nicki Minaj
Rae Sremmurd
Lil Pump
Mura Masa
Kali Uchis
San Holo
Anna Lunoe
Sophie
Cosha
Carmouflage Rose
Just A Gent
Mimi
triple j Unearthed winner (TBA)
Saturday, January 5th, 2019
Riverstage, Brisbane, QLD
Sunday, January 6th, 2019
Elder Park, Adelaide, SA
Saturday, January 12th, 2019
Parramatta Park, Sydney, NSW
Sunday, January 13th, 2019
Flemington Racecourse, Melbourne, VIC
Tickets from FOMO Festival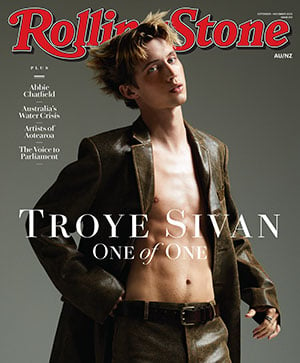 Get unlimited access to the coverage that shapes our culture.
Subscribe
to
Rolling Stone magazine
Subscribe
to
Rolling Stone magazine