Review: Damian Cowell's Disco Machine at the Northcote Social Club, Melbourne, April 24th, 2019
For decades, Damian Cowell has been one of the most beloved names on the Aussie alternative music scene.
After rising to fame as a member of TISM, the group's 2004 split saw Cowell embark upon a number of other musical ventures, including Root!, The DC3, and the more recent Damian Cowell's Disco Machine.
With the latter having been around for a number of years now, they've released two full-length records of disco/funk/rock tunes, all the while delivering countless live shows in the process.
Although fans are still waiting for news of a third record, Cowell and his group of musical misfits announced that they would be hitting up the Northcote Social Club on April 24th for a special ANZAC Day eve concert, attracting legions of dedicated fans in the process.
Check out Damian Cowell's Disco Machine's 'Get Your Dag On':
Although 2019 marks the 15th anniversary of TISM's dissolution, fans of the group are just as dedicated as they always were, treating any performance by a former member as if it were their favourite group reunited once again.
As fans of young and old made their way into the bustling Northcote Social Club on Wednesday night, plenty could be seen sporting old shirts from TISM's glory days, as others reminisced upon memories of seeing one of the band's infamous live shows.
In all, it was a collection of familiar faces, with the evening turning into something of a reunion for fans, and serving as an opportunity for old mates to catch up once again.
As the doors open and a smattering of eager audience members entered the bandroom, they were soon met with the enigmatic rock cabaret stylings of Geraldine Quinn.
Decked out in a flashy silver number, Quinn kicked off the evening with a mesmerising cover of David Bowie's 1983 track 'Let's Dance'. With soaring, operatic vocals and a gorgeously downtempo backing track, Quinn slowly built on her intensity before wrapping things up with a final chorus.
Before long though, Quinn was dipping into her eclectic catalogue of originals, bringing out the pounding '80s rock anthem sound for a tune that described teen parties in the '90s, hitting impossibly high notes and scoring raucous applause in the process.
Raising the humour levels up a few notches, Geraldine Quinn parodied new parents with the cathartic 'The Kid Is Not That Cute', offering up a tune of celebration with 'Just Drunk Enough', dishing out the confessional 'I Live For Music Theatre!', before wrapping things up with a suburban rock anthem about two lovers from opposing areas of Victoria.
With quick wit, an intoxicating, mesmerising stage presence, and the confidence to tie it all together, it's easy to see why Geraldine Quinn is often considered one of the finest musical comediennes going around.
With a performance this powerful and sharp, there's no doubt she managed to score a few new fans this evening, with many of them hungry to see her the next time she performs live.
Check out Geraldine Quinn's 'The Kid Is Not That Cute':
As the stage darkened, and the Northcote Social Club's bandroom swelled to near-full capacity, it was clear that this evening's show was going to be a rather memorable affair.
While conversations between audience members continued and drinks flowed, the eventual showtime came ever-closer, with a pre-recorded 'theme song' of sorts helping to alert everyone to the fact that Damian Cowell's Disco Machine were about to take the stage.
Bursting out from the side of stage, Cowell's five-piece band – including vocalists Bek Chapman and Emily Jarrett – were front and centre, decked out in red outfits to help steal focus away from the projections of lyrics and animations against the rear wall.
As Cowell himself appeared before us, the rear projection alerted us to the beginning of a new song, the technologically-themed 'Distraction', before living up to their name with the ever-popular 'Barry Gibb Came 4th In A Barry Gibb Lookalike Contest'.
With his powerful, iconic voice on full display, and a writhing section of hardcore fans up the front of the stage, Damian Cowell instantly mesmerised everyone in attendance, making it impossible for them to look away lest he or his talented musicians do something memorable.
As the daggy dance moves continued, the pounding rhythms and driving riffs rang out, and Cowell's ever-serious demeanour seemed at odds with his lyrics, the set soon diverged into a rather diverse territory, with an eclectic mix of punk and disco tunes being brought to the forefront.
Paying homage to the first person to mix disco and punk (the DJ at the The Good Shepherd school disco), Damian Cowell's Disco Machine mashed up punk classics by the Ramones, the Sex Pistols, and The Saints with disco anthems by the likes of ABBA, the Bee Gees, and Michael Jackson, dishing up a dizzyingly contradictory mix of tunes that not only worked, but had fans dancing like it was the last time they would.
Check out Damian Cowell's Disco Machine's 'Barry Gibb Came 4th In A Barry Gibb Lookalike Contest':
Soon though, it was time to welcome the evening's 'special guest' (though at this point he's practically just another member of the Machine), comedian Tony Martin.
Brought onto stage by Damian Cowell's own version of Martin's Sizzletown theme song, the ever-popular comedian was on deck for a bunch of new tunes, including the recycling-themed 'Greta The Garbo', a track ostensibly-titled 'S Club', and the bizarrely catchy 'My Horn Plays La Cucaracha'.
While new music was undoubtedly getting a strong airing this evening, it made almost no difference to the adoring crowd, who took every opportunity to throw down a few dance moves, sing out some of their new favourite lyrics, or laugh along to Cowell's hilarious stage banter in between.
It soon became time for the newest highlight of Damian Cowell's audience, with the rocker serving up a medley of TISM classics interspersed with tunes by none other than Kylie Minogue.
Yes, you've never really lived until you've heard the lyrics of TISM's 'Mourningtown Ride' ("Don't get off at Flinders Street, Nazi punks want a final solution") mixed up with the poppy goodness of Kylie's 'Locomotion'.
Arguably one of the biggest moments of the night, it's no secret than fans of Cowell relish a chance to sing along to famed tracks like 'Whatareya?', 'I'll 'Ave Ya', and more, even if they do have to wade trough the murky waters of pop classics to get there.
Check out TISM's 'Mourningtown Ride':
Following a performance of the fan-favourite 'Where The Fuck's The Vengabus?' (featuring the best reference to Samuel Beckett you'll hear onstage this year), the Disco Machine delivered a seemingly reworked version of 'My Baby Is Interested In Geopolitics, But I Just Want To Dance', with Damian Cowell giving it the impromptu title of 'Make Australia Fat' beforehand.
To the dismay of fans though, this meant that the end of the set was in sight. As Cowell noted, the band's refusal to do encores meant that his audience were going to have to expend their energy where it counted, using it on the famed 'Disco Medley' set-closer.
Masking up tracks like the Village People's 'YMCA' and 'In The Navy' with The Boys Next Door's 'Shivers', Radiohead's 'Creep', and TISM's 'I'm Interested in Apathy', this mesmerising mix of multi-genre mirth was undoubtedly the perfect way to close out the evening's entertainment.
Although some fans might have criticised a lack of familiar material at times (let's face it, new tunes can only mean a new album soon), hardcore supporters of Damian Cowell and his Disco Machine undoubtedly saw the evening's performance as one of the year's biggest highlights.
With high energy performances, iconic tracks, and an excuse to dance like an idiot at any given moment, Damian Cowell's Disco Machine's shows are some of the best fun you'll have at a gig any time soon. Here's hoping that a new album is indeed on the way, giving us more opportunities for shows like this in the near future.
Check out Damian Cowell's Disco Machine's 'Where The Fuck's The Vengabus?':
Damian Cowell's Disco Machine @ Northcote Social Club, Melbourne 24/4/19 Setlist
'Distraction'
'Barry Gibb Came 4th In A Barry Gibb Lookalike Contest'
'Disco Punk Medley'
'Tony Martin's Sizzletown'
'Get Yer Dag On'
'Greta The Garbo'
'S Club'
'My Horn Plays La Cucaracha'
'Kylie Minogue/TISM Medley'
'Where The Fuck's The Vengabus?'
'My Baby Is Interested In Geopolitics, But I Just Want To Dance'/"Make Australia Fat"
'Disco Medley'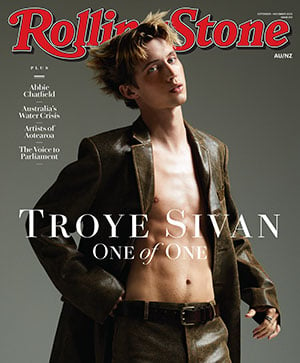 Get unlimited access to the coverage that shapes our culture.
Subscribe
to
Rolling Stone magazine
Subscribe
to
Rolling Stone magazine