It's pretty apt that Local the Neighbour named his debut EP after one of Australia's biggest highways: the fledgling artist's shoegaze-inflected indie is ideal for long night drives with friends, heading everywhere and nowhere. 
On HUME31 pt.1, his spirited sound recalls Beach Fossils or a less downtrodden DIIV, sounding both wistful and warm. A yearning for travel and escape seems to lurk under each atmospheric track.
Local the Neighbour is the moniker of David Quested, who has always had a sense of restlessness built into him. He's lived across the country, finding his way to his home and studio in North Melbourne via places as far-flung as Darwin. He's soaked up different vibes, different cultures, culminating in a debut record that refuses to be pinned down.
Having started out in music playing with other musicians, now's the right time for Quested to step into the limelight. "I have always dreamed of creating my own project that was a true representation of who I am, but having played a supporting role for so many others in my work life, it felt like that moment might never have come," as he concedes.
If HUME31 pt.1 is anything to go by, he should try to get used to the limelight. You can catch Local the Neighbour headline Northcote Social Club's Social Sanctuary on Monday, May 8th (entry is free). In the meantime, you can read our Get to Know interview with the musician below.
Local the Neighbour's "HUME31 pt. 1" is out now. 
Love Indie?
Get the latest Indie news, features, updates and giveaways straight to your inbox Learn more
How would you describe your music to someone who's never heard it before?
If you come to a live show, I'd say it's 90's grunge inspired indie pop/rock. On stage I play with my good friends and it's pretty damn wholesome. On the recording side, I make DIY indie where I record everything myself in my little studio in Coburg. It's a little less wholesome as it's just me pulling my hair out trying to record everything! But thankfully in an enjoyable way.
Tell us about the HUME31 pt.1 EP – what's it all about?
HUME31 pt.1 is a collection of songs I wrote mostly when I first started writing music in 2020, up to mid-2022. I called the EP HUME31 pt.1 because during that period I was driving out on the highway a lot between rural VIC and Brunswick. I spent a lot of time on that highway and I'd always be listening to my demos/mixes trying to refine a sound. The name is kind of putting a timestamp on that part of my life so I can document it and look back at it!
The songs on the EP are all about me living life, the good and the bad. Somedays I feel great and I'm super grateful for everything around me, and other days there are hurdles and obstacles. The EP is definitely scattered with a bit of an emo edge to it at times, but some of it is just a bit silly and I wanted to have contrast in the songwriting.
What do you love about your hometown?
I grew up all over Australia! I think by the time I hit high school I had already lived in five different cities. However, I did all my high schooling in Darwin, which is where I would say I'm from if anyone asks.
If you haven't been to Darwin, the sunsets are truly amazing. Life is a lot slower, which at the time I hated, but nowadays I appreciate it a lot more. I also feel really tough because I grew up around the area Crocodile Dundee is based on. I'm also crocwise, so if I'm in the wild with a city friend, I've got you covered!
Career highlight so far?
Mac DeMarco kissed me on the forehead at his after-party in London. I wrote a song about it. It was like I was getting knighted by the queen or something. It was a very funny experience.
Fave non-music hobby?
Walking my dog Barnaby (follow @barnaby_the_pomapoo for cute content). I was pretty stressed on the release day of "Ruin me", and simply walking him put me at ease and I forgot all about the stress! I actually grew up not liking dogs much, but now I'm a huge fan! They've gotta be hypoallergenic though, because I'm allergic.
Making and drinking coffee (filter and espresso). I LOVE it.
Socialising! I love the hang… sometimes too much!
Watching the football (my team is Manchester United). 
What's on your dream rider?
Depends on my mood, but my friend and I love to get ice cream before or after a gig. If either Pidapipo or Hareruya's mochi ice cream was on a rider, I'd die.
Dream music collaboration?
Sometimes I daydream that Zac Farro (drummer from Paramore, singer from HalfNoise) and I sing "A Whole New World" from Aladdin together. I'm Jasmine and it's two dudes being wholesome as. 
Where do you see yourself in 10 years?
Hopefully in a slightly larger studio space to what I have now, where I can permanently set up 3 drum kits at once. It's not really practical, but that's the point. I'd be best friends with Mac DeMarco, and get sushi or burritos every Tuesday in Silver Lake, CA with the members of Wallows. Then I'd go skydiving every Wednesday. 
What's your go-to karaoke song?
I think it'd be anything from the 2000's pop punk period. Kelly Clarkson, Avril Lavigne or blink 182.
***Unless Zac Farro is there! Then you know what it would be!
What's the best advice you've ever received?
Things take time! I feel like I only really started to understand this like two weeks ago haha. Not gonna lie, even though I understand it, I definitely don't like it and am incredibly impatient. It'd be a real moment of personal growth if I became a little more relaxed about this.
Also being open to new perspectives and having an open mind about things. I always love interacting with people who are really open to different perspectives. When I meet people like that, I'm always inspired to try new things.
What's one obsession you have that no one would guess after listening to your music?
I go to a lot of raves for my day to day job and I'm obsessed with the idea of muzzing. If one day I can muzz really well as a random skill, that'd be amazing. In my normal life I never attend raves, so it'd be a pretty great skill, but ultimately useless. A real party trick haha!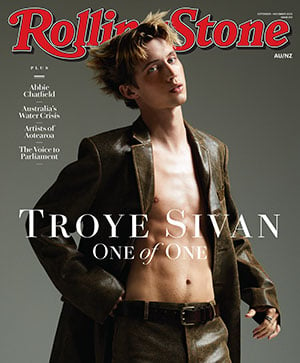 Get unlimited access to the coverage that shapes our culture.
Subscribe
to
Rolling Stone magazine
Subscribe
to
Rolling Stone magazine