LP Giobbi was in second grade when she relentlessly begged her mum and dad for piano lessons. 
She describes her parents as deadheads – a term used to describe die-hard fans of jam band the Grateful Dead. With a strong appreciation for music, it didn't take them long to cave and get her in front of a music teacher. 
It was the start of a long road which has seen her evolve into a beloved DJ with an understanding of music far deeper than most. 
As a talented multi-instrumentalist, she boasts a degree in Jazz Piano Performance from UC Berkeley and uses her improvisational training to incorporate live piano and modular electronics into her performances. 
Despite being known as "the piano house queen," the Austin-based producer didn't discover electronic music until after college thanks to what she calls a "freak accident."
Now she tours the world, playing some of the world's biggest stages like Coachella and Lollapalooza, and launched a non-profit educational platform, Femme House, which aims to create equal opportunities for women and other marginalised gender expressions in all aspects of creating music. 
Off the back of a showcase in New Zealand, Tone Deaf asked LP Giobbi about her early influences, how her parents supported her career, what success means to her, and why she launched an initiative to support women. 
Love Electronic?
Get the latest Electronic news, features, updates and giveaways straight to your inbox Learn more
Tone Deaf: Piano was your first introduction to music?
LP Giobbi: I begged my parents for piano lessons. I don't have memory of this but I was hounding them, we didn't even have a piano in the house so we don't really know where it came from. My parents are really big music lovers and have also pushed the power of live music so I'm sure that was in me somewhere; it's always been my ethos. But I begged them and they went and asked a bunch of friends in our town for recommendations for piano teachers. I always say I won the lottery twice – once being born to my parents who are remarkable and once when I got my piano teacher Caroline. 
What does the word 'deadhead' mean to you and how does it impact your music? 
There's a lot of similarities between dance music and jam band culture – the music never stops, it's all about peace, unity and love, except it's more hippies instead of ravers, but it's very similar ethos wise. The Grateful Dead are doing their last tour this year so it's a very big deal, they asked me to come on it which is crazy. 
I got my hands on some Grateful Dead stems, and I started repitching and rewarping their guitars and their vocals, and then I did a livestream which got seen by someone who runs Jerry Garcia's estate and his daughter. They reached out to me to see if I wanted to do an official remix for Garcia's first album. It was the biggest band in my orbit my entire life. I was one of the first dance artists to ever do that. They asked me to come on their last tour ever and do all their official afterparties which was just insane in the best way. 
How have you used that style of jamming in your own music?
I have a set called "Deadhouse" which is a combination of house music and jam band music. It's just a world I care about. I'm a dance artist first and foremost and I play with the dance artists I love and that's a big focus, but it helped me expand my idea of what DJing can be – a little bit more experimental, thinking about myself as a one-woman jam band. You can have up to six decks and you don't just have to play a straight track. I make a lot of instrumental loops that I know what key they're in and in the new CDJs you can repitch on the spot, the keys, so you can layer things in different ways, like live remixing you could say. 
How do you balance playing the songs you're known for against experimenting on the spot? 
When it's 2am in the morning in a dark club, it's like "are you a DJ or are you an artist? Are people coming there to hear your songs or are people coming here to see what you're going to do DJing?" It's funny, I feel so grateful to have Spotify and radio support, but sometimes it's sort of beholding me as an artist and it's harder for me to be a DJ. I need to play how I want to play.  
With a background in classical piano and jazz, how did you transition into dance music? 
I got into dance music because I went to see a DJ, Tornado Wallace, and I was like "wait, there's no band up there, where's the music coming from?" I didn't understand the concept of a DJ. But what I was blown away by was seven minutes of just a kick and a high-hat and then they brought in one sound and people lost their mind on the dance floor. I was like "what?" My friend told me "it's body music, it's for your body, not your mind."
I'd spent four years intellectualising and theorising music, and I know that jazz isn't meant to be like that, but studying it in school it became that for me, and it was the first time I felt reconnected to my body when experiencing music and I was like "I want to be a part of this." I spent the next four years relearning everything I had learned to think "how do you say what you want to say with the least amount of notes and sounds?" In some ways I think it hurt me at first but now I understand how to do more with less and now the album I have coming out this year, it's more musical than anything I released as LP Giobbi.
Tell me about that album and how does it reflect where you're at in your career right now? 
The album allowed me to make interludes and intros and outros, and it allowed me to make songs that wouldn't be singles, a song that is not going to get played on the radio and is not going to do something as far as streaming numbers go. It's like "what freedom!" I'm sick of just being able to put out songs only that are bangers, so this album has interludes and outros and just more beautiful moments that maybe won't connect to a larger audience but the people who find it, I hope it brings them a lot of joy. I wrote this album on planes and trains and car rides and then flew to Paris and finished it off. It was just an awesome, exhausting, wonderful experience. When I sat back and listened I was so proud of the music; no other DJ will play any of these songs so I made a club edit so other DJs play this on dance floors. 
Tell me about the idea behind Femme House. 
At the end of the day my 'why' is Femme House. This is an insane life – you're not sleeping, you have no body clock, you're really isolated, you're at extreme highs and extreme lows, it's insane anyone would be a touring artist. I think what keeps me going at the darkest of moments is this mission and I've had great experiences with men in the industry – wonderful, really supportive.
I was in this all-female band that was put together by some producers of Daft Punk and I was in the studio with them and they were wonderful and taught me so much and I had great experiences. I was waiting for my turn to record my synths and I was reading this article that said Grimes produced her own records and I had this life-changing, mind-blowing moment because I was raised by parents who are hippies who are like "you can be anyone, you can do anything."
That was taught to me at a young age, so I really believe that, so that moment when I read that, I learned the power of visual representation because I was in the studio with other producers, with dudes, it didn't even occur me that I could be in that role. That's when I became dead set on being what Grimes was to me in that moment for somebody else. Do I think more female producers will change the world? No. But what does change the world is believing that you can be and do anything. 
I played a show in Washington D.C. recently and this girl comes up to me and says "I've been coming to this club for 10 years and I've never seen a female on that stage," and she's like "I don't even want to be a DJ but I just feel like I can go do anything." That means everything. Femme House uses workshops and online courses and scholarship programs to teach in a safe space, and then we started doing more stage takeovers to help with the visual representation angle, it's hard to be what you can't see. 
What does success look like to you? 
hank you for asking that because I'm about to do my next wave of dream boarding and it's been on my to-do list every day for a month and I keep moving it because I don't know what the answer to that question is. I'm like "what does success look like?" It has definitely changed. I think what success looks like for me is playing as many shows as possible where I have that euphoria moment – whether that's because I built a set correctly, where I've got them, I pushed them and we're in this beautiful give and take and it's two hours of release, and I can bring that to people and afterwards they say thank you. That's probably when I feel the most grounded, when I'm living my purpose. Also, contributing to music in a way that people that I respect are playing it and resonating with a community of joyous humans.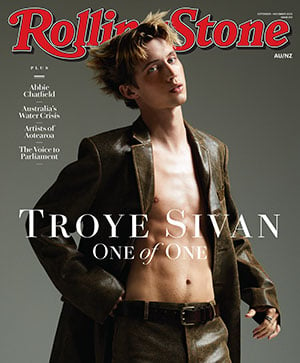 Get unlimited access to the coverage that shapes our culture.
Subscribe
to
Rolling Stone magazine
Subscribe
to
Rolling Stone magazine