It's a long way to the top if you want to rock n roll, and it's been a long time since the iconic SLAM Rally which saw 20,000 people march through Melbourne in protest of restrictive laws which linked music with violence and financially penalised live music venues.
The Melbourne music community at the time was galvanised by the closure of iconic pub The Tote after a range of measures brought on by the government made it impossible for the publican to keep it open.
The closure served as a lightning rod that eventually erupted until it saw thousands of music lovers at the foot of Victoria's Parliament demanding a change to the law.
The unprecedented backlash forced the then Labor Government to capitulate on the issue resulting in a range of changes to existing laws and a new funding for organisationsto better foster the live music scene in Victoria. It also claimed the scalp of then-Director Of Liquor Licensing Sue MacLellan who was promptly removed from her post.
"It was quite a unique time politically, and that was because basically we had an election coming up," says Slam co-founder Helen Marcou. "It was a time when a lot of venues were closing down their live music program in Victoria."
"The publicity was triggered by the closing of the Tote at the time, which was quite an iconic well-loved venue, but once it got out there that up to 80 venues had actually reduced their live music programs or cancelled it altogether within that six-month period, it made it so obvious what a crisis it was, and once these venues are gone it's very difficult to reopen them again."
"I think that people really stood out because the reason it was closing was because of government regulation and not just economic turns or lack of punters or anything like that. There was just ridiculous government regulation that made it virtually impossible for small venues to run."
Indeed, government regulation has again been put back on the agenda as liquor licensing and music venues have become a political platform ever since the recent influx of street violence on Sydney's notorious nightclub mecca, Kings Cross, crafting the issue of alcohol-related violence as a political platform for pokie-lined pub venues and politicians alike.
Since then, Brisbane Police have called for tougher venue restrictions, Adelaide venues are staring down the barrel of tough restrictions such a mandatory metal detectors and a 3am lock out, and the Sydney venues are feeling the continued pressures on late night venues and live music hotspots across the Sydney CBD.
Music venues, and in particular live music venues, are rarely the target of policymakers. However hasty decisions like those facing operators in Adelaide, Sydney, and Brisbane, could see live music venues become collateral damage is a war against violence that the public want fixed and policymakers rarely have practical knowledge about.
Now, the 3nd anniversary is fast approaching of the SLAM rally in Melbourne,  and organisers are keen to repeat the success of last year after the cause went around Australia for National Slam Day; which seems even more important given the current climate.
National Slam Day celebrates small venues and live music across Australia, and last year saw more than 150 venues across the country team  up with musicians to celebrate local live music in their own communities.
"It'll be celebrating the anniversary of the SLAM rally, getting a general awareness out there for people to get into music venues, and an idea of the value of music and how important it is," adds Marcou.
"From there, once we've got people back in the venues [and] people participating in this campaign, each state can individually take the tools of SLAM and use it to lobby in their own neighbourhood, and that's a really important thing to do while we all have a national voice."
"When the music community governors come together and speak as one voice it gives them a much stronger negotiating and lobbying position with government, particularly at a federal level."
National Slam Day will again be held in 2013, with the date set for February 23. Registration is free and open on December 10. Your venue or band can jump online and register at slamrally.org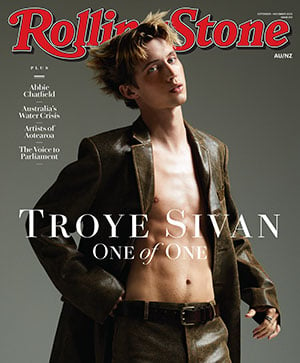 Get unlimited access to the coverage that shapes our culture.
Subscribe
to
Rolling Stone magazine
Subscribe
to
Rolling Stone magazine