Exactly ten years ago today, psychedelic pop project Tame Impala popped on the radar with their debut album Innerspeaker, earning multi-talent Kevin Parker a shining spot in the Australian music scene.
Revered today as a key record in any Aussie music fan's collection, Innerspeaker marks itself as Tame Impala's debut album, sparking a solid career for frontman, main man, and studio recorder Kevin Parker.
The album itself was recorded on a remote beach in Western Australia in a shack during the winter of 2009, where there was a distinct lack of internet, phone, and television capabilities. Even though Parker wished to keep the entire making of the album under his own wings, he eventually enlisted help from Dave Fridmann [Producer, Flaming Lips], noting that he wanted the album to sound "absolutely explosive".
Unfortunately, only a week before the debut for Innerspeaker was set to take place, iTunes accidentally released the album for immediate buy instead of pre-order, seeing the new psychedelic album leaked through the internet in a poor quality format.
Despite it's humble beginnings, and going through an early leak before its debut, Innerspeaker managed to cement itself in it's rightful spot of iconic Australian music, sporting high marks from numerous critics, while also scoring as number 18 in triple j's Hottest 100 Australian Albums of All Time in 2011.
As the tenth anniversary of Innerspeaker is today, we're taking a little look back on how much this album has influenced Aussie music over the past decade, and will hear from a few key fans on what the album means to them.
Check out 'Solitude Is Bliss' by Tame Impala
Although Kevin Parker had released a couple of EPs under the name of Tame Impala prior to the debut album, Innerspeaker saw itself as the first time the project saw widespread attention from not only Australia, but around the world.
Love Indie?
Get the latest Indie news, features, updates and giveaways straight to your inbox Learn more
Although the album was less than ten years old at the time, last year saw Tame Impala climb the global market and score a slot as headliner of the 2019 Californian festival Coachella.
Not only has Innerspeaker travelled around the globe with listeners popping up worldwide, this album seemed to kick off the Australian psych-rock movement, putting the genre on the global stage, and sparking as influence for other key bands.
From its emergence only a decade ago, it's travelled from being made in a tiny shack to being a global album, receiving a double platinum certification from ARIA, charting globally, and winning itself an Album Of The Year award from Rolling Stone in 2011, as well as being noted as the Australian Album Of The Year via J Awards in 2010.
Check out 'Lucidity' by Tame Impala:
"Hearing Tame Impala's 'Half Full Glass Of Wine' back in 2008 was nothing compared to the full-length that followed barely 18 months later. We'd had tastes of what Kevin Parker was gearing up give us thanks to tracks like 'Sundown Syndrome' (and his cover of 'Remember Me'), but when Innerspeaker was unleashed, it was like nothing else we'd ever heard. It was powerful, accomplished, and above all, a game-changer, and one that made it clear Aussie music was at its peak, all those to a long-haired bloke called Kev." –Tyler Jenke, Editor of Rolling Stone Australia
"As with only the best psych-rock albums in the era from which Tame Impala took inspiration, Innerspeaker has aged impeccably well. Its thick fuzz guitars and hazy, heady soundscapes influenced the formation of garage bands the world over, and still sound as exhilarating as they did a decade ago when this spectacular debut dropped." –Jesse Delauney, Freelance Writer
Check out Tame Impala's 'Expectation':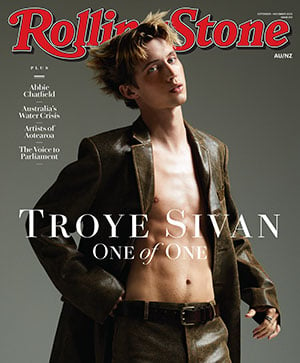 Get unlimited access to the coverage that shapes our culture.
Subscribe
to
Rolling Stone magazine
Subscribe
to
Rolling Stone magazine