If you've ever listened to any alternative rock song from the last three decades, the chances are close to perfect that it was – even slightly – influenced by the Pixies.
First forming at the University of Massachusetts Amherst back in 1986, the founding duo of guitarist Joey Santiago and frontman Black Francis (born Charles Thompson IV and best known as Frank Black) soon recruited drummer David Lovering and bassist Kim Deal to complete their core lineup.
Within a year, the group had become a fixture of the live scene, recording numerous songs to form their self-titled demo tape (dubbed The Purple Tape amongst fans). Soon, a selection of these songs were used to create their debut release, Come On Pilgrim, in 1987.
Not even six months later, the Pixies had released Surfer Rosa, their first studio album, and one that would turn them into household names outside of their dedicated local followers.
Before long, the group were being cited as influential figures on the scene, with their work going on to even guide the songwriting of big-name artists like Nirvana's Kurt Cobain and Radiohead.
Having celebrated these two iconic releases with a massive reissue last year, the Pixies are not only gearing up to release a new album this week, but to also bring their Come On Pilgrim… It's Surfer Rosa tour to Australia next year.
With these shows seeing the band play their first two releases in full, we had a chat with Pixies guitarist Joey Santiago to discuss the power and influence of their early records, and what's on offer for their upcoming record.
Love Indie?
Get the latest Indie news, features, updates and giveaways straight to your inbox Learn more
Check out the Pixies' 'The Holiday Song':
It's been over 30 years since you guys recorded Come On Pilgrim and Surfer Rosa. Did you ever think at the time that you'd be celebrating their anniversary with full-album shows all these years later?
Nah, [laughs]. No way. I mean, that concept wasn't even around back then. We never though about doing shows playing it front to back, with the record, or anything.
Even when bands were doing it before us, I just never thought that we would do something like that.
I didn't think there was a need because we do most of the songs anyways. But, it's a special sell when we do it. I saw like, Steely Dan do Aja — that was pretty special. And, I did like the fact that they played the album in order, you know?
They were both sleeper hits upon release, did the response take you by surprise at the time?
Eventually. Geez, I suppose so, I mean when we released it there was a big hoopla already. The crowds that we had in our show were just going gaga over us and most of our shows were sold out pre-breakup.
I mean, I never though about us being… you know, I never think that far ahead. I don't have a five-year plan, per se. Maybe other people do. Maybe the manager does, but I don't, you know?
You guys were obviously young musicians when you recorded them, how do you view them now? Is there anything you would change in hindsight?
No, 'cause it's all situational, you know? We never used to, we hardly ever came up with a song together. I mean, a brand new song that we haven't demoed in the studio, and with this new album we've done it. We've been doing it… this time around we had four or five off this album that we recorded like that.
I don't know… maybe we'd do that, but at the time it was already… we played it live, the first batch of songs. We already knew it was getting an audience reaction, so we'd record it.
We had a lot of material this time around. We're pretty comfortable. Charles is more comfortable in his songwriting. Everybody could come together to make it sound, you know, Pixies-ish. Right now, it's just the way it is right now.
Check out 'Bone Machine':
Both of these releases are cited as hugely influential in the alternative rock genre. I've seen that the Pixies are often apprehensive to accept such a title, but obviously your influence and popularity is hard to ignore when you look back on these records.
I really don't have a hard time accepting it for me, because it's out there. It's out there now and I hear people mentioning it. I hear journalists mentioning it, so I guess it's true.
So, it is. We haven't been around since… We're still viable [laughs]. It's 30 years; that's not by accident. Deep down inside we do know it. It just depends on the day [laughs]. Some days it's like, "fuck it, who cares?"
You've played a few of these anniversary gigs so far. Obviously fans are there because they love the records, but what has the response been like?
It's been great! There's been demand for it, such high demand that we're doing it again in Australia. This is the only time we're going to do this — the thirty year thing – down there because we've done, geez, we've done the 20 year, or the 25 year before. So, yeah. The response has been great.
You know, it's got a story — the tour has a story. These shows have a story. We're gonna do Surfer Rosa, it's going to be a special night. It's going to be a unique night because we don't do this ever.
Check out 'Caribou':
Why did you guys wait until the 30th anniversary to perform this tour? Doolittle saw a 20th anniversary tour, but fans had to wait a bit longer to celebrate the early work.
Well, it came out before, so we weren't really aware… It turned 20 years old and we just ignored it. We didn't even acknowledge that we were going to do some kind of celebration for it. It's a good number, I guess. People like zeros and 20 and decades, and half decades seems to turn people on.
Plenty of the songs in the setlist are staples while some haven't quite been played as much over the years, what's it like to revisit some of these songs years down the line?
Some of the songs we haven't played in a while. You know, we don't do all of them. I have no idea why, actually. I know that I have a very odd tuning on one of them, so we can't do that. I'm not going to want to bring that one guitar out for that one song.
But, we're more efficient when we tour this way. I guess it's nice to save them for these occasions [laughs]. We hadn't been doing 'Gigantic' for a while. We didn't think we'd ever do that one again, and we're doing it now.
Was there any specific reason why that one didn't get played that often?
We considered it… I guess we had respect for Kim [Deal]. That's why we never played it. It was like, "okay, out of respect, that's it, we've just got to move on," and we did it for Surfer Rosa, and it was like, "oh, it's going over well, it's not getting judged, no one was assassinating us for doing it." It went over well, so we still do it now.
Check out 'Gigantic':
Jumping ahead a little bit, you guys are releasing your new album, Beneath the Eyrie. How is the band feeling about releasing that one?
I think it's going to be… we're actually anticipating it. We can't wait! I had dinner with Charles a couple of nights ago and we were talking about, you know, "Friday's coming!" We didn't wonder how the album was going to get received, we couldn't care less.
But, we were like, "Eh, I'm proud of it." But, the podcast set it up well, and people seem to have taken ownership on it already, anticipating the album because they heard little snippets of it as we were working on it.
What made you guys decide to enter the world of podcasting?
Well, the idea got presented to us, and our first concern was that we never let anyone in the studio, ever. Record companies never went in when we were recording, none of them.
None of them went and checked in like, "how you guys doin'? You guys spending our money well? Fuckin', taking naps, sleeping, taking holidays? Are we hearing any hits?" Because we never were a 'hit' band, you know?
So, now having a podcast our main concern was, "is it going to stifle us?", or "are they were going to get in the way?", because we do work hard on it.
Then, as it turns out, there were little microphones, and they were tiny, and they were just hidden anywhere. We didn't even know we were being recorded on some days because we were immersed in our work and as it turns out, it was like, "shit, we do have a lot of fun while we are making this stuff."
There was a lot of laughing around — that's what we always did, anyways. Or, well, on this one. Some records we were miserable… you probably wouldn't hear a thing being recorded.
Check out 'On Graveyard Hill':
There's a real American Gothic vibe to the album, what was the inspiration behind that?
I'll just go with Charles on this because lyrically it's got that gothic feel. But, that was an idea that we should make it gothic because of his guitar, and any time the ideas would start to blossom, Charles didn't even think about it, he was just like, "let's go with it". It is what it is. It's interesting.
There's a lot of stories about gothic things, people seem to like it. Edgar Allen Poe is popular, not by accident. That was his thing. It had that feel, anyways. That environment was there. It was all grey, misty, and we were in this old church, so we were bound to have something to that effect from the environment.
The Pixies have effectively become iconic in rock music over the years, is there ever a fear of living up to your own legacy when it comes to recording a new album?
Nah, we just go in there. We're very 'in the moment'. Like, "okay, we have studio time. Cool. We have three weeks? Okay! Let's do it! Let's make an album's worth of music."
Legacy-wise, we don't think about it. At the end of the day, we just know it's going to sound like the Pixies, so all we can really count on is that we'll like it. If we didn't like it, we wouldn't even release it. Like, "okay, when's the next three weeks we're going to give this a shot, 'cause it didn't work this time."
Check out 'Where Is My Mind?':
Pixies Come On Pilgrim… It's Surfer Rosa 2020 Tour
 Tuesday, March 9th, 2020 (New Show)
Palais Theatre, Melbourne, VIC

Tuesday, March 10th, 2020 (Sold Out)
Palais Theatre, Melbourne, VIC
Thursday, March 12th, 2020 (New Show)
Fortitude Hall, Brisbane, QLD
Friday, March 13th, 2020 (Sold Out)
Fortitude Hall, Brisbane, QLD
Saturday, March 14th, 2020 (Sold Out)
Sydney Opera House Forecourt, Sydney, NSW
Sunday, March 15th, 2020
Sydney Opera House Forecourt, Sydney, NSW
Tuesday, March 17th, 2020
Fremantle Arts Centre, Perth, WA
Tickets available through Live Nation
 The Pixies upcoming seventh record, Beneath the Eyrie, will arrive on September 13.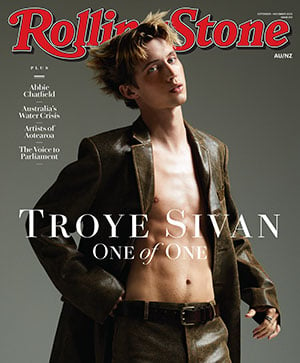 Get unlimited access to the coverage that shapes our culture.
Subscribe
to
Rolling Stone magazine
Subscribe
to
Rolling Stone magazine