For the fourth year in a row, we asked all of you to vote on the year's best and worst in music, and you came out in your droves to have your say on everything from 2013's albums and tracks, to its heroes and villains, strangest stories, hugest WTFs, plus all and everything in between.
Tallied from thousands of entries, here are the final, unedited results of our 4th Annual Readers Poll, and we must say once again, that we commend you all on your good taste and savvy takes on the last 12 months.
So without further ado, here's the full list of results. Enjoy, and pat yourselves on the back!
Most Promising New Act
Your Pick: Leaks


If you haven't heard of 19-year-old Geelong-based producer Leaks, you soon will.
But judging by the landslide in votes, chances are you have heard Leaks (the musical alias of Thomas Guida)… and you loved it. After we ourselves snagged our ears on the ethereal electronics of this young music-maker, we just had to have him to help launch our new column on emerging talent, The Profile.
With just a single EP to his recording credits, and a handful of buzz-worthy live appearances to his name (including this year's Strawberry Fields), Leaks has set himself a platform from which his star can spring in one only direction: up. 

Read the 10 Most Promising New Acts Of 2013 As Voted By You here.
Love The Beatles?
Get the latest The Beatles news, features, updates and giveaways straight to your inbox Learn more
Runners Up:
Spender
Japanese Wallpaper
Biggest 'Oops'
Your Pick: Triple J Hottest 100 20th Anniversary features no female artists


In June, Triple J celebrated 20 years of the world's biggest musical democracy with a Hottest 100 that spanned the poll's two decade existence. While the national youth broadcaster broke records, with more than 940,000 votes cast across 20 days (and naming 1997 the best year in music), the final list was heavily criticised for its lack of female figures.
Following ever-laddish Brtipop icons Oasis coming in at #1 with 'Wonderwall', Meg White offered a woman's touch at #2 on the poll, followed by Kimbra for her duet with Gotye on 'Somebody That I Used To Know' at #9, but after that, the presence of fairer species saw a strong drop-off, and even then usually as part of male-dominated ensembles (re: bassists. eg. Something For Kate, Smashing Pumpkins).
The major cock-up (excuse the pun) also unwittingly pre-empted a slew of issues spotlighting the gender divide in Aussie music, from industry figures asking 'why all the dudes?' taking centre stage to working behind the scenes, to the likes of Washington, Tina Arena, and The Preatures' Isabella Manfredi sounding off on the presence of women in music.
As far as 'oopsies' go, leaving half of the human race out of one of its greatest expressions of art has got to be up there.
Runners Up:
Homebake Cancelled, blame cancelled Harvest Festival (original story)
ARIA reissue charts after Kanye West beaten to #1 by country compilation (original story)
Best Idea / Mad Props Of The Year
Your Pick: 3D Printing


While the industrial revolution is still quite a few year off from becoming a household item, there's no denying the exciting possibilities and bright future that 3D printing represents.
That's even more true for music lovers, who saw a wave of 3D printing innovations, each milestone opening the window of possibility even wider than the last, that were just inexplicably cool.
From the bright sparks that constructed amazingly designed, fully-functioning guitars to the kudos owed to the band that exclusively played with 3D instruments, and the madcap boffins that sculpted 3D printed prosthetics that turned the human body into a musical instrument.
What about recreating your favourite album art with 3D printing? Just as an enterprising Joy Division fan did. While music fans went gaga over the prospect of turning their digital collection into printable vinyl, with Bloc Party frontman Kele Okereke becoming the first 'official' musician to release a 3D printed record, and in tandem, helping launch the world's first 3D printed record store.
Need some speakers to go with that? Cornell University's brains trust has got you covered.
Runners Up:
Gotye wins Grammys (Gotye wins everything) (original story)
Daft Punk launch album in regional Australian town Wee Waa (original story)
Biggest Loss
Your Pick: Lou Reed


There's no point in comparing the tragic deaths of musicians like some kind of sick competition, but a groundswell of voters all agreed that when Lou Reed passed away at age 71 on 28th October this year, that the cultural landscape had lost a rock icon it would never be able to replace.
The grizzled New Yorker had an immeasurable impact and influence, whether it was in his early days as the founder of The Velvet Underground – overlapping the art worlds of buddy Andy Warhol with the leather jacketed ethos of rock; or staunchly doing whatever the fuck he wanted to in his later years, critics of his Metallica collaborating, Kanye West praising be damned.
Though Reed spawned many imitators, kick-started countless musical careers, and consciously (or otherwise) shaped the path of those that followed in his footsteps, with many having walked the wild side since, there will never be anyone who truly did it with quite the strut he did.
Runners Up:
Yothu Yindi leader Yunupingu (original story)
Chrissy Amphlett (original story)
Saddest Event Of The Year
Your Pick: The Angels' Doc Neeson diagnosed with cancer


The last 12 months have sen a whole spell of harrowing music events, from festival deaths to bands splitting, venues shutting up shops, to music shops and magazines going gently into that good night. But edging out the shock of (what was to be) the third annual Harvest Festival being axed by just four votes, was the sad news that a legendary Australian frontman's health was under threat.
The dawn of 2013 was paired with the heartbreaking news that Bernard 'Doc' Neeson, frontman for rock stalwarts The Angels, had been diagnosed with cancer over the Christmas period "This will require immediate intensive radiation and chemotherapy treatment and will continue for the next 6-12 months," read a statement from Neeson's bandmates, who were forced to cancel The Angels 100% national tour as a result.
The positive turn to Neeson's plight was that the music community swiftly rallied to his aid, as an all-star cast of Aussie musicians – including Jimmy Barnes, Angry Anderson, Baby Animals, and even pollie Peter Garrett – turned out for the 'Rock For Doc' benefit concert to help raise the costly expenses for Neeson's treatment.
Runners Up:
Harvest Festival cancelled (original story)
Frank Ocean cancels Aussie shows (original story)
International Tour Of The Year
Your Pick: James Blake


(Image: Stefan Foster. Source: James Blake @ Palais Theatre.)
In what is sure to be an upset of fans of The Boss, it was the pre-Splendour In The Grass warm-up and subsequent return tour from the Mercury Prize-winning James Blake that was voted as the best International Tour Of The Year over the decade-long return of Bruce Springsteen and the E Street Band (and by just 10 votes, too).
Audiences spell-bound by the English post-dubstep producer-performer included Tone Deaf's own reviewers. Our Melbourne writer called his March concert at the Corner "unforgettable" as the talented singer and multi-instrumentalist previewed new tracks from his yet-to-be-released sophomore album, Overgrown.

Later, the Tone Deaf scribed that bore witness to one of Blake's Splendour sideshows gushed: "It's hard to put a show into words when it left you completely speechless." It seems that the majority of you dear readers felt the same.
Runners Up:
Bruce Springsteen
Lorde
Australian Tour Or Gig Of The Year
Your Pick: Tame Impala


(Image: Yana Amur. Source: Tame Impala @ Festival Hall)
There was a wealth of top tours from a long roll-call of amazing artists in 2013.
You Am I celebrated their early days with their live album Daily Double Tour, Paul Kelly teamed up with equally legendary singer-songwriter Neil Finn for a run-through of the pair's deathless songbooks, and The Drones had many nodding emphatically at the praise that they were Australia's best live band.
…except they had to contend with Kevin Parker and his psychelicious Perth cosmonauts for the title.
Tame Impala had already smashed the UK, conquered America, and taken in a host of Aussie shows in 2012 off the back of their acclaim-hoovering Lonerism album, but seemingly warmed up, 2013 brought an even bigger, better display from the band as worked in another headline tour and a few choice festival slots (including regional dates with Groovin' The Moo).
As anyone who's walked away from a Tame Impala gig with the buzzing prog-stomp of 'Elephant' or the elated anthem that is 'Feels Like We Only Go Backwards' ringing in their ears will tell you, they are a peerless live band that must be experienced to be believed.
Runners Up:
King Gizzard & The Lizard Wizard
Flume
Festival Of The Year
Your Pick: Meredith


(Image: Carl Dziunka. Source: Meredith 2013 Day Two)
You can divide the world up into two types of people: those that have experienced the inexplicable majesty of the Supernatural Amphitheatre and become lifelong diehards, and those that have never been.
It's that simple, and we proved when we sent a Meredith virgin off to this year's just-finished edition, only for them to return with the same giddy praise of "tiny miracles" and wonder that the many of you who voted for Aunty Meredith's annual extravaganza feel.
From its deliciously eclectic lineup – all performing on one stage so you miss none of the action – to the coveted 'No D!ckhe@ds policy' and gloriously picturesque bush setting, Meredith ticks all the essential music festival boxes, and many more that you didn't even know you needed (Fruit Party with Mac DeMarco, anyone?).
Unsurprisingly, year-in, year-out Meredith has claimed the Readers Poll honours, but this year indicates there may be a seachange, with St. Jerome's Laneway Festival coming just three votes behind, and the indie boutique event well ahead of the high-voted likes of Splendour In The Grass, Big Day Out, Golden Plains, and Soundwave.
Runners Up:
Laneway
Splendour In The Grass
Worst Tour, Gig, or Performance Of The Year
Your Pick: Azealia Banks 30 sec performance at Listen Out Melbourne



(Image: Len Panecki. Source: Listen Out Melbourne 2013)
The famously short-tempered, foul-mouthed, Twitter-friendly rapper Azealia Banks didn't even last a minute on stage at the Melbourne instalment of this year's inaugural Listen Out festival.
Taking to the main stage at 6:25pm, Banks quickly fled the scene after someone hurled a beer bottle at her. Six minutes later and still no sign of the fiery rapper, by 6:31pm she was already on Twitter saying she was "going for sushi".
It came after a similar incident happened in Sydney, with another flying empty causing Banks to cut her set in half. Whether you think the exit was justified or not, it still stands as the worst performance (can we even call it that?) of 2013.

Runners Up:
S Club 7 with three members
Warped Act's 40 foot stage dive onto fans (original story)
Wanker Of The Year
Your Pick: Kanye West


Shock horror – everyone's favourite love-to-hate villain Kanye West takes out the Wanker award. Who saw that one coming?
Let's go through the incidents that might've earned him the title. Maybe calling himself Jesus, or Yeezus, irked some people. He also had a ranting tirade about leather jogging pants – that was definitely a wanker move. There was also that video for 'Bound 2' where he had sex with Kim on a motorbike, ugh, and we haven't even gotten to the endless one liners like "For me as Kanye West, I got to fuck shit up" and "[Rappers] are the new rockstars and I'm the biggest of them all!"
Yep, we're not going to question it: Kanye West is the biggest wanker of 2013, and probably of all time. But still, can you imagine how boring music would be without him?
Runners Up:
Miley Cyrus & Robin Thicke
The guys who want to knock down Melbourne's Palace Theatre for a hotel
Hero Of The Year
Your Pick: Lorde, for ruling 2013 and proving pop can be intelligent

Lorde may have only just left sweet 16 behind, but the girl born Ella Yelich-O'Connor has achieved an hell of a lot before her 17th birthday so it comes as absolutely no surprise that the teen has taken out our 'hero of the year' title.
The New Zealand sensation's music domination includes a stack of historic accolades, including becoming the longest reigning female on the US charts while her breakout single 'Royals' peaked on the American charts as well as being voted by our readers as the best international single of 2013.
Shortly after, Lorde released her debut album Pure Heroine, which earned the accolade of being the second fastest selling album of the year after it debuted at the #1 spot on the ARIA Albums Chart.
Along with her immense musical talent and crazy number of records under her belt, Lorde also earned her title of hero of the year due to her fervent desire to stay true to herself and as well as her ability to run at the mouth and say what she really means. What a champ!
Runners Up:
Courtney Barnett for proving that all Australian music has international appeal
Annandale Mayor Darcy Byrne for treating music issues seriously
Most Bizarre Story Of The Year
Your Pick: Dentist attempts to clone John Lennon from rotten tooth


The 'Strange But True' bar got raised a little higher in August when the fascination with dead rock stars reached a new extreme.
Canadian dentist and über-hardcore Beatlemaniac, Dr. Michael Zuk already proved his Lennon fandom when he purchased a rotten tooth belonging to Lennon for $30,000 at a UK auction at 2011.
"Most people would say I was crazy," he said at the time, but he proved everybody wrong… by displaying just how truly batshit insane he was when he telegraphed plans to clone John Lennon from DNA extracted from inside the rotten molar.
"I am nervous and excited at the possibility that we will be able to fully sequence John Lennon's DNA, very soon I hope. With researchers working on ways to clone mammoths, the same technology certainly could make human cloning a reality," he says. "Many Beatles fans remember where they were when they heard John Lennon was shot. I hope they also live to hear the day he was given another chance."
The dentist also tracks the process of the project on his personal website, which offers a line of John Lennon DNA pendants, 'Rot Star' art prints, a book about his celebrity purchase, and features a tribute song called 'Love Me Tooth' to the tune of the Beatles' 'Love Me Do'.
Runners Up:
Frenzal Rhomb Frontman gets tapeworm on his brain (original story)
Angry Anderson goes into politics (original story)
International Album Of The Year
Your Pick: Arctic Monkeys – AM
Read our Tone Deaf review here.
Runners Up:
Lorde – Pure Heroine
Queens Of The Stone Age – …Like Clockwork
Australian Album Of The Year
Your Pick: Nick Cave & The Bad Seeds – Push The Sky Away

Read the full Top 20 Aussie Albums of 2013 As Voted By You here.
Runners Up:
RUFUS – Atlas
The Drones – I See Seaweed
Most Disappointing Album Of The Year
Your Pick: Kanye West – Yeezus

Read our Tone Deaf review here.
Runners Up:
MGMT – MGMT
The Strokes – Comedown Machine
International Single Of The Year
Your Pick: Lorde – 'Royals'
Read/listen to the Top 15 International Singles Of 2013 As Voted By You here.

Runners Up:
Daft Punk – 'Get Lucky' (feat. Pharrell Williams),
Arctic Monkeys – 'Do I Wanna Know?'
Australian Single Of The Year
Your Pick: Vance Joy – 'Riptide'
Read/listen to the Top 15 Aussie Singles Of 2013 As Voted By You here.

Runners Up:
Courtney Barnett – 'Avant Gardener',
Leaks – 'Often It's You'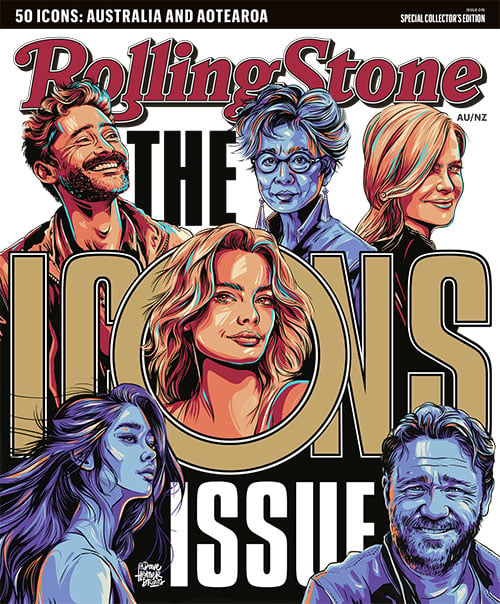 Get unlimited access to the coverage that shapes our culture.
Subscribe
to
Rolling Stone magazine
Subscribe
to
Rolling Stone magazine