Review: Paul Dempsey at the Gasometer Hotel, Melbourne, May 22nd, 2019
When it comes to seeing Paul Dempsey live, each and every show seems almost twice as good as the last time he took the stage. With a number of sold-out performances each year, it's hard to believe that he could get any better, but thankfully, he's a man who knows how to shock, awe, and even surprise.
Back in April, Dempsey revealed that Something For Kate are finally gearing up to unleash their long-awaited seventh album, and first since 2012's Leave Your Soul To Science.
To celebrate, the group's frontman announced he would be hitting up Melbourne's Gasometer Hotel to road test some of the new material, harking back to his old days performing under pseudonyms in the front bar of Richmond's Corner Hotel.
With these shows selling out in record time, Dempsey was forced to add a few extras into the mix, meaning that on Wednesday night, he took to the stage in Collingwood for the first of a five-night residency which he noted would be live, intimate, and would feature him "wingin' it just a little bit."
Check out 'Out The Airlock' by Paul Dempsey:
Unfortunately for timely fans, the evening got off to a bit of a rocky start, with a last-minute runaround to find a new P.A. system meaning the venue's opening time was pushed back by about 45 minutes.
Thankfully, Paul Dempsey's fans are some of the nicest going around, meaning that this delay was filled with stories of past shows being shared around the queue, and wonder about what might be making an appearance later that night.
Opening the evening's proceedings though was Canberra musician Nick Craft, who some might remember from his time in '90s outfit Sidewinder. However, there were no 'Titanic Days' on display, rather, fans were treated to selections from Craft's exceptional 2018 solo debut, Minerva.
Kicking things off with what he described as "very simple little nylon string songs", Craft showcased his amazing songwriting capabilities, crooning his emotive lyrics behind deftly plucked strings that formed gorgeous melodies upon which magic was made.
Performing tracks like 'The Ones Who Leave And The Ones That Get Left Behind', 'Dance In The Fire', and the somewhat Dylanesque 'No Silver Lining', Craft also dipped into a truly stunning cover of the Descendents' 'Suburban Home', turning the track into a reflective ode to conformity.
While Nick Craft was onstage stunning the devoted audience members, he was sadly subjected to far too much talking in the crowd, with many inane conversations overshadowing his music at times. While we can't force an audience to do anything, we can only hope the rest of his support slots see him given the attention he is owed.
Capping things off with 'Circle Of The Sun', Craft took his leave from the stage (urging us to give his record, Minerva, a spin on Spotify if we get the chance), and vowed to return again tomorrow. With how amazing his set was, there's a strong chance that Craft might have found a few new devoted followers thanks to this show.
Check out Nick Craft's 'Minerva':
Following a thoughtfully-short turnaround (during which time a stagehand set up an incredibly high mic stand, and everyone craned their necks in anticipation), the devastatingly suave figure that is Paul Dempsey soon darkened the stage.
Greeting the crowd, and noting their excitement at witnessing a bunch of songs he doesn't "know how to do yet", Dempsey kicked things off with the band's early years, delivering performances of 'Captain (Million Miles An Hour)' and 'Hallways'.
While the opening bars of 'Captain' instantly resulted in widespread cheers from half the audience (while the other half stayed transfixed at the stunning spectacle they were witnessing), 'Hallways' resulted in the night's first singalong, with the crowd joining Dempsey in reciting some of those enigmatic lyrics of the late '90s.
Before long though, we were witnessing our first sneak peek of new material, with a song ostensibly titled 'I Got Nothing When It Comes To You' making its debut. Reportedly written three days earlier, the track featured contradictory lyrics, paired with Dempsey's trademark emotion, strong chorus writing, and penchant of forgetting the words to new material.
Thankfully, his fans were none the wiser, leaving us hungry for more from this legendary musician.
Check out Something For Kate's 'Hallways':
After a mesmerising performance of 'Back To You', the audience were left so stunned that you could almost hear a pin drop. However, the energy was soon raised again with renditions of 2009's 'Fast Friends', and 'Blindspot', from 2016's Strange Loop.
"Five nights, I feel like I've moved in," Dempsey joked to the crowd. "You picked the right night to come. I don't know why, it seemed like a nice thing to say."
Noting that Something For Kate were indeed gearing up to record their new album in the near future, Dempsey explained that these shows were a good way to push along the completion of the band's new tracks, allowing them to be heard by his eager audience, and getting all the kinks in the new songs worked out.
Before long though, we were treated to another new track, this time, one potentially called 'Last Resort Town'. With an energy and style unlike most Something For Kate or Paul Dempsey tracks, one could easily have been mistaken for thinking we were witnessing the evening's second Descendents cover, with the track sounding akin to one of Bad Religion's acoustic tunes.
However, fans didn't have time to let this one sink in too much, with a cover of MGMT's 'Time To Pretend' allowing us all to bask in just how amazing the track's lyrics are, especially when you strip it down to an acoustic guitar, and the voice of a man who is truly like no other.
Check out Paul Dempsey's cover of 'Time To Pretend':
Dipping into another new track, Paul Dempsey undoubtedly showed fans what is set to be one of the new record's best, reaching emotional depths with lyrics that spoke of supercomputers and childlike dreams.
While lucky punters had heard this track at recent performances, many (such as myself) had been eagerly awaiting another show from Paul just so they could hear this amazing song once again.
Running through classics like 'Max Planck', 'Faster' (which Dempsey cited as one of his favourite Something For Kate songs), and 'Seasick', another new song was previewed, with fiery lyrics accompanying a track that could possibly be titled 'When The Blaze Is Out'.
Renditions of 'Monsters' and 'Out The Airlock' prefaced a new track ostensibly titled 'Imposters', before Dempsey once again channeled his inner David Bowie with an emotional cover of 'Space Oddity'.
While Something For Kate's connection with David Bowie is well documented, at this point, we're starting to think that Dempsey should work on a Bowie covers album, at least to appease the wanting masses who adore his live renditions of the icon's tunes.
Soon though, the main set was over, with Paul Dempsey refusing to leave the stage, and staying on to give his fans an informal encore they wouldn't soon forget.
Check out Something For Kate's 'Faster':
Kicking off the 'encore' with some fake banter ("More? Really? Me?", he joked), fans bore witness to the last new song of the night, with a track potentially called 'Richard' being given its debut.
While Dempsey noted that the song wasn't even finished yet, it makes us wonder what else needs to be done, as it already has all the earmarks of a classic Something For Kate song, complete with those immersive lyrics that draw us in, and keep us hooked thanks to Dempsey's passionate delivery.
However, with the last song of the night upon us, Dempsey decided to give in to fan requests, dropping in his iconic cover of Hazel's 'Truly'.
While Hazel might have been a short-lived band, Dempsey's cover of the track has outlived the group by at least four times their lifespan, only dishing this one out for special occasions (or when the requests become too much).
With his phenomenal voice shouting those memorable words out into the crowd, almost every member of the audience was there chanting the chorus right back to him, exploding with applause every time he dipped back into that unassuming opening riff.
Sadly though, 'Truly' was the end of the night, with Paul Dempsey sending us off with a friendly wave, and a promise to see us again tomorrow night.
While we might not be any closer to having a release date for the new Something For Kate album, these new songs prove that the record is undoubtedly set to be another instant classic, full of the powerful lyrics and emotional delivery we've come to know and love from the band.
Of course, as we noted last time Paul Dempsey played Melbourne, the man is nothing short of a national treasure, with five sold-out nights at the Gasometer Hotel serving as a testament to this.
Seeing Paul Dempsey live is not the sort of thing you can easily explain to someone; his shows need to be seen to be truly experienced. Only then can you experience the mixture of devastating emotion, blinding talent, and overpowering charisma that one of his shows can provide.
If you've got a ticket to the remainder of Dempsey's Gasometer residency, consider yourself one of the luckiest people alive. If you're in New South Wales and still debating checking out his upcoming shows, treat yourself and make your life better by going to see one of his stunning live performances.
Check out Something For Kate's cover of 'Truly':
Paul Dempsey @ Gasometer Hotel, Melbourne, Australia 22/5/19 Setlist
'Captain (Million Miles An Hour)'
'Hallways'
'New Song' (Potentially titled 'I Got Nothing When It Comes To You')
'Back To You'
'Fast Friends'
'Blindspot'
'New Song' (Potentially titled 'Last Resort Town')
'Time To Pretend' (MGMT cover)
'New Song' (Features lyrics referring to supercomputers)
'Max Planck'
'Faster'
'Seasick'
'New Song' (Potentially titled 'When The Blaze Is Out')
'Monsters'
'Out The Airlock'
'New Song' (Potentially titled 'Imposters')
'Space Oddity' (David Bowie cover)
'Ramona Was A Waitress'
'New Song' (Potentially titled 'Richard')
'Truly' (Hazel cover)
Paul Dempsey Dives Into New SFK Stuff
(Remaining Dates)
Thursday, May 23rd (Sold Out)
Gasometer Hotel, Melbourne, VIC
Friday, May 24th (Sold Out)
Gasometer Hotel, Melbourne, VIC
Saturday, May 25th (Sold Out)
Gasometer Hotel, Melbourne, VIC
Sunday, May 26th (Sold Out)
Gasometer Hotel, Melbourne, VIC
Thursday, June 13th
The Cambridge Hotel, Newcastle, NSW
Saturday, June 15th
Oxford Art Factory, Sydney, NSW
Tickets available from Paul Dempsey's website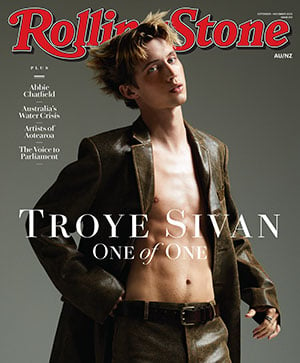 Get unlimited access to the coverage that shapes our culture.
Subscribe
to
Rolling Stone magazine
Subscribe
to
Rolling Stone magazine