Australian musicians love to memorialise the places they know. Paul Kelly offered the whole of Sydney Harbour just for St Kilda Promenade; Courtney Barnett wrote an ode to suburbia and mortality after house hunting in Preston; hell, even Footscray Station has not one but two excellent rock songs about it. 
On that bus From St Kilda to Kings Cross, maybe Kelly passed over Brunswick Street, and now one of Melbourne's greatest thoroughfares finally has a romantic song devoted to it thanks to Rich Webb.
The storied alt-country artist released his love letter to the Fitzroy capital of live music last month, singing of "biding my time" and "feeling for the corners" on his favourite street.
The music video – which should come with a content warning for anyone who misses living in Melbourne like this writer – expertly captures the buzz and characters of Brunswick Street: Webb emerges from the boot of a car, ready to tread a pavement he's walked down so many times before, his feet eventually taking him to The Evelyn Hotel for a grand singalong.
While The Verve's Richard Ashcroft brashly swaggered into passersby on a dreary London road in the "Bittersweet Symphony" video, Webb has no such wrong encounters, gliding down the street effortlessly, guided by memory.
Because Brunswick Street really is the way it is because of well-worn musicians like Rich Webb: the consummate professional, the musician's musician, the pure singer-songwriter who plays the street's bars any given night of the week.
A song like "Brunswick Street" could feel mawkish in the hands of someone else, a limp grasp for virality, but under Webb's spell it feels genuinely warm, an ode to a place that's made him, broken him and made him again, and where he'll likely spend many more nights playing its bars and visiting its stores.
You can watch the video for Webb's country-rock anthem below, as well as read his in-depth guide to the places that make Brunswick Street great.
Rich Webb's "Brunswick Street" is out now.
Rich Webb's Guide to Brunswick Street
Brunswick Street, like any good drag, continues to evolve, which is fabulous even though we've lost some fantastic places along the way. The Punters Club was one of my all-time favourite music venues; Polyester Records was a go-to music store, as was the Polyester bookshop on the other side of the street for books. We've lost some great restaurants and bars.
Despite that, the place is still raging. It's not just about the survivors either – there are a heap of new spots that have established themselves recently that are bringing in a bit of something else too. Yeah, it's changing but I still love it. Here are some of the places I like on the drag. There are plenty more. I remain forever chuffed that I live so close to it all.
The Boozers
From The Newry up north to The Workers Club closer to the city, there are more than enough bars on the drag for any time of the day or night, never mind within a few minutes' walk of it. The Newry gets a special mention because when I landed here it had the best jukebox I'd ever heard and a viciously competitive pool table. I spent a lot of time there back then.
These days I'm just as likely to drop into Labour in Vain, Bar Open, The Evelyn for its pool table in the front bar, or the relatively new Near & Far for something different. Hey, I've even swanned up to The Attic above Black Pearl and been treated to absolutely rocking cocktails and a gorgeous skyline. The strip's got it covered.
The Record Stores
Strangeworld Records heading north is an institution of fabulousness. It's stacked to the brim with vinyl you are not going to find elsewhere and is particularly strong on local and Kiwi stuff. Maybe even some of mine in there too.
Then there is the relatively new Old Plates in the main section, focusing on funk, soul and disco and selling brews as part of the experience. It also offers DJ evenings. Plus Vinyl Revival and Natural Selection. Vinyl continues to make a comeback and these are the places where you find the stuff you can't get at the major retail stores.
The Food
My number one joint down here for food is Vegie Bar. It's an institution and has been so good for so long. Still drop in regularly and it always seems to be heaving. There is a lot of great food on the strip, you pretty much can't go wrong – although after all these years I'm still to have a souvlaki – but if you haven't dropped into Vegie Bar yet, you haven't lived.
The Clothes
It's all about the duds right? And contrary to popular belief, not everyone in Fitzroy wears black. There's one guy who has been spotted walking around with a large papier-mache carrot and I think on one occasion he was photographed wearing blue jeans. Just saying.
There are a multitude of places to freshen your wardrobe, from the second-hand vintage spots such as Joseph's North Fitzroy Vintage, OTC Vintage on the main drag, and upstairs at Lost and Found, to Eastern Market closer to the city where you can grab one-off pieces of amazing eclectic fashion. The Sacred Heart Mission Op Shop near Alexander Parade is always worth a look too.
Other Places I Need to Include in a List Like This
There are a couple of other top spots I've got to include somehow. The first one is The Brunswick Street Bookstore which is always a total pleasure to drop into. It's not huge but what it carries is quality, and it's one of those places where it's just nice to hang around. I reckon I've done more Christmas and birthday shopping in this place than in any other place on the planet. I love it and they gift wrap. Win win.
The other place I need to mention is Flowers Vasette. I love flowers and this place has set the bar on what the experience of going into a flower shop can be like. If I'm walking down Brunswick Street not even thinking of flowers and I walk past Flowers Vasette, I'm going in! Nothing will stop me. Must be fabulous to work there and do that every day.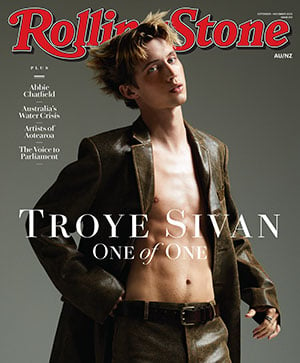 Get unlimited access to the coverage that shapes our culture.
Subscribe
to
Rolling Stone magazine
Subscribe
to
Rolling Stone magazine