Guns N' Roses look set to finally make their first new album in over a decade, with Slash confirming plans for the group to hit the studio later this year.
To even the most casual of fans, Guns N' Roses aren't exactly known for their prolific studio output. Ever since we saw the release of 1987's Appetite For Destruction, the band have unleashed five more albums, though it took a massive 15 years for the long-awaited Chinese Democracy to finally arrive in 2008.
Now, over ten years since their last record, the reunited Guns N' Roses lineup look set to release new material in the near future, with Axl Rose explaining back in December that the band "had to get through this [current tour] first" before they could "see what happens next".
Recently, guitarist Richard Fortus explained that the band's new record "will happen faster than you think", while noting that a new Guns N' Roses track by the end of 2019 could "definitely happen."
However, while Slash has revealed the band are working on new tunes, and Duff McKagan described their new music as "magnificent", the group's guitarist has now given us something of an update into the band's plans for the rest of the year.
Check out Slash's discussion with 101 WRIF Meltdown:
Speaking to US radio station 101 WRIF Meltdown (via Alternative Nation), Slash explained why he hadn't been too forthcoming about details in regards to when fans could finally expect to hear new music.
"The thing is, we hadn't really done anything yet, and I don't like to say anything," he explained. "You know how people promote shit and lie through their teeth?"
"So I just wanted to be honest, and there was no telling what we were going to do at that point. But at this point, I do know we are going to do this one, and we've already started working on stuff."
Similarly, Slash noted how he was frustrated that an image of his guitar rig at Axl Rose's home had done the rounds.
"There was a rumor I was over there, it was before I had even been there," he explained. "I was like, 'Jesus Christ, that's a pain in the ass and annoying.'"
"But I am excited about what we've got going on and everything, so it's going to be cool. It's awesome."
After the phone call with Slash dropped out as he began to discuss the new album, the guitarist joked that "I guess that must have been sort of Axl saying something!"
"When we finish the tour in the fall," he did manage to explain, "then we will commence working on [what] will end up being the next Guns record."
While there's no word as to whether or not fans will receive new Guns N' Roses material in 2019, or if the band will end up touring globally or just in North America like Slash notes, it's undoubtedly heartening to learn that we can expect positive movement from the group in the near future.
Check out 'Welcome To The Jungle' by Guns N' Roses: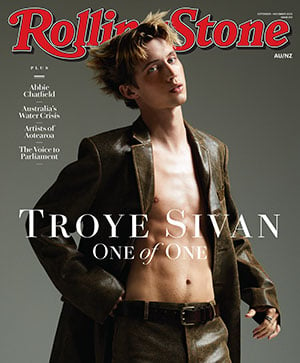 Get unlimited access to the coverage that shapes our culture.
Subscribe
to
Rolling Stone magazine
Subscribe
to
Rolling Stone magazine