It's one of the biggest musical festivals in the world, and now Australia's own Tame Impala has been announced as a headliner for the 2019 edition of Coachella, alongside Childish Gambino and Ariana Grande.
Back in October, it was revealed that the 2019 Coachella headliners had reportedly leaked. According to a report from Hits Double Daily, a huge triple-header of Kanye West, Childish Gambino, and Justin Timberlake were set to top the bill of the iconic Californian festival.
While Kanye West was reported earlier today as having pulled out of the festival due to the 60×40 foot stage being "artistically limiting", Coachella today announced their latest lineup, and it's a huge mix of rock, hip-hop, and pop music.
Taking place at the Empire Polo Club in Indio, California from April 12-14, and again from April 19-21, the 2019 edition of the festival is set to be headlined by none other than Childish Gambino, Tame Impala, and Ariana Grande.
Of course, that's not all the big names on the bill, with the likes of Weezer, Aphex Twin, Solange, The 1975, Anderson .Paak, Janelle Monáe and many, many more also appearing at the huge festival.
— Coachella (@coachella) January 3, 2019
This lineup is also a huge win for fans of Aussie music as well, with both RÜFÜS DU SOL, surfer-turned-producer FISHER, and Berlin-via-Byron Bay outfit Parcels also making the bill.
Tame Impala's outstanding achievement as a headlining band make them only the second Aussie act to headline the festival, with AC/DC having filled that spot back in 2015.
Of course, with Tame Impala topping the lineup for this year's festival, rumours of a new album have already begun heating up.
Just a matter of months ago, Tame Impala frontman Kevin Parker revealed big plans for the future, stating he hopes to release the band's new record in mid-2019, noting that he would "be really disappointed if we didn't have something out by then."
"I'm always working, I'm pretty certain now that another Tame Impala album is my main priority, definitely," he stated. "I think now I've felt that calling. It's like a calling from beyond."
"I love playing the songs live, I love playing Currents songs I love playing Lonerism songs and everything but I think I'm ready to play some other songs live."
Check out Tame Impala's 'The Less I Know The Better':
However, if you're planning on buying a ticket to California just to scope out some new Tame Impala tunes, don't start looking at flights just yet, with Kevin Parker revealing he's not too keen on showing off unreleased songs before they've been recorded.
"My thing is that I don't like to play unreleased songs live, I like that the first time people hear it is the recorded glory," Parker explained to Beats 1's Matt Wilkinson. "The pre-meditated thing I've spent two years on rather than us being half drunk bashing it out on stage, hitting clanger notes."
In another interview held back in August, Kevin Parker revealed he would love to collaborate with Daft Punk at some point, noting that Kanye West had been his dream collab, until he managed to achieve that goal with a credit on Kanye's latest album, Ye.
"That was Kanye," Parker explained. "Kanye held the number one spot there – he was the answer to that question for a long time. But that's been ticked off."
"The other one is I guess Daft Punk. I hold them in absolutely legendary regard. They're so god-like to me, but I don't even know what I'd do or how I'd do it with them."
While we'll undoubtedly know more about the new Tame Impala album in the coming months, it's looking like 2019 is set to be a huge year for Australian music on the global stage.
Check out Tame Impala's "List Of People (To Try And Forget About)':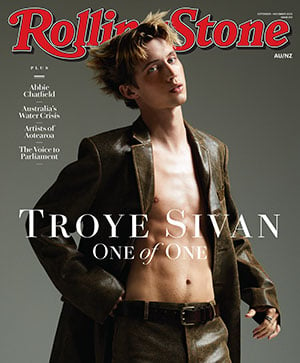 Get unlimited access to the coverage that shapes our culture.
Subscribe
to
Rolling Stone magazine
Subscribe
to
Rolling Stone magazine