Tame Impala's Kevin Parker is undoubtedly one of the most prominent names in the world of psychedelic rock right now, but it seems he has hits sight set on the world of electro, announcing his desire to work with Daft Punk.
Over the last few years, Kevin Parker has been getting himself involved in some pretty collaborations. From working with Mark Ronson and Lady Gaga (who called him a "musical genius"), to Tame Impala's recent collab with ZHU, there's been quite a few projects he's been involved in.
However, it hasn't stopped there, with Parker also being credited on Kanye West's new album, a lyricist on Travis Scott's Astroworld, and even recently working on an (as-yet unreleased) project with Mark Ronson and SZA.
Now, it looks like Kevin Parker has got himself one sizeable wishlist for artists he wants to work with.
Speaking to Billboard recently, Parker explained that for Kanye West had been the one artist he always wanted to work with, but that honour now has to go to a new artist.
"That was Kanye," Parker explained. "Kanye held the number one spot there – he was the answer to that question for a long time. But that's been ticked off."
"The other one is I guess Daft Punk. I hold them in absolutely legendary regard. They're so god-like to me, but I don't even know what I'd do or how I'd do it with them."
Kevin Parker also opened up on just how his recent collaboration with Kanye West happened to come about, explaining it was all because Kanye needed that psychedelic element that only Kevin could provide.
"It was [through designer and creative director] Willo Perron," he explained. "He's been a longtime collaborator with Kanye West, with his stage design and I think album covers as well. He was working on the Tame Impala live show, so I got pretty close with him."
"One day he said that Kanye wanted something psychedelic. He wanted some psychedelic guitars. Willo was like, 'Oh, you've got to meet Kevin, then'," he continued. "So he took me out to [West's] studio one day, and we just chatted for a bit, and it kind of went from there. Everything after meeting up with him once was over the phone, email and stuff, because I was back in Perth."
By all accounts though, it sounds as though Kevin Parker's experience working with Kanye West seemed almost identical to the experience that Paul McCartney had while working with him back in 2014.
"I was completely starstruck, obviously. I was numb with excitement. He was in the element. He was super chilled-out," Parker recalled. "I guess the first impression I got was how into music he is. He loves to just wax lyrical about music."
"To him, a lot of the creative process is just talking about it conceptually. I hate to say too much — I don't want to give away his methods or whatever. I feel like I was so privileged to be in the room. He wasn't totally head-in-the-clouds. He seemed really switched-on and lucid. Even though you can see him [being] all over the place, musically I always knew I was in safe hands."
Kevin Parker also revealed recently that he's hoping for a new Tame Impala record to be released by mid-2019, noting that he would "be really disappointed if we didn't have something out by then."
"I'm always working, I'm pretty certain now that another Tame Impala album is my main priority, definitely," he stated. "I think now I've felt that calling. It's like a calling from beyond."
"I love playing the songs live, I love playing Currents songs I love playing Lonerism songs and everything but I think I'm ready to play some other songs live."
"All the instinctual things are there. You know when a bear knows that it's time to hibernate? When birds fly north or whatever. How do they know? They just feel it," Parker remarked, before explaining that he's not too big on performing unheard tunes before they're released.
Considering that the Arctic Monkeys said they're pretty keen to collaborate with the Tame Impala frontman, and now that Daft Punk is on his wishlist, we think there could be a pretty amazing record coming our way next year.
Check out Tame Impala's 'List Of People (To Try And Forget About)':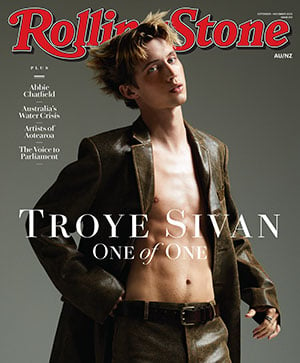 Get unlimited access to the coverage that shapes our culture.
Subscribe
to
Rolling Stone magazine
Subscribe
to
Rolling Stone magazine