It was a dream come true for anyone who was a Telstra customer as well as a Bon Jovi fan, when the IT company announced they would be releasing presale tickets for the band's upcoming Australian tour as part of their Telstra Thanks program. But fans were kept waiting all morning as Telstra's ticketing partner, BangTango faltered under the demanding internet traffic.
Founder and Director of BangTango Daniel Popic told The Music that the new Telstra partnership could be considered a "hybrid between a ticketing platform and sponsorship business." But despite Popic's experience with loyalty programs for HMV and Sanity, as well as being Alliances Marketing Manager for Ticketek, BangTango seemed ill-prepared for the volume of demand for the American arena rock band.
The ticketing website went into meltdown as the Bon Jovi pre-sale launched, with scramble for tickets no doubt exaggerated by those trying to get their hands on the budget-priced $35 tickets, announced to be in limited quantities for the band's visit in December this year off the back of their ARIA topping 12th studio album, What About Now.
The Bon Jovi pre-sale is the latest in the Telstra Thanks program, allowing customers exclusive pre-sale access, as well as 'money-can't-buy' experiences like after parties and VIP entry to soundcheck access, with the Bon Jovi tour being the first Arena tour partnering with the telecommunications company. Both [previous] concert sales went off without a hitch, but the BangTango website floundered under the demand for Bon Jovi's forthcoming arena tour.
The 'Thanks' program launched with pre-sale tickets for Olly Murs' upcoming tour, and tickets to Bernard Fanning's Australian Departures Tour were also up for grabs last week. Both concert pre-sales went off without a hitch, but the BangTango website floundered under the demand for Bon Jovi's forthcoming arena tour.
Shortly after tickets went on sale at 9am this morning, the BangTango website was offline for at least two hours, according to The Music, with irate fans taking to social media to vent their frustrations at their ticketing woes. "If you're going to do a presale then get your website to handle it," tweeted one angry punter, while another despondent ticket-goer tweeted: "Given up on Bon Jovi tickets through #bangtango and @telstra. Will try my luck with Ticket Master next week. What a joke. #fail"
Yet another complained of having their 'unique code' for the event being used once they were even able to get onto the website, "nice one #bangtango – finally get through and then my unique code has been used? What a waste of time – pre-sale fail!"
Love Eminem?
Get the latest Eminem news, features, updates and giveaways straight to your inbox Learn more
The tour's promoter, the Dainty Group, responded to the backlash, posting on their Facebook page:
Bon Jovi fans. As you know the Bon Jovi pre-sale tickets are available today. Unfortunately the BangTango website, where you purchase your tickets is currently experiencing heavy traffic and some customers are unable to log in. Tickets are still available, and the pre-sale goes for 48 hours. We will keep you updated and let you know as soon as it is back up and running. Dainty Group."
BangTango soon followed with their own damage control, stating: "Due to a huge amount of traffic, our website is experiencing technical difficulties. We are currently working on the problem. Tickets are still available, and the pre-sale goes for 48 hours, so we will keep you updated."
A Twitter user with the handle @BangTango was also caught up in the backlash, receiving a huge amount of tweets from angry Bon Jovi fans at the website meltdown:
The huge ticket demand for Bon Jovi's December Tour was no doubt exacerbated by the promise of a special super-cheap tier of tickets priced at just $35. Promoter Paul Dainty of the Dainty Group previously noting of the budget tickets "everyone is suffering a bit from the economic doom and gloom perceptions and [Bon Jovi] want to help out, give people a great start to their Christmas celebrations." He also said fans shouldn't worry about these cheaper tickets having less desirable views, Mr Dainty compared the seating arrangements to the $160 seats offered at Eminem's shows held at similar venues in 2011.
"It is important to point out that there will be regular ticket prices as well but there will be thousands of these tickets dotted around the stadium and available to the general public," remarked the Dainty Group boss, who hopes that other international touring bands and promoters will follow the lead of Bon Jovi's Because We Can Tour. But hopefully, not in the faulty website department.
The Dainty Group have issued a statement on Facebook reading:
"Excellent news: the BangTango site is back up and running. Log-in now athttp://bit.ly/13cryk3 and book your Telstra Thanks presents Bon Jovi pre-sale tickets. Thank you for your patience."
Bon Jovi 2013 Australian Tour Dates & Tickets
Presented by Telstra and The Dainty Group
Saturday 7th December, 2013 – Etihad Stadium, Melbourne
Wednesday 11th December, 2013 – AAMI Stadium, Adelaide
Saturday 14th December, 2013 – ANZ Stadium, Sydney
Tuesday 17th December, 2013 – Suncorp Stadium, Brisbane
General public tickets – including the $35 priced seats – go on sale noon midday on Monday 20th May.
Telstra Thanks Pre-Sale powered by BangTango –
9.00am Monday, 13 May to 8:59am Wednesday, 15 May, 2013 (local time)
Visit www.telstra.com/music for more information
For further tour information and all things Bon Jovi visit: www.BonJovi.com  or www.daintygroup.com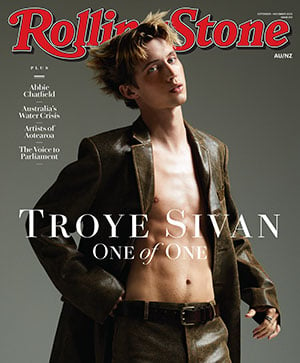 Get unlimited access to the coverage that shapes our culture.
Subscribe
to
Rolling Stone magazine
Subscribe
to
Rolling Stone magazine