The Aces and The Buoys may be separated by distance – the former hail from the US and the latter are Sydney locals – but they're united by myriad similarities. 
They're both female-fronted groups who absolutely refute the outdated term "girl band"; they both make music on their own terms, endemic misogyny be damned; and they both firmly believe in being true to themselves whenever they make music and perform.
The Aces just released their third studio album, I've Loved You For So Long, perfectly timed for the beginning of Pride Month, and it finds the indie pop band on fine form, reflecting on identity, love, relationships, and mental health.
Tone Deaf favourites The Buoys, meanwhile, recently released one of their funnest and fiercest songs to date, "I Want You", with the accompanying music video showing the band careen around their hometown in a novelty-sized backpack.
Both bands have a lot going on, in other words. To celebrate the release of I've Loved You For So Long, Tone Deaf got The Aces and The Buoys to get to know each other better, and they discussed the music industry, connecting with fans, backstage rituals, Vegemite, and much more.
Love Indie?
Get the latest Indie news, features, updates and giveaways straight to your inbox Learn more
The Aces interview The Buoys
How has your musical journey evolved since you got together?
The longer we've known each other the comfier we've gotten on and off stage. Musically we're so in tune with each other now, which makes performing so fun 'cause we can go a bit wild, but it also means we spend more time arranging songs in the writing stage as a team. None of us really knew each other before playing together, so we've gone from strangers to this sibling like relationship, touring is a whole lot of D&Ms nowadays, we're like a lil' unit now.
How do you connect with your fans on a deeper level?
You'll usually find us running about before and after our set talking to anyone and everyone, having a yarn with people gives us a lot of joy with what we do as a band. We're no strangers to keeping in touch with people on social media either, a little chat on Instagram, remembering people's birthdays or significant things going on in their life and reaching out to say "hey" at that time.
Do you have any rituals or practices you do before your live performances to get ready for the stage?
On our recent tour, we were obsessed with chucking on Stardust's "The Music Sounds Better With You" before going on stage – dancing like idiots, doing a little mock runway and jumping around the green room to get warmed up. In short it's "be absolute goof balls, get warm, big cuddles."
What artists or bands would you love to collaborate with?
I mean, dream scenario for me would be Alicia Bognanno (Bully), Bethany Cosentino (Best Coast), Ball Park Music, Sarah Tudzin (Iluminati Hotties).
What are your goals for the coming years as a band?
Tour overseas! And release our debut album followed by a few more albums with the overall goal being that they are bodies of work we all adore and are proud of – some big overseas festivals if I'm dreaming big.
What do you think sets The Buoys apart from other bands in the industry?
I think one thing I've noticed lately is that we've never necessarily fit easily into the box of 'uniform branding' (hate that term lol – but it succinctly says what I need to say). Each of us are so uniquely different that it would be impossible to lump us into one 'look' and even sound for that matter, we all listen to different styles of music and combine our influences to make something that sounds like nothing any of us listen to. I find it really cool when a band has a distinct look, you know, but we've never quite fit that, and I love that about us.
What are three distinctly Aussie things that you can't live without?
VEGEMITE!!!, Kath and Kim, and Paul Kelly.
The Buoys interview The Aces
Being a woman in the music industry is a wildly beautiful thing. While we are just people in bands playing music, there are times that being a woman comes with its own unique experiences. Would you say your experiences as women in the music industry have changed throughout your time as a band? How would you compare your experiences from when you were starting out to now?
Honestly, I think misogyny stays pretty consistent. Not going to lie. I feel like when we were younger, it was more people just looked at us as a little girl band. It took a really long time for us to grow out of the "cute" phase and have people actually take us seriously as musicians. Which makes sense, it's kind of a product of being young, but there was kind of an added layer to that because we were girls too. Like, people just figured that it wouldn't last and that we would fight and break up and had these kind of misogynistic misconceptions about us.
But I think honestly, as we're older, I actually feel like maybe people might have given us a little more grace when we were younger because we were little and didn't want to be assholes to like kids. Now that we're adults, we're lucky that we've cultivated a fanbase and a culture around us that's extremely progressive and supportive and on the right side of history.
But sometimes we go into towns where people are just not the vibe, and they are not happy to see women doing what they want – being on stage, being talented. It's like too much for their brains, so they are fucking mean about it. So I think misogyny has become actually more obvious and less filtered now that we're adults because people are not sugarcoating it anymore. But we're lucky that we've been able to avoid that for the most part.
Say you meet a queer/non-man high schooler who is keen to start a band, but is nervous to take that first step. What would you say to them ?
I would say, "don't think so big picture." I think when you start thinking really big picture, you can get overwhelmed. Just make what you can where you are with what you have, don't put so much pressure on yourself. Know that it's totally normal to look back on previous art and things you've made and see how much you've improved or maybe not resonate with them as much anymore. Don't be afraid of that. Just do it and realise that you'll grow and move on from that. It's inevitable. So enjoy making it in the moment.
What are each of your little comforts when you're on the road?
Kenna: I think mine is consistently going out into nature. Connecting. Getting some sunlight. Finding cool running spots and coffee shops in whatever city that we're in.
Alisa: I feel like finding the cool neighborhood of whatever city you're in – no matter what place you're in, you'll find there's always going to be a pocket where progressive, cool people are and that's what we gravitate towards. I feel like as soon as I find that part of town where all the good coffee shops and restaurants are and stuff like that, I just usually hang out in those areas.
Cristal: Mine's slippers.
Katie: I always very comforted when I just take my own space to work out for a sec. It helps me get in my own head and my body. 
What book have you read lately that had a big impact on you?
Cristal: I'm just finishing up Crying in H Mart and it's so beautiful, and I've loved it. Michelle Zauner's writing is just so poetic and so cool, and it's turned me on even more to her music. And I love her music now, and I love that. That book's great.
Kenna: I read it years ago, but I've revisited When Things Fall Apart by Pema Chödrön, and I feel like that's kind of the book I always come back to whenever I need to get grounded and connected and reminded of myself and what resonates with me. So that one I think is a really amazing read for anyone who wants to connect more with their spirituality.
Alisa: I've been working through Joan Didion's Slouching Towards Bethlehem. It's an essay book, so it's not one overall story but it's a compilation of all of her most famous essays. It's been so inspiring to read her words and how poetic she is and how she depicts these really famous moments in time and these really famous people from the times and even just her own personal stories. I feel like it's really fun to read someone that was so amazing at their craft and to be transported to that golden age that she was documenting of the Sixties.
Being across the world from each other means we haven't seen you play live yet! What are your live shows like? 
They're the best part of doing the band. Our favourite thing to do. It's the time where we actually get to connect to people and see people connecting with our music. People really understand our band once they see us perform live.Our fans always bring a really amazing high energy and it's super positive. We've been really lucky. We've never dealt with crowd fighting or anything like that. It's been a theme that our fans have let us know that they've felt really safe and really comfortable at our shows. They've been able to make new friends and meet people. And that's, I think, my favourite thing about our shows. Everyone goes so hard and rages and screams so loud, but it's also just so positive and so friendly. And respectful! I think that it's really unique that way.
What's your go-to band brekky?
I feel like we all love an avocado toast with some eggs or breakfast burrito and GOOD coffee. 
Name a guilty pleasure of yours?
Cristal: Slime videos on TikTok where they show different ratings of slimes and they're scoop-ability. It's like ASMR. But also, I can't remember who said it, but I feel like it was another artist that said: I don't believe in guilty pleasures because I don't believe that you should feel guilty about anything you like.
Alisa: I feel like my guilty pleasure is pop culture. Every time I read about people dating or like something happening to a famous person, I'm like, "this is so fucking dumb. I don't know why I even look at this." But yet, I always do!
Kenna: I think mine are the chiropractic videos and zit popping videos.
What's coming up next for you with releases and shows?
You named it! The releases and a bunch of shows! We're super excited! And we're working on getting to Australia because it has been one of the most supportive places for The Aces. Yeah, so we're going to come to Australia! Rage down unda!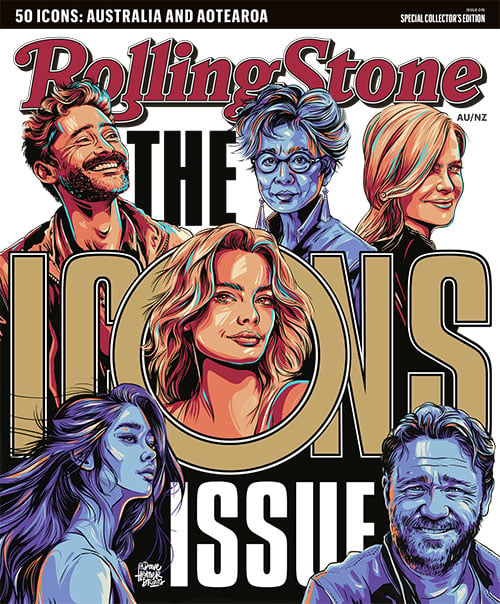 Get unlimited access to the coverage that shapes our culture.
Subscribe
to
Rolling Stone magazine
Subscribe
to
Rolling Stone magazine