When a band like The Saboteurs releases a new album, there is a massive level of anticipation that is hard to look past.
After all, when you get down to it, this is a band fronted by Jack White; one of the most enigmatic, accomplished, and hard-working musicians in the business. Team him up with inimitable musicianship of Brendan Benson, Patrick Keeler, and Jack Lawrence, and you've got a group whose talent and legacy are intimidating to anyone.
When you look at their past though, you see classic albums from bands like The White Stripes, The Dead Weather, and The Greenhornes, and you begin to realise that new material from The Saboteurs is not on the same level as your average blues-rock band, it's another chapter in a story that anyone would want to read.
Add in the fact that it's been an agonising 11-year wait for fans of the band, and you've got a situation on your hands that most bands wouldn't want to be in.
Sure, when The Saboteurs announced that their third album, Help Us Stranger, would be coming in June of 2019, some fans viewed it as the band's comeback. Others viewed it as the continuation of their already exceptional career.
But most agreed that it's a long-awaited release with some of the highest expectations in the respective careers of all of its members.
Check out 'Help Me Stranger' by The Saboteurs:
As anyone who either saw The Saboteurs on their recent Australian tour, or has listened to their new singles, would agree, the band's new material is exactly what we've been waiting for. In fact, there's probably not a fan alive who heard the opening notes of 2018's 'Sunday Driver' and didn't feel that wave of familiarity wash over them.
However, singles and albums are inherently different. After all, anyone can take a highlight from an album and use it to represent the body of work as a whole, but it takes a special kind of band to carry that level of professionalism and excitement all the way to the end of the record.
Thankfully, but not surprisingly, The Saboteurs are exactly that sort of band. They're the sort of band who don't approach anything with pressures, high expectations, and a need to impress. Rather, their attitude is to live up to their long-standing mantra of being "a new band made up of old friends", and just making the music they want to make when they hit the studio.
Despite this, Help Us Stranger opens with all the hallmarks of a comeback album borne out of high expectations. It kicks things off with the gentle, bluesy guitarwork of 'Bored And Razed', almost making it seem as though this could be a whole new subdued direction for the band.
Before you have a chance to formulate any thoughts that might negatively describe the record though, the drums kick in with a bouncy little beat and everything starts to come together.
"Oh, this is nice," you could be heard saying. But before you have a chance to even finish that thought, The Saboteurs crash through your speakers, telling you in no uncertain terms; they are back, and don't you dare think otherwise.
Within barely a minute of the record beginning, The Saboteurs are already in the middle of one of he year's best records. With ferocious rhythms, bluesy riffs, distorted solos, bone-rattling bass, and those iconic vocals from Jack White, there's no denying that this album is one that is impossible to ignore.
Check out 'Sunday Driver' by The Saboteurs:
As the record continues though, the phenomenal sounds keep on coming. We're met with the sound of a skipping record at the start of 'Help Me Stranger' (one that must have physically pained Jack White to include), which again subverts expectations, merging into a monstrous mix of '70s-sounding guitars, complete with guitar solos so slick you'd think they're about to slide off your turntable.
We hear the softer, slow-burning nature of 'Only Child', and we even bear witness to one of the record's stand-out tracks, 'Don't Bother Me'.
Busting out of the gate with the repetitive vocals before White's gospel preacher vocals powers through, delivering a cathartic performance which sees him at his absolute best. As it continues, we're met with ridiculously-sharp riffs, time signature and vibe changes, and each melted minds at every turn. Sadly, at just three minutes, it's over way too soon, but thankfully, there's plenty more fuel in the tank.
Oddly, one of the record's other highlights comes in the form of a cover, with Donovan's classic B-side 'Hey Gyp (Dig The Slowness)' being given the bluesy update that we never knew it needed.
Without spoiling some of the record's innate sonic secrets, the home stretch features a rather Undertones-sounding banger by way of 'Live A Lie', while we receive something of a White Stripes revival with the luscious blues-anthem that is the fiddle-featuring 'Thoughts And Prayers', sending the listener off with a familiar farewell.
Check out 'Hey Gyp (Dig The Slowness)' by The Saboteurs:
Undoubtedly, Help Us Stranger is an album made of varying sounds and styles, with all of them coming together to craft something both eclectic and enigmatic, yet polished and consistent.
What is important to remember about The Saboteurs and its members is that they don't do things by halves. Every single second of this album is planned out meticulously, and each sound that you hear has been sequenced in that way for a reason.
While the record isn't all rehashings of 'Steady, As She Goes' or 'Many Shades Of Black', it provides the group a chance to expand upon the familiar sound they've crafted for themselves while taking on new challenges and exploring their sonic repertoire.
At 41 minutes and 25 seconds, Help Us Stranger sits nicely in the middle ground between their Broken Boy Soldiers debut and 2008's Consolers Of The Lonely. More commercially-accessible than the former, and much snappier than the latter, this new record undoubtedly proves that after a few years away from the recording studio, The Saboteurs are still the same band they've always been.
Featuring some of the best music made by Jack White, Brendan Benson, Patrick Keeler, and Jack Lawrence in years, this album is undoubtedly one of the year's best, and will easily go down in history as one of the finest blues-rock albums of all time.
The Saboteurs' Help Us Stranger is out on June 21st.
[star rating="4.5″]
1. 'Bored And Razed'
2. 'Help Me Stranger'
3. 'Only Child'
4. 'Don't Bother Me'
5. 'Shine The Light On Me'
6. 'Someday I Don't Feel Like Trying'
7. 'Hey Gyp (Dig The Slowness)'
8. 'Sunday Driver'
9. 'Now That You're Gone'
10. 'Live A Lie'
11. 'What's Your's Is Mine'
12. 'Thoughts And Prayers'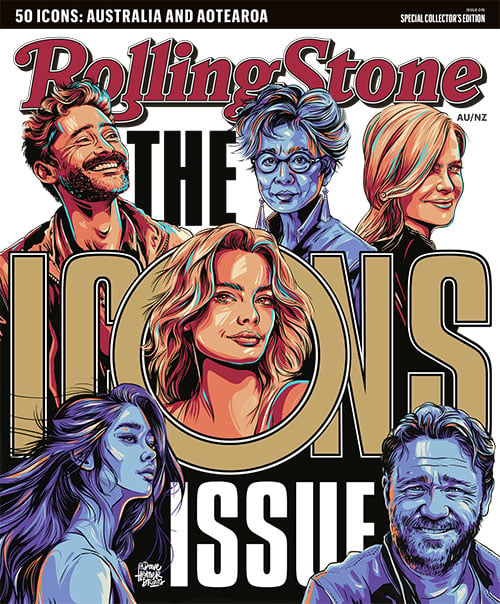 Get unlimited access to the coverage that shapes our culture.
Subscribe
to
Rolling Stone magazine
Subscribe
to
Rolling Stone magazine