If you've been hanging out for a Rage Against The Machine reunion, Tom Morello has some bad news, but urges young musicians to become the change they wish to see in the world.
Back in 1991, four young American musicians came together to form Rage Against The Machine. Within a couple of years, the group were receiving unanimous praise and acclaim for their devastating mixture of heavily political lyrics, and just plain brutal tunes.
Sadly, the group broke up in 2000, but reformed in 2007 for a series of reunion shows which saw them hit up Aussie shores for the 2008 Big Day Out festival.
Since then, the closest thing that fans have received to a full-blown reunion is Prophets Of Rage, a supergroup which combines members of Rage Against The Machine with Public Enemy's Chuck D and DJ Lord, and Cypress Hill's B-Real.
While guitarist Tom Morello has previously dashed any hopes of a reunion, noting that it's "miraculous" Rage Against The Machine even made four records, the rocker has now reaffirmed his stance, urging young musicians to fill the space left by the mighty outfit.
Check out Tom Morello speaking to HardDrive Radio:
Speaking to HardDrive Radio (via Blabbermouth) at the Sonic Temple festival where he recently paid tribute to the late Chris Cornell, Tom Morello discussed his musical beginnings, and how Rage Against The Machine's sound soon initially together.
"I got the Sex Pistols record and within 24 hours I was in a band without knowing how to play a chord on a guitar," Morello reminisced to Lou Brutus. "I went into my high school and said, 'A band is forming, no experience required, I'm the guitar player, let's go.'"
Love Rage Against The Machine?
Get the latest Rage Against The Machine news, features, updates and giveaways straight to your inbox Learn more
"You know who else was in that band? Adam Jones from Tool," he continued. "That was the Electric Sheep. We didn't have the technical ability to play covers, so we wrote our own songs."
Explaining how the music on his new album, The Atlas Underground, came together, Morello noted how everything was effectively a blank slate until he teamed up with the impressive roster of guests featured on the new record.
"I had some of those riffs that eventually ended up on the first Rage record on a cassette player," he recalled. "I was jamming with every musician in Hollywood with some of the riffs that would become 'Bombtrack', 'Freedom', 'Township Rebellion', 'Know Your Enemy'."
"They didn't sound like that until I played with Brad Wilk, Tim Commerford and Zach De La Rocha. Didn't sound anything like that."
"The second we were in a room together — it's something I try not to over-intellectualise, it's just something that happens."
However, when asked about his current status, and the necessity of political music in today's climate, Tom Morello noted that Prophets Of Rage are hoping to release a new record this year, but disappointed everyone in regards to his most iconic group.
"There's no news on the Rage Against The Machine front," Morello explained. "The times demand people standing up. That's what I'm doing with my stuff, what Prophets Of Rage is doing."
"Don't wait around for Rage Against The Machine. Form your own band and get it done."
While Prophets Of Rage were last in Australia for Download Festival in 2018, it remains to be seen when Tom Morello's solo act might its way back to Australia for what are sure to be some amazing shows.
Check out 'Bombtrack' by Rage Against The Machine: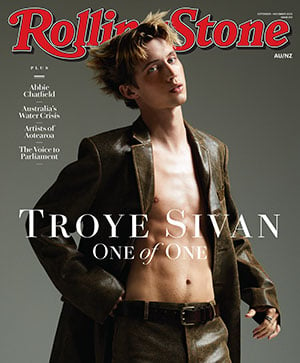 Get unlimited access to the coverage that shapes our culture.
Subscribe
to
Rolling Stone magazine
Subscribe
to
Rolling Stone magazine