WAAX are about to be no more, at least for a while. It's a strange sentence to write: the Brisbane band's second album, At Least I'm Free, was one of the best rock albums to come out of Australia last year, and it followed their debut, Big Grief, in reaching the top 20 on the ARIA Albums Chart.
The band managed to attract the likes of Linda Perry and Bernard Fanning to collaborate on the record, and lead singer Maz DeVita sounded creatively revitalised across its 11 songs.
But then the remainder of their national tour was suddenly cancelled, and it felt like a serious matter when "deeply personal" reasons were cited in a social media statement.
If the announcement of WAAX's hiatus was strange for journalists and fans, the news was even more difficult for DeVita to take.
"This is the most fucked up thing I've ever had to write because I never thought it possible: WAAX as you know it is going on hiatus. All I ever wanted was to play gigs and make records – who knew shit could get so complicated," she said in a statement.
"I love you all more than you know, for real, you're the reason we did any of this and kept hanging on. I will be back one day stronger than ever."
It's a level of transparency that's often absent from hiatus announcements, but connection between WAAX and their fans has always been a huge part of their success over the past decade.
Love Indie?
Get the latest Indie news, features, updates and giveaways straight to your inbox Learn more
That's why DeVita and her bandmates weren't just going to disappear after one paltry official statement: WAAX are instead going out in style with three farewell shows – dubbed 'The Parting Gift' – at The Triffid.
The band will take to their hometown stage on Sunday, June 4th, Thursday, June 8th, and Friday, June 9th, with tickets available here.
WAAX experienced a turbulent decade together, but it was also a highly productive decade, which is why Tone Deaf is honouring the band and their farewell shows by looking closer at three of their best songs.
You can check out the choices – including additional comments by DeVita on each one – below.
"Same Same"
Before Big Grief announced an exciting new band on the Australian rock front, WAAX made waves with their 2017 EP, Wild & Weak.
The standout song, "Same Same", marked out DeVita as a remarkably mature songwriter even at that nascent career stage. "And I swear I am a good kid / Trapped in the modern age," she howled repeatedly in frustration, noting her differences to those around her, expounding her malaise to a growing fanbase that felt equally out of touch.
According to the singer, there's another reason "Same Same" is so special. "This song pops off like no other when we play it live," she says. "The crowd goes feral in the best way possible. It just makes you want to go nuts."
"CC Thugs"
Another early song. "CC Thugs" featured on WAAX's first EP, Holy Sick, which was released almost a decade ago in 2015.
In contrast to the visceral chaos of their other alternative rock cuts, "CC Thugs" reduced the energy to a simmer, allowing the emotion in DeVita's aching vocals to be truly felt.
"Get out / I never thought it was true / My world's collapsing on me / This is what we were for you," she sung solemnly, seemingly collapsing in on herself, but salvation was lurking close by: "Until you / Until you / Until you wrap me up and take me home," she quietly pleaded, the angst in her voice diminishing slightly.
It was youthful songwriting, certainly, but it was the type of sincere and impassioned language that teenagers long to find in music at that chaotic time in their lives.
"It's the first slow song we ever released and it's always a special moment in a set," DeVita explains. "I like to play it stripped back by myself and it really belts."
"Beam Me Up"
It's difficult to pick a highlight from WAAX's second album – "Most Hated Girl" is an emboldened anthem that deserves to soundtrack the heaving and swaying of a massive mosh pit – but the song that followed it, "Beam Me Up", matters more to DeVita.
"This song was one of my proudest songs in the studio because I pulled off something I'd been trying to do for a while – having a Queen-inspired moment with heaps of layered vocals and a rip-snorter of a Brian May-esque guitar solo," she says. "It makes me tear up how powerful it gets."
She's definitely not the only one moved by the track. "But I don't wanna go right there right now / I don't wanna cry in front of us / But eventually a tear will fall out / And I just wanted you to know / That I will always love you," were lyrics immediately relatable to anyone that's experienced heartache.
"Beam Me Up" had some of the band's most discordantly pretty and fierce guitar lines, DeVita's voice was at once filled with longing and fear, and WAAX had never sounded better at matching the loud-and-quiet rock aesthetic of the '90s.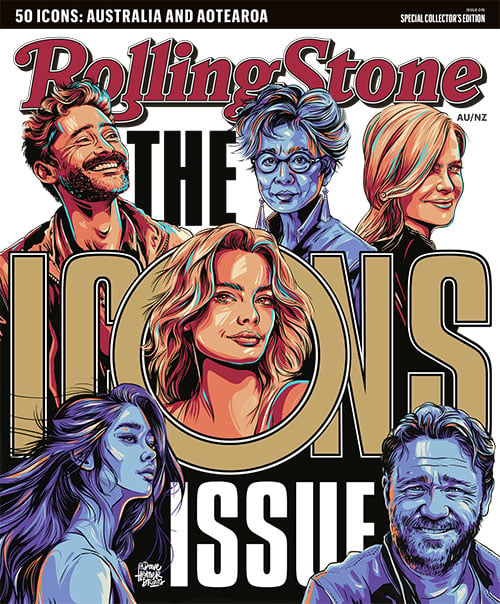 Get unlimited access to the coverage that shapes our culture.
Subscribe
to
Rolling Stone magazine
Subscribe
to
Rolling Stone magazine