As teenagers of the Myspace era, when Josh Franceschi and his You Me At Six bandmates decided to start the band, they ventured into the de rigueur sound of the early 2000s.
You Me At Six has now outlasted many acts from the same era, including Panic! At the Disco.
"Fuckin' hell, it's about time we got some accolades, eh?" Franceschi laughs. "But what a career – what a great addition and contribution to the scene Brendon Urie and co. were."
Franceschi and his bandmates, on the other hand, have just released their eighth studio album Truth Decay, the follow-up to 2021's number one hit Suckapunch.
"I think it's always one of those things that when you look at Panic!, for example, they had a very healthy career and put up a load of albums, but when people say it back to you out loud – 'eight albums' – it's a reminder of how many bands we came through with who were really kind of lucky if they put out two," he says.
"Our goal was always longevity – we understood pretty early on that there were going to be spikes and there were going to be moments like when we first started the band: it was like, 'Oh shit, every time we do something it gets bigger and better, is that how this is going to go?'"
Having massive success early on in their home country, You Me At Six were humbled when they managed to venture out of England in the band's early days.
Love Emo?
Get the latest Emo news, features, updates and giveaways straight to your inbox Learn more
"Because we were so big in England at one point but so small everywhere else in the world, we had that constant reminder basically every time we left England," Franceschi laughs. "So early on for us it was like, things worth having take time, and things worth preserving take effort."
Describing Truth Decay as a "a great celebration of what You Me At Six have been known for doing and doing well," Franceschi says he hopes the new release would evoke a sense of positive nostalgia amongst fans, as they had tried to refine the classic You Me At Six sound and bring it into 2023.
"Some of the songs were meant to be on Suckapunch but we kind of knew then that we'd made a record for ourselves with Suckapunch, and with Truth Decay it's about feeding our fan base," Franceschi explains. "I hope this doesn't sound arrogant, but this wasn't a difficult album to make; the difficult thing was how to present it without it sounding contrived, and without it sounding like a bunch of 30-year-olds doing shit they did when they were in their early 20s."
Franceschi admits he was very vocal "and probably borderline annoying" about the fact the band had lost their identity in the pursuit of versatility.
"Suckapunch was really cool because it was all of us flexing our creative muscles: Dan (Flint, drums) loves dance music, I love R'n'B and hip hop, Matt (Barnes, bass) and Chewy (Chris Miller, lead guitar) love old school blues, and we tried to integrate everything into one record and one space that everybody felt seen and heard," Franceschi says.
"I'm surprised our fans are that supportive that they let it fly, because it's so all over the place: why is 'Make Me Feel Alive' like a fucking hard, punk, aggressive shouting match, and then you've got 'Glasgow' or 'WYDRN' and shit like that."
Franceschi explains the band went searching for the sound they were best known for in an attempt to reclaim their identity, and Australia played a key factor in that decision-making process.
"When we first came to Australia, BLUNT were like, fucking, 'Paramore with a dude singer' and shit like that," Franceschi laughs. "So we were like, 'Okay, we're known as being that emo pop punk band from England,' so let's imitate that and see how it feels."
The challenge, however, was paying homage to that without repackaging the same sound as before.
"I don't want to be in my 40s playing pop punk, that's just not my bag at all," Franceschi asserts. "Maybe the next record, if we make one, will be something completely different – but we just wanted to feed our fan base and be like, look, we understand you've supported us on so many left turns, so we're just going to try and give you something that we think you want."
Franceschi says there are many influences from the band's formative years that can be heard on Truth Decay, from blink-182, Taking Back Sunday, Fall Out Boy, and Bloc Party. But ultimately, the biggest influence was You Me At Six themselves.
"We ripped off ourselves a lot – I'm not going to point out the songs, but people that are in our back catalogue and really delve into it will hear older songs or chord progressions (because) there's only so many chord progressions or notes you can tap into, so it's very rare for people to reinvent the wheel," he says. "But we're not trying to do something different here; we're unapologetically not trying to do something different here."
Lyrically, Franceschi decided to write "tagline" style lyrics, and says if fans were unlikely to be screaming the words back in his face it wasn't going to work on this record.
"So it needed to be t-shirt lyrics – the kind of shit that you would use as a fucking Myspace bulletin, regardless of whether you liked the song or not," he laughs. "I think we leaned into a lot on all these moments of our whole progression as a band and as people over the last 18 years and just went right, let's celebrate all of that under one roof and see where it lands."
Throughout the song writing process, Franceschi learned that sometimes little effort can go a long way, when some friends pointed out the lyrics he wrote to accompany a Bowling For Soup/Weezer style riff Chris Miller was working on which turned into ':mydopamine:'.
Watch You Me At Six's 'mydopamine:':
"When I showed a bunch of my friends this song at a BBQ last summer they were like, 'I fucking love the lyrics to this one,' and I was like, 'This is the one I wrote in ten minutes – I'm talking about staring at stars and emptying mini bars and bullshit like that, and this is your favourite?'" he laughs. "They were like, 'Yeah, there's an innocence to it – you're not trying to be clever; you're just saying fuck, I love you and what a great time to be alive and have you in my life,' and I thought, 'Shit, man, I should start challenging myself to only write stuff in ten minutes then!"
While some tracks on Truth Decay sound like quintessential You Me At Six, other tracks like 'Breakdown' come as a bit of a surprise. When Franceschi and Flint showed a friend several unreleased demos after a studio session one night, it was 'Breakdown' the friend was most excited about.
"That was the song where my friend was instantly grabbing us and shaking us, like, 'That fucking chorus, man, you've got to use it,'" Franceschi says. "'Breakdown' for me is the song that's least in sync with everything else, in the same way I would argue that maybe 'Bite My Tongue' on Sinners (Never Sleep) was the song that didn't feel like maybe it properly worked… especially the bit with Ollie (Sykes) where people were like, what is this band doing?"
You Me At Six could be joining the line-up for a music festival in Australia in December, but Franceschi says if he gets his way the band will return much sooner than that.
"I've been pushing the narrative that we've not been since I think 2019, when we came over with Bring Me (The Horizon), so I don't want to wait until December to tour Australia," he says. "I was literally on a call yesterday about coming down in May, so that's the plan, we're just trying to get the avails of the show – obviously in an ideal world we'd come down in May then come back and do Good Things in December."
The band have fond memories of Australia, which was the furthest the band had ever taken them when they played Soundwave over a decade ago.
"I think I was 19 when we did Soundwave, and I was like, 'I don't understand this… I can't get this as a concept that music, and the shitty band that I play in is literally about to play in Australia," Franceschi says. "It was the first place outside of England where I was like, 'Wow, this isn't a fuck around for a couple of years – we're actually building something which means something to people so much so that on the other side of the world they come out in numbers.'"
Adding that he doesn't stand on a soapbox and claim You Me At Six is one of the biggest bands in the world, Franceschi says he doesn't measure the band's success against anyone's but their own because that can be a toxic, unhealthy route for anyone.
"But I tell you what we do have – we have something really cool, and something to be really proud of," he says. "And that's why, whenever conversations come up about touring, it literally goes England, Australia, Germany, parts of Europe, America: America is like fourth or fifth of the places that I think warrants our time – we can go to Australia and hang out with legends and fucking drink good beer… I feel very lucky and privileged when we're there, so I'm working on us coming back in May, fingers crossed."
You Me At Six's Truth Decay is out now via Underdog Records / AWAL Recordings.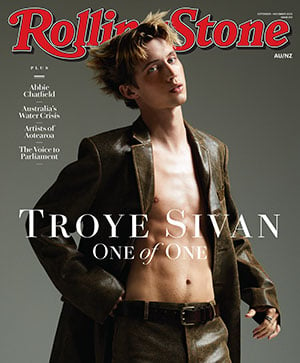 Get unlimited access to the coverage that shapes our culture.
Subscribe
to
Rolling Stone magazine
Subscribe
to
Rolling Stone magazine