It's looking like AC/DC might have reunited with their old vocalist, Brian Johnson, after pictures of the band's members at a Canadian recording studio surfaced online.
Yesterday, we noted how rumours of a new AC/DC album were well and truly afoot after witnesses reported seeing members of the group near studio where they recorded their last three albums. Now, a new picture have surfaced, with fans choosing to believe that this means that a reunion of sorts is in the works.
Recently, Canadian journalist Steve Newton wrote on Straight.com about how he was contacted by two sources who claimed that they ran into AC/DC members while in the city of Vancouver.
While the first source claimed that they ran into Stevie Young (who replaced his uncle Malcolm Young in 2014), the other source claims that they happened to meet up and chat with Phil Rudd, who left the band back in 2014 after being charged with "attempting to procure a murder".
This news also seemed to have been confirmed by Kyle Harcött of Vancouver band Hexripper, who Tweeted, "Just saw Phil Rudd with my own eyes."
"Rudd & manager walked by me on way into studio. Rudd wouldn't acknowledge me, & the manager gave me a FUCK OFF look and waved a stern NO DICE in my face. Mission accomplished."
However, Steve Newton has now received photographic proof of not only Phil Rudd in Vancouver, but also departed vocalist Brian Johnson as well, raising questions about both musicians' current role in the band.
AC/DC rumour update: photo shows Phil Rudd and Brian Johnson in Vancouver https://t.co/h0OESDjQm6 #ACDC #Vancouver pic.twitter.com/oCSxngwmBz

— The Georgia Straight (@georgiastraight) August 8, 2018
As it stands, Phil Rudd has not been an official member of the group since 2014, when he left the band in a cloud of controversy. In addition to a number of legal allegations brought against him, guitarist Angus Young noted that Rudd had become unreliable during the recording process of their last record, 2014's Rock Or Bust.
However, despite his departure from the group, Rudd was determined to get both his job and reputation back. "I'm going back to work with AC/DC, and I don't care who likes it and who doesn't," the drummer told New Zealand's One News in 2014. "I want my job back, I want my reputation back and I'm gonna get it back. I'm gonna fucking take it back."
Likewise, vocalist Brian Johnson also left the group in 2016, though his reasons were attributed to worsening hearing loss after years of being in one of the world's loudest bands.
"I cannot imagine going forward without being part of [AC/DC], but for now I have no choice," explained Johnson in a statement at the time. "I wish to assure our fans that I am not retiring."
Interestingly, he specifically noted that this didn't mean that his days of recording were over. "My doctors have told me that I can continue to record in studios and I intend to do that," he continued. "For the moment, my entire focus is to continue medical treatment to improve my hearing. I am hoping that in time my hearing will improve and allow me to return to live concert performances."
Following his departure from the group in 2016, Brian Johnson was replaced by Guns N' Roses frontman Axl Rose, whose live performances from the group were well-received. Despite an interview with Rose Tattoo's Angry Anderson inferring that the band's new album would be recorded with Axl Rose, it looks as though it will remain to be seen not only if AC/DC are indeed recording a new album, but also who their vocalist of choice is.
Check out AC/DC's 'Hells Bells':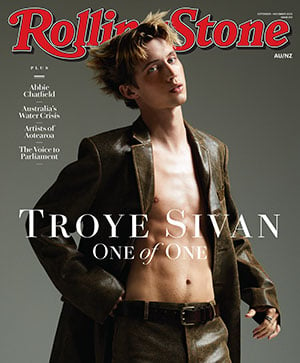 Get unlimited access to the coverage that shapes our culture.
Subscribe
to
Rolling Stone magazine
Subscribe
to
Rolling Stone magazine