Rumours of new AC/DC music have been stirred up again, after members of the group were sighted near a Canadian recording studio.
Over the last few months, we've been undoubtedly bombarded with rumours and innuendo about a new AC/DC record, and whether or not Guns N' Roses frontman Axl Rose will be laying down vocals.
Back in February, AC/DC biographer Murray Engleheart confirmed on Facebook that the band are set to enter the studio with the Guns N' Roses frontman. "Speculate all you want but I've said it before and I'll say it again: AC/DC will continue with Axl on vocals – new album, touring, the whole nine yards," Engleheart explained.
"What was a massive gamble by Angus turned out to be an equally enormous triumph that has set the scene for the future."
This announcement was all but confirmed in March, when Rose Tattoo vocalist Angry Anderson said in an interview that a conversation with Angus Young saw the guitarist reveal a new album with Rose was in the works.
"I was talking to Angus earlier last year when we were doing the encores and we were opening for Guns N' Roses but Angus and I were asked to do the encores and I said to him 'What are you going to do?' and he said 'Mate I'm writing a new album,'" said Angry Anderson.
"I thought "Cool" so I asked him who was in the band and he said 'Axl.'"
Now, new rumours have surfaced after Stevie Young and Phil Rudd were spotted near a Canadian recording studio.
As Loudwire notes, Canadian journalist Steve Newton was recently contacted by two sources who claimed that they ran into AC/DC members while in Vancouver.
While the first source claimed that they ran into Stevie Young (who replaced his uncle Malcolm Young in 2014), the other source claims that they happened to meet up and chat with Phil Rudd, who left the band back in 2014 after being charged with "attempting to procure a murder".
This news also seemed to have been confirmed by Kyle Harcött of Vancouver band Hexripper, who recently Tweeted, "Just saw Phil Rudd with my own eyes."
"Rudd & manager walked by me on way into studio. Rudd wouldn't acknowledge me, & the manager gave me a FUCK OFF look and waved a stern NO DICE in my face. Mission accomplished."
I JUST SAW PHIL RUDD WITH MY OWN EYES

— ANTI↯VENIN (@kyleantivenin) August 3, 2018
https://twitter.com/kyleantivenin/status/1025460648820408321
While this news does seem a little bit iffy when taken on face value, it gets a little bit more exciting when we realise that both Stevie Young and Phil Rudd were spotted outside the Warehouse Studio in Vancouver, which just happens to be where the group recorded their last three albums.
While it remains to be seen whether or not the band are indeed recording anything, the current touring plans of Guns N' Roses means that they won't be joined by new vocalist Axl Rose for a little while.
Incidentally, Def Leppard guitarist Phil Collen recently spoke out against AC/DC recording new music with Axl Rose, saying that if the band were to continue with him on vocals, they should drop the AC/DC name.
"It kind of loses its appeal. It becomes karaoke; it becomes something else, and it's lost its integrity, really," said Collen at the time. "I wouldn't do that, personally, if I was Angus."
"I thought Axl Rose [did] a great job, by the way. I thought he [did] amazing when he stood in for Brian Johnson. I thought he was amazing, actually. Full power to him — he's done really, really good stuff."
Axl Rose joined AC/DC back in 2016, following the departure of longtime frontman Brian Johnson, who had been suffering from worsening hearing loss. While many were skeptical at the time, Rose's appearances with the band were well-received, with many fans wondering if the group should indeed record a follow-up to 2014's Rock Or Bust.
Check out AC/DC's 'For Those About To Rock (We Salute You)':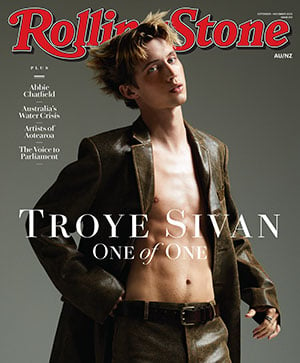 Get unlimited access to the coverage that shapes our culture.
Subscribe
to
Rolling Stone magazine
Subscribe
to
Rolling Stone magazine