Last month, heavy alt-rockers alt. treated fans to their debut album, ABEYANCE. 
It was the perfect end to a turbulent few years for the Adelaide band, bottling up all the frustration of that period into 10 ferocious and focused anthems.
On ABEYANCE, alternative rock was just the solid base for alt. to explore different sonic territories, including dark-pop and punk.
To find out more about the album's palette, Tone Deaf got the band's Simon Aistrope to discuss five artists who influenced the five-piece during the making of ABEYANCE.
"Musically, we all listen to completely different stuff," he reveals. "Dan (Cullen-Richards) listens to a lot of synth pop and a lot of mainstream stuff. One that he listens to, which I found really surprising, is Troye Sivan, and he loves Michael Jackson and stuff like that.
"I'll listen to either super heavy stuff or really experimental soundscape-y stuff. Oscar (Harding), our bass player is a DJ, so he listens to heaps of dance music. Our drummer, he's into Violent Soho and stuff like that, all the alt-rock kind of stuff. And then Goose, or Dan (Wells-Smith), our other guitarist, he's big into Alexisonfire and things like that. We're all into completely different stuff, but it all blends really well together."
You can check out Aistrope's picks of five of the most significant influences on ABEYANCE below. And if you want to hear the album played live, where these songs really demand to be heard, alt. will be supporting Windwaker across Australia at the end of the month (ticket information here).
alt.'s ABEYANCE is out now via Resist Records (AU)/SharpTone Records (ROW).
BRING ME THE HORIZON
All these bands are in here for a similar reason, but for Bring Me the Horizon – obviously musically they're just really experimental. I personally like all of their guitar riffs and things like that. I take a lot of inspiration from the way they write and their production as well. And we all admire how they can seem to get away with doing whatever the hell they want to, which is also kind of what we wanna be able to do!  
LINKIN PARK
Linkin Park is more of a Dan (Richards) one, but if I was to have a guess, it'd be in ABEYANCE vocally. I know Dan's the biggest fan of Chester (Bennington) and everything that he did, and you can see that in the way he writes his melodies and incorporates his singing and screaming together. A lot of Linkin Park's songs are quite in-depth and analytical, and looking at it from my point of view, I can see that in Dan's writing as well. 
POST MALONE
This is definitely a Dan one too! I guess, not in a planned kind of way, but I can see some of Post Malone's musical style in our music. Me and Callan (Orr), our producer, we like to do a lot of weird stuff with synths and cool ambient sounds, and Post Malone has a lot of that in his music for sure. We always like to balance light and dark, and there's a lot of that in what he does as well. 
ARCHITECTS
This one is me selfishly adding them in, but Architects are one of my favourite bands ever. Even in some of my earlier bands, playing heavy music and stuff like that, I've always taken inspiration from the Hollow Crown album. It's my literal all-time favourite album. I just like the way the two guitarists work together, both guitars are usually doing different things, and they do a lot with the whole.
I take heaps of inspiration from that, and it's usually the first thing I try to do when I write something. I'll just sit there with a really spacey, ambient guitar patch on and just pick a few notes – and then all of a sudden, you have to write a song out of it! Purely production and sound-based, Architects is an important one for me. 
PVRIS
I'm gonna attribute the poppier stuff that we do to PVRIS. We take a lot of what we do from their vocal melodies, and the pop elements to their production. Just the way they can also do that sort of thing, it's really soft and then all of a sudden it's full on and then it's dropped back to soft again without feeling weird.
I know Dan loves them and I love them as well. They've just got a bit of a theme about their band, it's not like it's official or anything, but they've just got this vibe that's really cool, and we definitely take a little bit from that. Their song "What's Wrong" has this pulsing, consistent drum beat in it, and we definitely drew from that for bits in ABEYANCE. I was just smashing that PVRIS song over and over and over again because there are so many good bits and pieces and ideas in there.
HONOURABLE MENTION: BILLIE EILISH
Another one we wanted to add to our list of five but didn't was Billie Eilish – but honourable mention definitely goes to Billie Eilish. When we were tracking demos for the album, I was listening to her stuff religiously, just for the production elements and things like that.
There's a couple of songs on ABEYANCE that have a bit of a similar feel, that sort of tremolo vocal effect that she's got – we've done that. And that pumping, stomping drumbeat in "bad guy", there's little bits and pieces like that we have used in parts on the album. There's a lot we can take from it, and then you just add heavy guitars, drums and it's suddenly like, "this is sick!!"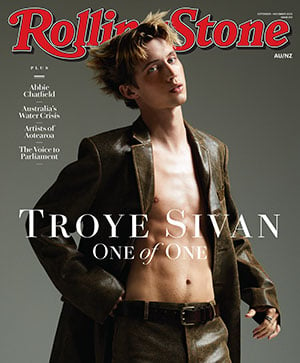 Get unlimited access to the coverage that shapes our culture.
Subscribe
to
Rolling Stone magazine
Subscribe
to
Rolling Stone magazine