It's no secret that both Tame Impala and the Arctic Monkeys are fans of each other, but the future of music is looking pretty bright, with the English rockers' frontman expressing his desire to work with the Aussie pysch legend.
Just a couple of weeks ago, Tame Impala's Kevin Parker sat down for a chat with Beats 1's Matt Wilkinson, where he revealed that he hope his band will be releasing new music by mid-2019.
However, while Parker was talking about his upcoming projects (including collaborations with SZA and Mark Ronson), he also expressed his desire to work with the Arctic Monkeys' Alex Turner. Now, it sounds as though the feeling is more than mutual.
Earlier this year, Arctic Monkeys dropped their most recent album, Tranquility Base Hotel & Casino, which just so happened to feature a guest appearance from Tame Impala and Pond member, Cam Avery. However, it seems as though the band now have their sights set on Tame Impala's main man, Kevin Parker.
Sitting down for a chat with Beats 1 as well, Matt Wilkinson spoke to Alex Turner and Matt Helders about the recent ideas of collaborations that Parker recently floated on the show. "I'd love to float with Kevin," remarked Alex Turner. "Let's float Kev."
"One of the things I put to him was whether he'd do anything with you," recalled Wilkinson. "He was really into it, and the reason he said he was into it was because he hasn't worked with anybody in a band before – it's usually producers or hip-hop people – and I wondered what that would actually sound like if you two got together."
After expressing his interest yet again, Alex Turner reaffirmed his stance, saying "Yeah I've just said it twice – I'd float with Kevin."

The band also mused on the topic of whether a new record would be on the way sometime soon, or if fans would have to wait another five years between albums. "Possibly, I mean we haven't quite reached conclusion on what we're going to do," explained Helders. "But I'd like to, maybe just for the reason that I've really been enjoying playing this on on the road."
While Alex Turner noted that the band haven't written anything new, he did express his desire that Kevin Parker might have some involvement in the new record.
"Hopefully Kevin would be floating in there somewhere," he remarked. "I think he's brilliant, no doubt about that."
Of course, you might also remember just how fond of Tame Impala the Arctic Monkeys are, with Alex Turner choosing to cover 'Feels Like We Only Go Backwards' for a Like A Version performance a few years ago. While recent performances of the band have seen them cover The Strokes and The White Stripes, there's nothing to say another Tame Impala cover isn't in the pipeline.
Check out Arctic Monkeys' Alex Turner covering Tame Impala: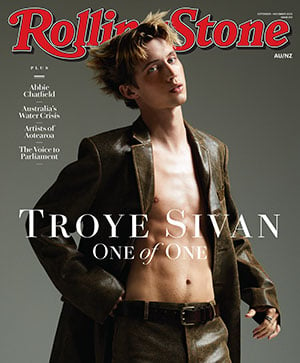 Get unlimited access to the coverage that shapes our culture.
Subscribe
to
Rolling Stone magazine
Subscribe
to
Rolling Stone magazine