On Friday, June 21st, The Saboteurs officially ended their 11-year gap between records with the release of the phenomenal new album, Help Us Stranger, on Third Man Records.
Late last year, the return of The Saboteurs was announced when it was revealed that the group's 2008 album, Consolers Of The Lonely, was set to receive the anniversary treatment.
Featuring two new tracks on a bonus seven-inch, it then became apparent that these new songs were recorded as part of sessions which ultimately resulted in a brand new record for the group.
As the months went on, fans slowly became more and more excited at the prospect of renewed activity from The Saboteurs. This activity soon resulted in their first live shows in years, and their first-ever trip to Australia.
Titled Help Us Stranger, the new album sees The Saboteurs working with Jack White's Third Man Records to help offer up the true vinyl experience for fans.
While a standard black vinyl edition has been released, indie record stores around the world are selling special editions of the album, featuring the tunes pressed onto white vinyl, and housed in a hand screen-printed sleeve.
Add in the fact that five stores around the country will be giving away limited seven-inch test-pressings of the band's 'Hey Gyp (Dig The Slowness)' single, and this is truly a time to be alive for fans of the analogue format.
To celebrate the release of the record, we had a chat with Third Man Records co-founder, co-owner, and self-appointed consigliere, Ben Swank, about the release of the new album, and how important vinyl is for the music scene.
Check out footage of the 10th anniversary of Third Man Records:
Having first begun life as a record label name affixed to Jack White's various releases, Third Man Records has been around ever since 2001. However, in 2009, White teamed up with Ben Swank and Ben Blackwell – his longtime friend and nephew, respectively – to give the record label a physical form.
It largely started as a way for Jack to get his music out
Living up to the label's motto of "your turntable's not dead", Third Man is about the music, first and foremost, with Swank explaining that the label's focus is on artists who share the same desire that they do.
"You just try to work with people that you care about and artists that are just excited to be there," Swank explains, noting that this same attitude led to the creation of a physical location for Third Man Records.
"It largely started as a way for Jack to get his music out, and 10 years ago some of those early recordings, their licensing was beginning to revert to him.
"So that gave him the idea of finding a physical location in Nashville to house all his gear and equipment and everything. Then the idea became, 'let's start a physical space and have a physical storefront, and sell some rare 45s here and there'.
"And from there, the ideas spilled over, […] other ideas started firing off, and things just got bigger."
Check out Jack White's 'Over And Over And Over':
Despite a shared love of vinyl between Jack White, Ben Swank, and Ben Blackwell – with the latter two officially becoming co-owners of the label back in April – there was never any fear that back in 2009, a label focused on the physical would fail in an increasingly digitally-minded age.
"It was just what we wanted to do, and with our size and function, and with the people that we knew and the fans that we'd be servicing, we just knew that they'd be into it and up for it," Swank says.
"It didn't feel like a risk or anything, it just felt like, 'this is what we care about so let's make that the focus of what we're doing'.
It's always just about experiencing, interactions with people
"I mean, streaming is there, iTunes was huge, digital MP3 sales were huge, but we thought, 'well, people are going to get bored of CDs soon, so let's just keep on doing vinyl.' The idea was for us to have the product – the physical, definitive product – available for people.
"We were understanding that people are going to buy MP3 and stream music and all that, that's all good too, however you choose to ingest it. But we wanted that sit down, romantic listening experience. We wanted to make sure we were giving people that definitive version of it."
Even after ten years, there's no specific highlight that stands out in the mind of Ben Swank, with the music and vinyl-lover explaining that everything that Third Man Records does is just another milestone in an already-amazing life for the label.
"It's funny though because if you look over ten years there's so much. And I know that later I'll be kicking myself because I couldn't think of any special or exciting things off the top of my head."
Check out Margo Price performing on the Third Man Records rooftop:
In spite of all the recent releases that the Third Man family are enjoying, the biggest release at the moment is undoubtedly that of The Saboteurs.
Their first album in 11 years, and their first after a long period of hibernation, Ben Swank explains that the feeling at the label is one of excitement – something bolstered by the ability to work with a band comprised of such close friends.
"We love The Saboteurs and the music that they make," Swank begins. "Right now for me I'm really just head down and working my ass off, and you just look up, look around and say, 'holy shit, the record's out this Friday!' These things happen so fast.
"But with the record, things are really exciting because the band just got together and said, 'let's just see what happens'. [They] started turning up with music that I would argue is the best stuff that they've ever done.
"You know, to see that band go away and come back after quite a while, and you just kind of expect a subdued return. I don't think that's happened at all, I think this is just as vital and exciting as anything that they've ever done.
"That's really cool to me, and being able to work with these old friends is really exciting and cool as well."
Check out 'Hey Gyp (Dig The Slowness)' by The Saboteurs:
I think this is just as vital and exciting as anything that they've ever done
To build on the excitement of the release, Third Man Records are once again issuing a special edition of the album. It will see indie record stores receiving exclusive white vinyl pressings, alternate cover artwork, while some receive a limited quantity of strictly promotional, never-available-for-sale seven-inch test pressings of 'Hey Gyp (Dig The Slowness).'
Reflecting on why the label wanted to do such a such a special release, Swank says that the answer is simple; they love record stores and the people that frequent them as much as they love the vinyl format.
"We just wanted to do something that services our most supportive people, and y'know, this is a DIY record label, we have our own storefront, we work really hard. And it's important to have these open relationships with these indie stores, these mom and pop labels," Swank states.
"We also have a thing called The Vault, which is a subscription service, so we wanted to find something else that helped service the stores. And y'know, people love coloured vinyl these days, so its on white vinyl, and then we hand screen-printed all the jackets for that."
We just wanted to do something that services our most supportive people
With this release being done as a way to help support independent record stores, Swank adds that these stores are undoubtedly one of the cornerstones of the musical experience, transcending the relationship between that of a business and of a community staple.
"I mean, they're everything, right? Indie record stores, it's a community, really.
"I mean, I hear a record and I want to talk about it to people and exchange ideas – it's a cultural institution. They're absolutely vital is every community for multiple reasons beyond just selling people records."
This support of record stores is also echoed by Australian record store owners down here in Australia, with Matt "Footy" Horvath of Adelaide's Clarity Records – who was one of five stores in the country to receive an exclusive Saboteurs test pressing – echoing how important it is for there to be special releases such as this.
"It's important for record stores that labels offer indie only exclusives or something that will help steer people in the direction of bricks and mortar stores," Footy notes. "Otherwise it makes it easy for people to only buy online or at bigger department stores.
"Obviously not every label or band can do it, but it definitely help out a lot when the ones that can do it offer up something."
Check out 'Help Me Stranger' by The Saboteurs:
For people who have followed Third Man Records over the years, they would know that the label enjoys releasing unique, special edition versions of their records.
However, it's important to remember that their way of doing business ensures that both the hardcore fan and the casual music-lover get exactly what they're after.
"The way that we do it is that there's a limited edition of everything we do, and then there's a standard edition," Ben Swank explains. "So you know, we might have a 45 or a seven-inch with 100 limited edition copies, but then it stays in print on black vinyl.
"We want to service the collectors and the ones who have been fans of Jack and the label for a long time and collect all of that stuff. We want to service those guys, but we understand that's not for everybody.
"We want people to listen to the music, and we want people to buy it for various reasons. We're going to do a standard edition of everything, and we're going to do a limited edition of everything.
"But there's very few things in the catalogue where we do them as limited editions and they stay that way forever."
However, if you were to ask anyone who has ever missed out on a release from Record Store Day, these limited edition releases can often end up in the hands of people who view them as more of a profit-maker rather than something to be listened to and enjoyed.
In fact, while versions of the 'Hey Gyp (Dig The Slowness)' single are currently listed for more than $2,000 on Discogs, Swank notes that while it is indeed a worry, the main thing is that people are hearing the music that they want to hear.
"There's really not a whole lot that we can do once it leaves our hands, you can't really police it or anything," he notes.
"I guess it comes down to how you define how people 'enjoy' something, but you know, it's a little frustrating because you're not selling them at an inflated rate, you're not trying to make tons of money off of it.
"It's definitely frustrating when people do that, but on the other hand, at least it's getting into someone's hand who wouldn't get it otherwise. My whole thing is; nobody's forcing someone to buy something at that price. It's something somebody found online and is choosing to buy."
Check out 'Sunday Driver' by The Saboteurs:
As you could expect, it is big news around the entire world when Third Man Records founder Jack White releases one of his albums through the label.
This increased attention never phases the label, with Swank explaining that every single artist who releases through Third Man receives the same love and care as an artist like The Saboteurs would.
"I think that we tend to bring an amount of care to everything we do, but you see in a label pretty quickly how much external attention something is going to get," Swank notes.
"None of that diminishes our excitement for a release, but it's definitely exciting when you've got something that everyone is excited about and wants to get on board about.
"Yeah, people are really really into this record, and we're happy to have the band back and we love what they've created, that's exciting for us. But we're not going to approach something completely differently because it's a smaller, lesser-known artist, you know?
"Maybe those others could be Jack White one day? We choose to work with people that we love regardless of whether it's something that's going to cross over into the mainstream or not, we just work with artists that we care about."
Check out 'Bored And Razed' by The Saboteurs:
The Saboteurs' Help Us Stranger is out now through Third Man Records. Indie record stores are selling an exclusive white vinyl version, while a standard black version is also available for purchase.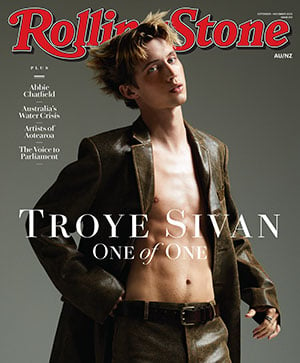 Get unlimited access to the coverage that shapes our culture.
Subscribe
to
Rolling Stone magazine
Subscribe
to
Rolling Stone magazine