Review: Bluesfest @ Tyagarah Tea Tree Farm, Byron Bay, April 18th – April 22nd, 2019
Ah! Music festivals. The only place you'll find that trademark yiros and toilet smell wafting through your nose in the same breath. I am also reminded how short I am by literally every other punter at the festival, but I will suffer that in the name of great music.
However, I would hardly call the first band I checked out suffering. In fact, if you were going to attribute this festival's world class reputation to a singular band, Snarky Puppy is it.
These guys aren't just your average Grammy-winning jazz/funk fusion big band, displaying otherworldly musicianship that oozes out so naturally that it is medically impossible to listen to while standing still.
Pulling modern vocoder effects and funk bass tones together with a slinky muted horn section reminiscent of the 1920s, this eclectic soundscape had the whole crowd in awe.
Check out Snarky Puppy's 'Bad Kids To The Back':
Wandering into the Jambalaya tent, I found young and old gathered together to appreciate the legendary music of Richard Clapton.
Backed by his unreal session band, Clapton's voice strikes a perfect synthesis of powerful and delicate. Rolling out hits from his half century spanning career, Clapton's chiming electric guitars and the lead player's glass slide added the signature twang that his brand of Rock and Roll demands.
Switching it up with some contemporary R&B/soul was Kiwi band Six60.
Now, while a band from New Zealand containing two sixes in their name may seem like a cosmic joke, I can say with certainty that they could be named something way harder for their fellow Kiwis to pronounce and still pack out the Mojo tent.
The band is first off, obscenely fun to watch and fronted by the most insanely talented and soulful vocalist. Managing to get the crowd up onto each-others' shoulders, they were the perfect band to prime the crowd for Ocean Alley.
Check out Ocean Alley's 'Confidence':
It's very hard to find adjectives that do justice to just how brilliant this band is. Closing out night one, with endless melodic overdriven riffs that skanked across the bands mammoth 90-minute set, Ocean Alley's whirling organ and echoing vocals wove through and spilt out of the overflowing tent.
At one point, the band striped it back to just an electric guitar and keys, where Baden Donegal's voice carried the song and had the crowd pin-drop silent, a rare feat for a festival set, highlighting just what a talent he is.
Serenading us into night two as the rain poured down was the spellbinding Norah Jones. With her session band bringing her classics to life so effortlessly behind her, Jones oscillated between her acoustic guitar and a grand piano, never missing a note.
Chiming and rumbling out in that classic signature jazzy way that she has patented, Jones' piano playing complimented her smoky and silky voice. It is impossible to describe how captivating Jones' voice is without experiencing it in person.
'Don't Know Why' was the highpoint of the set, rearranged to be even silkier and slower, making you want to waltz with the person next to you. With the lead guitarist's delicate brass slide use and the band's eerie harmonies Jones' is one of the few artists that can give you the chills in a sub-tropical climate.
Check out Norah Jones' 'Don't Know Why':
Full of nuanced cadences and moments to party and boogie like there's no day three, Hozier is one of those acts that should be a permanent fixture in the Australian festival circuit.
Possessing a commanding presence and a voice that translates beautifully in a live setting, Hozier's dynamic and buttery vocals captivated the crowd from the first note.
Evoking additional emotion and magic in the set was Hozier's lead guitarist/violinist Suzanne Santo, who shapes Hozier's dreamlike soundscape one killer melody at a time whilst crushing her backing vocal duties.
In fact, Hozier's stage was full of female talent with unbelievable playing ability. We love a good nod to equality.
Materialising to a dramatic symphony of strings, Iggy Pop in all his bare-chested glory wasted no time jumping into the crowd and flipping them off from the first song.
Proving that you're never too old to be a rock star, Iggy Pop's antics were well received by the crowd and great entertainment value. Inspiring crowd-wide singalongs, turning the tent into the largest-ever festival choir for 'The Passenger' with that "La La" hook was a heart-warming high point of the set.
Check out Iggy Pop's 'The Passenger':
The job of bringing night two to a close was tasked to multi-instrumentalist Tash Sultana, who used her heavenly and powerful voice to capture a tent full of awestruck fans.
Leaning on the keys with one hand and playing her trumpet with the other, Tash's face beamed like a kid on Christmas while she played all the parts into her looper, pausing only to make stink faces when she hit the sweet spots.
Ripping through her guitar parts and dancing through her drum programming, the one-woman band thing only adds to how interesting she is to watch, as the level of multitasking required to pull off a set this complex is truly impressive.
Finding room in the set to smash out a chicken pickin' mandolin solo and a pan flute beat-boxing breakdown, Tash Sultana's unique tessellation of sound selection and playing ability is mind-blowing.
Night three kicked off with Yothu Yindi & The Treaty Project bringing traditional group vocals, clapsticks and didgeridoos to the Jambalaya Stage.
Layering melodic saxophone with pounding drums, bouncing bass riffs and glistening guitar tones, the band laid down a solid foundation to have a dance. What was so nice about this set is that everyone on stage looked like they were having an absolute ball which spilled out into the crowd uniting everyone in the music.
Culturally valuable bands like Yothu Yindi & The Treaty Project serve a great reminder of how vital it is for Australia to continue to support and grow indigenous artists.
Check out Yothu Yindi & The Treaty Project performing live:
Dispensing a captivating hour of alt-country rock magic, Kasey Chambers really knows how to wow a crowd.
Peppering her set with equally legendary acts including The War and Treaty and Ben Harper, Chambers really shook the crowd when she recounted the story of two twins who attended a gig of hers two decades previously.
Standing front and centre singing every word of her debut album 'The Captain' back at her, Chambers revealed she met those twins again years later, before bringing The Veronicas up on stage to sing the record's title track with her.
Showcasing her enigmatic voice that has only gotten better with age, Chambers made it a family affair with father Bill Chambers completing the band's sound with dobro and brass slide guitar.
Concluding night three with the ultimate big band experience was Melbourne Ska Orchestra. When you get 26 musicians on stage, it's a pretty safe bet it's going to be an epic wall of sound.
The best way to elevator pitch these guys if you've never heard them play, is that they are what it would sound like if you took The Blues Brothers to Jamaica. With cracking percussion, energetic basslines, a blaring horn section and front man Nicky Bomba crooning along, the set was one giant party.
With the whole band having illegal amounts of fun, there was not a still foot in the crowd.
Check out the Melbourne Ska Orchestra's 'Lygon Street Meltdown':
Mavis Staples' low raspy voice eased the crowd into night four. Packing out the Jambalaya tent, the gospel goddess belted out hits including 'For What Its Worth' and 'Wade In The Water'. Staples' backing band provided a soulful setting for the singer to trill to and allowed her voice to shine.
Displaying his serious guitar chops using a multitude of effects, Gary Clark Jr's talent is mesmerising and undeniable. Picking endless melodies on his electric and wailing out with his ethereal voice, Clark Jr's set was mind bending and savoured by everyone in the Mojo tent.
Wrapping up night four with a large dose of folk was Jack Johnson, who provided the perfect sound track to see out Sunday to.
Backed by his band and armed with his jangly acoustic guitar, Johnson crooned out all his crowd favourites including 'Better Together', 'Banana Pancakes', and 'Upside Down'. Lullabying all the tots in the crowd to sleep, Johnson's soothing melodies were appreciated by young and old.
Check out the Jack Johnson's 'Better Together':
Rounding out the five-day marathon on Monday night was Australian music icon Paul Kelly. Hacking away on his beaten up acoustic, Kelly graced the Mojo stage with his smoothly delicate voice, smashing out moving renditions of 'How To Make Gravy', 'Dumb Things', and 'From Little Things Big Things Grow'.
Intermittently breaking out the harmonica and picking up a Gibson hollow-body electric guitar for a few songs including 'With The One I Love', Kelly and his session band delivered a polished and powerful set full of songs integral to the Australian songbook.
Finishing the festival on a high were The Saboteurs who rounded out the night with a high-energy blues rock set. Punchy bass riffs and overdriven and fuzzy guitar tones were layered with gritty vocals, Jack White and Brendan Benson mesmerised the crowd with their incredible guitar prowess.
Ending the set on 'Steady, As She Goes', the band inspired a crowd-wide call and response in the chorus that left the tent chanting for an encore.
Throughout the festival, I noticed millennials watching and bonding over bands with their parents. Facilitating inter-generational connection, what Peter Noble and the Bluesfest team have created with this festival is truly special and it's one that I hope we get to continue to enjoy for years to come.
Check out the The Saboteurs' 'Steady, As She Goes':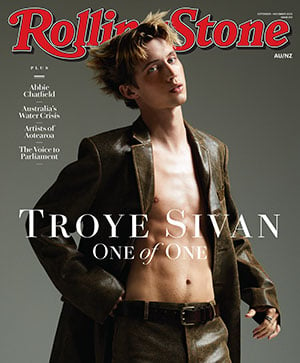 Get unlimited access to the coverage that shapes our culture.
Subscribe
to
Rolling Stone magazine
Subscribe
to
Rolling Stone magazine