Brisbane indie rockers Dusty have been quickly building a formidable reputation on the Australian live music circuit, but, sadly, it hasn't all been plain sailing. 
While simply trying to enjoy other bands do their thing from within the crowd at festivals and gigs, lead singer Annie Newcombe noticed something unsettling: many surrounding people thought touching her without her consent was an acceptable thing to do.
"When these instances occur I feel extremely objectified and powerless," Newcombe rightly says. "I never want anyone to feel unsafe in a crowd."
No one does, and no one should. That's why Newcombe penned Dusty's new single, the fiery "D*ck Pic", to provide empowerment to listeners who'd experienced the same thing while listening to live music.
"I don't like it and I'm not going to pretend to / Take your arms off me / Take your mind off getting in my sheets," Newcombe fiercely spits in the song, and her anger is palpable. The relatable punky anthem is Dusty's first single of the year and follows last year's well-received debut EP Glitter.
Another band who know the important of consent and safety within crowds is Betty Taylor. The dreamy four-piece recently featured in Tone Deaf's Get To Know series off the back of their new single 'Glitter', which calls out those who sugarcoat their words to make their relationships appear brighter than they are.
Ahead of both bands appearing at Spaced Out Festival soon – Dusty in Brisbane on Saturday, May 13th and Betty Taylor in Gold Coast on Sunday, April 9th – we got them to interview each other. They discussed their respective band origins, musical influences and, of course, the importance of consent at live shows, which you can read below.
Love Indie?
Get the latest Indie news, features, updates and giveaways straight to your inbox Learn more
Part 1 – Betty Taylor interview Dusty
How did Dusty begin? Where did you all meet?
Annie: Dusty began in early 2021. Originally it was going to be a solo project with a band, but as time progressed and we grew closer we decided that Dusty would be a band. 
I met Harley at uni (we both studied music together). We spent a lot of time together during COVID (he half lived at my house) and we became good friends. I met Tannum and Jord at the same Bugs gig. Tannum was with Harley (they grew up together in Hervey Bay) and Jord was playing. Tannum and I clicked instantly and when I started Dusty I knew I wanted her to be in the project. She was super new to bass (only one year in) but I just loved hanging out with her and her stage presence was/is incredible. I had always loved Harley's playing so it made sense for him to play guitar in Dusty! Jord is the newest member, but we were all such good friends before, it feels like he's been in the band for years!
What is your favourite song to play? What is it about? 
Tannum: Favourite song to play is definitely our next release, "D*ck Pic". This song feels like the start of a genre transition for Dusty with its heavier influence, which equals heaps of standing on drum kits and colliding into each other on stage. It also allows us to go a bit feral with our tones and make a bit of noise. 
Although being an upbeat energy-filled tune, "D*ck Pic" actually highlights the importance of consent, especially in the live music scene. In the famous words of Annie Newcombe, "If you think you can touch someone without their consent, maybe you can f*ck off."
What song/band inspires you or influences your sound the most? 
Tannum: Dusty has had quite a change in sound from when the band was created – in the early days Annie was incredibly inspired by Angus & Julia Stone, with her love of folk music. The next releases you'll hear a heavier sound from Dusty and we are influenced by bands such as Sputnik Sweetheart, Hole, and Momma. We love the contrast of Annie's voice when it meets the overdriven and distorted tones of our instruments. 
If you could change one thing about the industry, what would it be?
Annie: For me it would be the conversation around how irregular the lifestyle of being a musician is. I think because the work is never the same and there is a lot of travel involved, the lifestyle is very tiring. It is easy to feel overwhelmed by the lack of routine that comes with working in the music industry. It is so easy to put pressure on yourself and burn out, so I think emphasis on putting your health and wellbeing first would be really beneficial! 
What message/words of advice would you like to leave for your fans?
Annie: I really want our music to be relatable for our fans! In the past our music has been really raw and upfront. I wear my heart on my sleeve when it comes to lyrics because I think normalising hard topics helps people to feel less alone. 
With our newest release, "D*ck Pic", I wanted to leave our fans feeling empowered and supported! Consent is so important to us and after having my own struggles within crowds it only made sense to get my frustration out within our music. "D*ck Pic" is about crowd safety for everyone!
Part 2 – Dusty interview Betty Taylor
How did you all meet/how did Betty Taylor start?
Sophie: Betty Taylor came together almost by accident. Met some new mates at a local open mic, played together the following week and a band asked us if we could open for them. The original line up was myself and two other lads. I had four weeks to come up with a set list and a stage name. I played a few small shows for fun with the boys, but things really clicked when Kayla, Claire and Katie joined the band, and we realised we were onto something pretty special and a career in music is something we wanted to pursue.
What's your writing process? Do you write together? 
All the songs we play have been cooked up in my brain at some point in the last 5-6 years. These are songs I never thought would see the light of day, and I'm so lucky and grateful that I have an amazing band that could translate what I could hear in my head and turn it into something we can play for an audience.
Who would be your dream artist to tour with and why?
We've answered this one a few times and the decision remains unanimous and unchanged – Harry Styles. Do we really even have to explain? Iconic.
Why is consent so important at live shows?
Being women in music and just women in general we've all unfortunately experienced first hand unwanted behaviours in live music settings. I didn't come to see my favourite bands just to be harassed and groped in the crowd. LEAVE PEOPLE ALONE. They are not there for you. It's so important for people to feel safe and comfortable in these settings. Not only as a punter enjoying the music, but workers at the venue such as photographers, bartenders, security ect all deserve to be able to do their jobs in peace.
Lettuce on burgers, yes or no? 
I'm all for lettuce on a burger. My ideal burger consists of meat, cheese, lettuce, tomato, red onion, and aioli on a milk bun. PICKLES AND MUSTARD ARE NOT WELCOME HERE.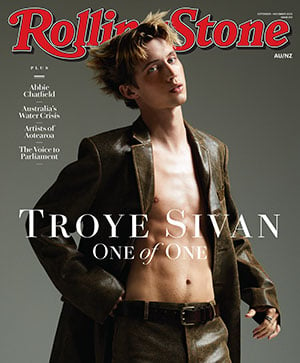 Get unlimited access to the coverage that shapes our culture.
Subscribe
to
Rolling Stone magazine
Subscribe
to
Rolling Stone magazine