Review: Ed Sheeran @ MCG, Melbourne, February 2nd, 2023
This is one of those performances where I just feel daft for putting 'review' in the title. Here is Ed Sheeran – a musician who has crossed every possible cultural and generational border, playing to the biggest crowd of his life… And I'm supposed to review? 
Walking along Swan street in Richmond at 5pm was like being at the pre-show. Every restaurant and bar was packed with Ed Sheeran branded jumpers and hats and the closer I got to the MCG, the more I could hear his music coming from all different directions. It was truly like Sheeran had taken over Melbourne.
In a sense he had. Not only was last night's gig the biggest of Sheeran's career, but it was one of the biggest shows ever in Australia, with over 100,000 people flooding the G (With a similar crowd expected for tonight's show). 
Love Pop?
Get the latest Pop news, features, updates and giveaways straight to your inbox Learn more
I'll cautiously admit that I never had seen Sheeran live before, and although I've always thoroughly enjoyed Sheeran's music and listened to it regularly enough, I'd never considered myself a 'Sheerio' (Sheerio is the name for a Sheeran fan. Trust me, I googled it). By the end of last night's gig, I was wondering if I even had music taste to begin with – Because Sheeran's songs will obviously define our generation's music. 
Check out 'Tides'
To say the gig had a high production value, would be a severe understatement. Guitar pic framed screens hung by cables across the venue, surrounding the circular stage that Sheeran would rotate around for the course of the evening. But until his grand reveal, another large screen surrounded the stage with a dramatic countdown. Somewhat ironically, many still stood prematurely thinking he was making his way through the crowd to the stage… Multiple times… But that in itself highlights just how much energy and anticipation there was for Sheeran. 
But once that countdown finished, the screen rose and we were off. 
You didn't have to be told this was the biggest show the G had seen in a long time, you could tell. The scale of everything was so immense that it got to a point where you just stopped rationalising it. 
What was incredibly effective was Sheeran's very conscious effort to recognise he was in Melbourne. Not only was he wearing a t-shirt with 'Melbourne' written on it, but he continually talked about the city and his personal relationship with it. One thing that definitely didn't get pass any Aussie's was his powerful acknowledgment to the significance the MCG had to Shane Warne, going on to dedicate one of his most adored numbers. 
Check out 'The A Team'
You would be forgiven for thinking that a gig that revolves around one person playing the guitar in the middle of the MCG just wouldn't be worth it. But you would still be wrong. Not only does the guitar pic screens and large overhead screen allow the audience far and wide a close look of Sheeran (combined with completely unique and individual animations and styles for each song), But Sheeran's 360 stage rotates him around the G while he stands completely still and even rises and lowers. By doing this, Sheeran can use his looping pedals which he has become so famous for while also allowing him to seamlessly navigate the entire audience without it seeming like a frustrating and an inconvenient extra step. 
Not only was this a special night for Sheeran due to the enormity of the evening, but it was also the anniversary of Mushroom Group's Michael Gudinski's death – a close collaborator and friend of Sheeran. 
"He convinced me, " Sheeran says – referring to Gudinski implanting the idea that he could fill out the MCG. "I really wish he was here to see this tonight. But this ticket record that we broke tonight, was broken by his son, Matt Gudinski."
"I know the whole city loved him, and here we are in the mighty MCG."
Check out 'Visiting Hours'
Every number was another hit that nearly every person in the audience knew and Sheeran made sure to use that to his advantage. Getting the G to call-back and create harmonies was common practice by the end of the show, but I doubt there was a single audience member that was tired of it. 
Oh, did I mention there were plenty of flames and fireworks?
Check out 'Galway Girl'
Last night's gig was a landmark for Australian live shows and the most objective evidence that a global pandemic could never stop the irresistible nature of live music and the unstoppable drive of an icon like Ed Sheeran. 
From start to finish, the energy remained at an all time high regardless of whether he was singing to sadness or ecstasy, whether he was by himself or accompanied by a band.
If I was to summarise the show to a friend, I would simply explain that it was a cultural phenomenon. That's easy to digest, right? Yeah, they'd get that. 
Unfortunately, if you're in Melbourne and you're reading this, you've already missed Sheeran's Victorian shows. In fact, if you're anywhere but Adelaide you'll either be going overseas or waiting a few years. But if you can do it – do it. 
Be sure to check out the other photos from the show!
Ed Sheeran @ MCG, Melbourne, Australia
2/3/23 Setlist
'Tides'
'BLOW'
'I'm a Mess'
'Shivers'
'The A Team'
'Castle on the Hill'
'Don't/ No Diggity'
'Give Me Love'
'Visiting Hours'
'Throw Your Arms Around Me'
'Own It/ PERU/ Beautiful People/ I Don't Care'
'Overpass Graffiti'
'Galway Girl'
'Thinking Out Loud'
'Love Yourself' – Justin Bieber cover
'Sing'
'Photograph'
'Perfect'
'Bloodstream'
'Afterglow'
'Shape of You'
'Bad Habits'
'You Need Me, I Don't Need You'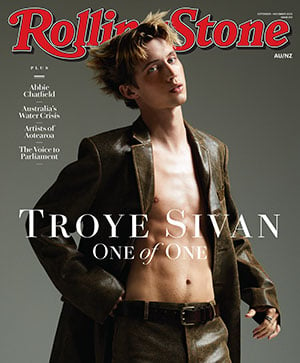 Get unlimited access to the coverage that shapes our culture.
Subscribe
to
Rolling Stone magazine
Subscribe
to
Rolling Stone magazine