The Falls Festival has only just finished its annual editions in Victoria, Tasmania, and – for the first time ever – in New South Wales.
The expanded Byron Bay leg, which added to Falls' 20 year fixture in Lorne and decade-long run in Marion Bay, sold out its inaugural run in three months out from the multi-day kickoff of the New Year's festival.
Following on from the successful expansion, which saw 15,000 punters attending Byron Bay, festival organisers have indicated that even is eyeing further expansion into other states for future editions.
"I think there is room for a Falls in a few locations because of its community nature, the fact that it is not too big, because the crowd size is sustainable and aspects of the local market can support it long-term," festival co-director Paul Pittico told local Launceson newspaper The Examiner on the opening date of Falls Festival in Marion Bay.
Pittico indicated that the long-running Aussie event could eventually spread out to new homes in South East Queensland and even Western Australia in future.
"We're certainly not expansionist but we certainly feel that Falls hasn't reached its full potential yet and there is so much growing interest," he adds."I think there is room for a Falls in a few locations… It feels organic and it feels long-term."
Pittico, who along with Splendour In The Grass co-founder Jessica Ducrou bought into the Falls Festival in September 2012, was a key figure in engineering the festival's expansion to its new Byron Bay home; the four-day event was even hosted on a allocated area of Splendour In The Grass' 660-acre North Byron Parklands site.
Despite selling out all 15,000 tickets to the inaugural Byron Bay leg and 16,000 tickets to Lorne (continuing its sold out legacy since its 1993 inception), the Marion Bay leg actually saw a downturn in ticket sales this year, moving 12,000 tickets – down 3,000 from last year.
Even in the face of a ticketing dip, Mr Pittico says organisers are committed to the Tasmanian edition even as sales have slowed over the years (including a financial scare in 2012 before it rescued by a rich philanthropist).
"It is challenging," admits Mr Pittico "we're going to be down 2,000 to 3,000 tickets this year because of the advent of the Byron Bay show – but our long-term plan is to grow Byron Bay and Marion Bay to be back to where it was."
"One of the main things for us is to refine it and make the show work. In the past, we've had a sold-out event and didn't necessarily make ends meet so we've got to work out ways to make it more sustainable and to make it gel with other tourism activities in Tasmania like the Taste festival and MONA."
The addition of a third site posed some serious logistical challenges in ferrying the sizeable Falls Festival lineup – featuring Vampire Weekend, Grizzly Bear, The Roots, Johnny Marr, The Cat Empire, and many more – and their equipment between three states over five days, quite the juggling act admits Mr Pittico.
The festival co-director also spoke of his decision to buy into Falls, alongside Mrs Ducrou, 18 months ago after being impressed by the event's – and founder Simon Daly's – ability to the blockbuster scale of international bands with local arts and community.
"What appealed to us was how community-driven the show was – with the arts, food and community spirit – but how it still managed to have international talent and feel like a bigger contemporary music festival," explains Mr Pittico. "It feels organic and it feels long-term."
Check out our Falls Festival 2013 coverage below.
Falls Festival Lorne
Review: Day One & Two | Day Three & Four
Photo Gallery: Day One | Day Two | Day Three | Day Four
Falls Festival Byron Bay
Review: Day One | Day Two | Day Three
Photo Gallery: Day One | Day Two | Day Three | Day Four
Falls Festival Marion Bay
Photo Gallery: Day One | Day Two | Day Three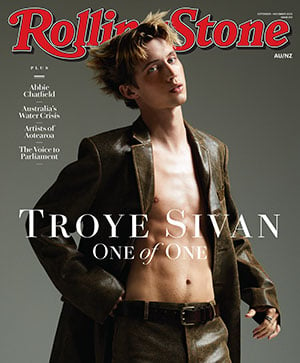 Get unlimited access to the coverage that shapes our culture.
Subscribe
to
Rolling Stone magazine
Subscribe
to
Rolling Stone magazine