ONEFOUR: Against All Odds is not a rags to riches story, it's not a feel-good tale. You probably won't shadow-box when the credits roll. And, yes, music, hip hop (specifically drill) is the glue that binds the story. The rappers and their brutal style of rap are central characters, as are, perhaps unwittingly, the guys in blue.
Now available on Netflix worldwide, ONEFOUR: Against All Odds follows the emergence of ONEFOUR, the Sydney-based, Pacific Islander lads who swap weapons for mics, and pursue a career in drill.
It's a tale of community, their rivals, their explosion on YouTube, and the extraordinary intervention of law enforcement, all of it set to their music and the gritty streets of Mount Druitt.
If you want glamour, watch a rerun of Keeping Up With The Kardashians.
The best stories are often those that meticulously unfold, depositing the viewer somewhere completely unrecognisable from the starting block. When director Gabriel Gasparinatos first positioned and pointed the camera at the members of ONEFOUR, he had no way of knowing where the journey would take him.
"When we started sort of thinking about making this film, we didn't even know that the police were going to be a character in it. We didn't even know that there was going to be conflict between the group and the police."
In those early days of filming, Gasparinatos and his team were following "a group of rappers that had 100,000 views, and were doing something pretty cool that hasn't happened in Australian hip-hop before, which is to make it global."
Love Hip Hop?
Get the latest Hip Hop news, features, updates and giveaways straight to your inbox Learn more
A passion project four years in the making, Gasparinatos and the other producers immersed themselves, sometimes driving to Mount Druitt six days a week, "to get so as close to that community as we really could to tell the most honest and true version of that story," he explains. "You have to be passionate for a film like this, that requires such stamina to get through it. But also such intimacy and forming close relationships with everybody involved."
The process was anything but straight forward. "You're dealing with what happens when you become a celebrity, these guys become so famous that the access there becomes difficult, but you also are dealing with what happens when you have a police task force that can make access difficult, or, you know, members going to prison for extended periods of time." All of those hurdles "makes it quite difficult to capture."
The result is there on the screen. Following its world premiere at SXSW Sydney, the film has dropped worldwide on Netflix – a platform that boasts 238 million paid memberships in over 190 countries.
Gasparinatos was on hand to present the film, along with Erin Moy, co-founder of creative company Entropico; ONEFOUR's manager Ricky Simandjuntak; ARIA CEO Annabelle Herd; Christopher Kevin (AKA 24 Carat Kev), who appears in the film; and members of the group.
"We wanted to be honest and objective and raw," says Gasparinatos, and "present something with two sides to it."
As the filmmaker, "telling this story is not nearly as hard as the lives of the subjects," Gasparinatos tells Variety, "my experience as a filmmaker is capturing and documenting. What they're going through is significantly harder."
ONEFOUR: Against All Odds shows both sides. As the group's music goes ballistic, and global, on YouTube, a dedicated New South Wales police task force shuts down their sold-out national tour, due to concerns that the music will incite violence.
Leaning on laws designed to target outlaw motorcycle gangs and terrorists, officers from NSW's Strike Force Raptor even approached streaming music services to have ONEFOUR's music scrubbed from their catalogues.
The long arm of the law is very long indeed, but, to date, none of the streamers have obliged.
"We shot those interviews and were quite surprised by how candid they were," Gasparinatos notes, "in the way in which they might distort the powers they have. Terms like 'lawful harassing' being used quite proudly was, I think, shocking to hear it come from an active member of the police."
There was more to the film, including "actual police methods" that didn't make the final cut due to time restraints. "There's so much more to the story than we could fit in there, it was really hard to whittle it down."
Produced by Entropico and Stranger Than Fiction, the project boasts Moy, Sarah Noonan, Erin and Jennifer Peedom as producers. Guests in the film include The Kid LAROI, who has clocked up No. 1s in the U.S. and his homeland, Australia.
A first-time film director, Gasparinatos cut his teeth making music videos in the hip hop space. Scaling up from 4 minutes to 84 minutes is a different game altogether. "There's 1,000s and 1,000s of hours' worth of footage," he admits. The teamed edited as they shot. When Entropico partnered up with Stranger Than Fiction, the alliance helped "clear it all up, straighten it out."
Gasparinatos pays tribute to Netflix, recognising the project "was a really risky film to be behind, whether it's the first-time director, or just the subject matter, the nature of the controversy was not entirely wholly brand-safe. But they took a risk on it. And I'm really happy about that, because this film gets to be seen by a boatload of people."
For ONEFOUR, attention now turns to the 2023 ARIA Awards, where the controversial act's "COMMA'S" (via Tunecore ANZ, Ditto ROW) featuring CG is shortlisted in the category of best hip hop/rap release.
And for Gasparinatos, there's "a few things cooking up," and a documentary on the film is in the works.
"I just learned along the way that you need to tell a singular story. You need to know at each point in the film what the point of it is, and don't get too carried away with things that you think are fun and interesting," he concludes. "If they don't tell that singular story, they're just distractions."
Stream ONEFOUR: Against All Odds on Netflix.
From Variety Australia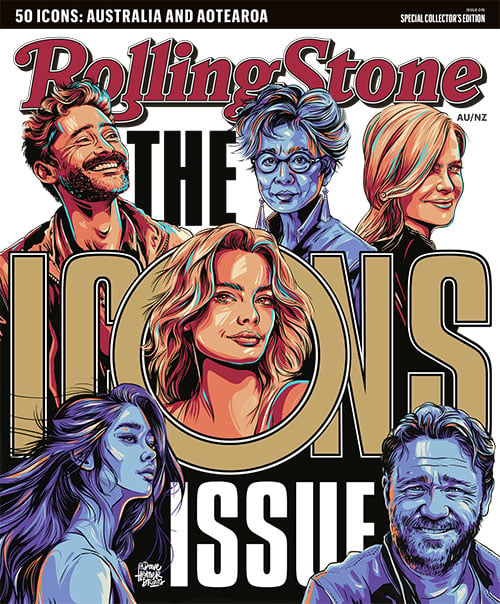 Get unlimited access to the coverage that shapes our culture.
Subscribe
to
Rolling Stone magazine
Subscribe
to
Rolling Stone magazine