Full disclosure: if you're headed to any date of the huge Queens Of The Stone Age and Nine Inch Nails headline tour and like surprises – click away now.
For the rest of you, the QOTSA/NIN juggernaut opened in Sydney last night and as expected, the opening night setlists of both bands was as amazing as you'd expect it to be.
After an opening performance of new material from Brody Dalle, Nine Inch Nails took the honour of lighting up the Qantas Credit Union Arena first, after losing the coin toss to Josh Homme and co. for the chance to headline (a tradition QOTSA multi-instrumentalist Dean Fertita explained in a recent Tone Deaf interview).
Trent Reznor and his industrial/electronic rock cohorts – Robin Finck, Ilan Rubin, and Alessandro Cortin – delivered a characteristically moody light show (check out our photos from last night here) and a 19-song setlist that drew heavily from latest album Hesitation Marks, following in the vein of shows on the band's world tour last year.
Among the new material, the four-man sized NIN also delivered historic tracks from 1994 classic The Downward Spiral, and vintage material from the Broken EP and debut LP, Pretty Hate Machine, including the requisite show-finishing turns of 'Hand That Feeds', 'Head Like A Hole', and a crowd-strengthened 'Hurt' (as fan footage demonstrates below). "Make no mistake Sydney… we came here to get fucked up with all of you!"
Queens Of The Stone Age, fresh from an American tour starring a particularly fiery Josh Homme, delivered a career-spanning 18-song setlist. Beginning with a duo of favourites from Songs Of The Deaf, the bedrock of the show was …Like Clockwork, with a good chunk of the latest QOTSA album aired before the encore, where Homme declared: "Make no mistake Sydney… we came here to get fucked up with all of you!"
Following the arena rock pairing, Queens Of The Stone Age continued the part at Sydney's Oxford Art Factory where Sweethead – the side-project of Dean Fertita – performed an intimate set to the hardcore fans who'd scored tickets. Sweethead and an entourage of QOTSA DJs are set to repeat that feat at Melbourne's Ding Dong Lounge (details here).
Unfortunately, the evening featured no Grammy-style crossover or on-stage QOTSA/NIN pairings. True to the words of ringleaders Homme and Reznor, who recently told Triple J's Lindsey 'The Doctor' McDougall on radio that they wanted to play to their strengths before considering literally joining forces on stage.
"The initial plan is for everyone to do their thing," explained Homme. "So much of the time it sounds lovely to smash it all together. Let's just start by everyone kicking their ass and doing their thing," he added, but didn't rule out that live collaborations may still be likely for the rest of the tour (cross your fingers, Perth, Adelaide, Melbourne et al).
Reznor added: "We're trying to treat each leg of the tour like its own separate thing. It gets around the fact that everybody's seen everything on the internet these days… so we're trying to keep things off the cuff and unpredictable. These shows will be different every night."
Meaning anything could happen when the NIN/QOTSA hybrid plays an encore in Sydney tonight before steamrolling through the rest of the nation. Check out the full tour schedule below.
Nine Inch Nails & Queens Of The Stone Age – March 6th @ Qantas Credit Union Arena, Sydney
Nine Inch Nails setlist:
A Warm Place
Somewhat Damaged
1,000,000
Letting You
Terrible Lie
March of the Pigs
Piggy
Sanctified
Came Back Haunted
Me, I'm Not
Copy of A
Survivalism
Only
Wish
Burn
Gave Up
The Hand That Feeds
Head Like a Hole
Hurt

Queens Of The Stone Age setlist:
You Think I Ain't Worth a Dollar, but I Feel Like a Millionaire
No One Knows
My God Is the Sun
Burn The Witch
Smooth Sailing
…Like Clockwork
If I Had a Tail
Little Sister
Fairweather Friends
I Sat by the Ocean
Make It Wit Chu
Sick, Sick, Sick
3′s & 7′s
Better Living Through Chemistry
Go With the Flow
Encore:
The Vampyre of Time and Memory
Feel Good Hit of the Summer
A Song for the Dead

Brody Dalle setlist:
Die on a Rope (The Distillers song)
Dismantle Me (The Distillers song)
Rat Race
Don't Mess With Me
Meet the Foetus/Oh the Joy
Ghetto Love (Spinnerette song)
Underworld
Nine Inch Nails And Queens Of The Stone Age Co-Headline Australian Tour 2014
With Special Guest Brody Dalle

Thu 6 Mar – Sydney | Qantas Credit Union Arena
Fri 7 Mar – Sydney | Qantas Credit Union Arena
Sat 8 Mar – Newcastle | Entertainment Centre
Tue 11 Mar – Perth | Arena
Thu 13 Mar – Adelaide | AEC Arena
Fri 14 Mar – Melbourne | Rod Laver Arena
Fri 15 Mar – Melbourne | Rod Laver Arena
Mon 17 Mar – Brisbane | Entertainment Centre
Tickets: www.ticketek.com.au or Ph: 132 849 
Further infot at www.frontiertouring.com/ninqotsa1
Queens Of The Stone Age TAS Show
Frontier Members pre-sale via www.frontiertouring.com/ninqotsa
Mon 3 Mar (12noon AEDT) to Tue 4 Mar (12noon AEDT) (or until pre-sale allocation in exhausted)
General public on sale from Wednesday 5 March 9:00am AEDT
Mon 24 Mar – Hobart | Odeon Theatre (18+)
Ticketmaster 136 100 | www.ticketmaster.com.au 

Sweethead Australian Tour 2014
General public on sale from Monday 3 March (10am local time)
Thu 6 Mar – Sydney | Oxford Art Factory (18+)
Moshtix 1300 438 849 | www.moshtix.com.au         
Fri 14 Mar – Melbourne | Ding Dong Lounge (18+)
Oztix 1300 762 545 | www.dingdong.oztix.com.au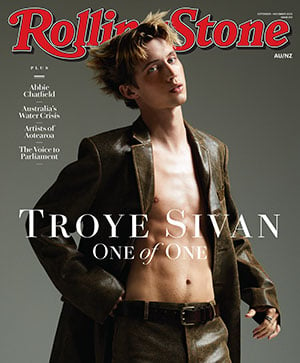 Get unlimited access to the coverage that shapes our culture.
Subscribe
to
Rolling Stone magazine
Subscribe
to
Rolling Stone magazine