Guns N' Roses apparently have big studio plans for 2019, with recording for the group's next album to begin in earnest later in the year.
To even the most casual of fans, Guns N' Roses aren't exactly known for their prolific studio output. Ever since we saw the release of 1987's Appetite For Destruction, the band have unleashed five more albums, though it took a massive 15 years for the long-awaited Chinese Democracy to finally arrive in 2008.
Now, over ten years since their last record, the reunited Guns N' Roses lineup look set to release new material in the near future, with Axl Rose explaining back in December that the band "had to get through this [current tour] first" before they could "see what happens next".
Recently, guitarist Richard Fortus explained that the band's new record "will happen faster than you think", while noting that a new Guns N' Roses track by the end of 2019 could "definitely happen."
Now, it seems that some definite studio time is planned, with Fortus revealing the band's 2019 plans in a new interview.
Speaking to the St. Louis Post-Dispatch, Richard Fortus explained that once all of the members of Guns N' Roses are together later in the year, they'll be hitting the studio.
"Slash is on tour right now," he explained. "Once he gets back from that, we're gonna get some more recording done and hopefully get an album out soon. And then we'll get back to touring."
Slash's touring commitments recently saw him hit up Australian shores, though his upcoming tour currently has him booked solid all the way through to August.
While it remains to be seen just when the band will be hitting the studio, it seems they'll be working pretty fast, especially if they feel confident enough to release a new single later this year.
Likewise, fans will definitely be eager to see what's in store when it comes to touring, with Slash recently revealing that despite their reunion tour becoming one of the biggest ever, it was initially supposed to last for just five shows.
Whatever the case, Guns N' Roses' recording habits are notoriously unpredictable, so the future is anyone's guess at this point.
Check out Guns N' Roses' 'November Rain':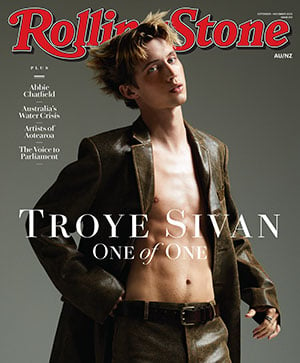 Get unlimited access to the coverage that shapes our culture.
Subscribe
to
Rolling Stone magazine
Subscribe
to
Rolling Stone magazine