Just 40 years after they played their final show, Joan Jett has revealed what caused the breakup of punk icons The Runaways.
Formed in Los Angeles back in 1975, The Runaways were one of the most famous all-female punk acts of the era. While they never quite made it big in their native USA, the group did managed to hit the big-time overseas, where their records continuously charted high.
By 1977, the band's classic lineup of Lita Ford, Joan Jett, Cherie Currie, Sandy West, and Jackie Fox had begun to dissolve, and barely 18 months later, the group had officially disbanded.
While their legacy remains, many fans have often found themselves wondering about the circumstances behind the band's breakup. Now, Joan Jett has set the record straight, explaining exactly what went on.
In a new interview with Lars Ulrich for his Apple Music's Beats 1 It's Electric program (via Blabbermouth), Joan Jett revealed that the band's dissolution came at a period when she and Lita Ford were disagreeing with the band's future sound.
"I think really after Cherie left, after Japan, we made another what I thought was a really good album called Waitin' For The Night," Joan Jett explained. "I just think it was a natural progression."
"I think as we each grew up and were figuring out more who we were as musicians, and really the kind of music we wanted to play, it started to diverge a little bit."
"I was definitely more a straight-up punk rock, rock and roll thing," she continued. "But you know, I'm fine with hard music. It's just that I think Lita and Sandy wanted to go in that direction much more than I did."
"And the producer we were working with at the time, his name was John Alcock. And I think he was sort of perpetuating it, egging it on a little bit. But I don't know that."
Check out Joan Jett's interview with Metallica's Lars Ulrich:
"I just thought, 'I've got a bad feeling. I don't wanna get fired from a band that I started'," Joan Jett continued. "We made one more album, called And Now… The Runaways."
"But we just decided to sort of part ways. I'm sure none of us wanted to… We all got along fine, so there wasn't anything like that. It was not a personality thing. We just grew in different directions. I just thought, 'I don't wanna get fired from a band I started. Let's just part ways.'"
"We had one last show, New Year's Eve '78 into '79. It was in California. Either San Francisco or L.A. I think we had decided that was going to be it. But I'm not positive about that. If we didn't, energetically we all knew that was it."
Check out The Runaways' 'Wasted':
Back in 2012, Lita Ford did hint at the possibility of a Runaways reunion, but noted that she would be apprehensive about that notion, given the passing of drummer Sandy West back in 2006.
"She was such a huge part of the band," Ford explained, "I don't know if Joan Jett would do the band without Sandy. I would, I love Sandy and nobody will ever take her place, but there's still me and Joan and Cherie [Curie]."
However, back in November, Ford changed her tune, noting that her attempts to stage a reunion had fallen on deaf ears.
"Joan Jett is very much in Joan Jett Land I guess you could say," Ford explained to The Daily Mail. "Will she ever come out of Joan Jett Land? I don't think so. I think her manager controls that and it's really up to him and her."
In related news, Joan Jett is set to return to Australia just next week, performing for the Red Hot Summer Festival, as well as a sole headline show in Melbourne. Check out the details below!
Check out The Runaways' 'Cherry Bomb':
Joan Jett & The Blackhearts Australian Tour 2019
Wednesday, January 16th, 2019 (Sold Out)
With Cable Ties + Chiko Molls DJ's
The Corner Hotel, Melbourne, VIC
Also appearing on the Red Hot Summer Tour
Red Hot Summer Tour 2019
Featuring…
Jimmy Barnes
Joan Jett & The Blackhearts
The Living End
Diesel
Richard Clapton
Chocolate Starfish
Saturday, January 12th, 2019 (Sold Out)
Mary Ann Reserve, Mannum, SA
Sounds By The River
Sunday, January 13th, 2019
Sandalford Wines, Swan Valley, WA
Saturday, January 19th, 2019 (Sold Out)
Mornington Racecourse, Mornington, VIC
Sunday, January 20th, 2019 (New Show)
Mornington Racecourse, Mornington, VIC
Saturday, January 26th, 2019 (Sold Out)
Country Club Lawns, Launceston, TAS
Sunday, January 27th, 2019
North Gardens, Ballarat, VIC
Saturday, February 2nd, 2019
Roche Estate, Hunter Valley, NSW
Sunday, February 3rd, 2019 (Sold Out)
Bella Vista Farm, Baulkham Hills, NSW
Saturday, February 9th, 2019 (Sold Out)
Sandstone Point Hotel, Bribie Island, QLD
Sunday, February 10th, 2019 (New Show)
Sandstone Point Hotel, Bribie Island, QLD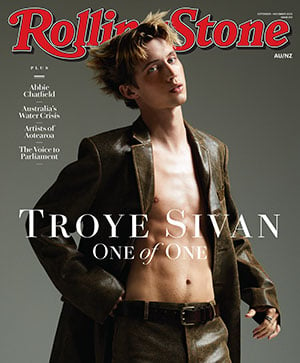 Get unlimited access to the coverage that shapes our culture.
Subscribe
to
Rolling Stone magazine
Subscribe
to
Rolling Stone magazine