The last few weeks have seen plenty of debate about which members will be featuring on AC/DC's new album, but one name that fans didn't expect to see listed as a contributing member is that of late guitarist Malcolm Young.
Throughout August, there has been much speculation in regards to whether or not AC/DC are recording a new album in Canada, and if so, whether or not former vocalist Brian Johnson and former drummer Phil Rudd are involved.
Questions were first raised in early August when Stevie Young (who replaced his uncle Malcolm Young in 2014) and Phil Rudd were spotted near the group's frequently-used Canadian recording studio.
Of course, this is rather noteworthy due to the fact that Phil Rudd had in fact left the band back in 2014 after being charged with "attempting to procure a murder".
As this information was being digested, a photo of Angus Young near the studio soon surfaced, as did an image of Brian Johnson, who had ostensibly left the group for good in 2016 after falling victim to worsening hearing loss, only to be replaced by Guns N' Roses frontman Axl Rose.
While this information is certainly driving fans into a frenzy of speculation, it appears that the rumour mill has just been kicked into overdrive with news that the late Malcolm Young will feature on the new record.
As JAM Magazine notes, a "reliable source inside the AC/DC" let slip to them that not only is AC/DC in fact laying down tracks for a new record, but Malcolm Young will be heard on all of the album's tracks.
"Angus Young is working on a new AC/DC album that will be dedicated to his brother, the late Malcolm Young," JAM Magazine noted. "Here's the exciting part… the new recordings will include Malcolm Young playing rhythm guitar on ALL TRACKS!"
"Turns out, five years prior to the Black Ice LP, AC/DC's 15th studio release, Angus and Malcolm Young lived together where they literally wrote hundreds of songs, many were recorded and have been stashed away until now."
"Angus has decided to selected the best tracks from those recordings that Malcolm played on and is now back in the studio recording and mixing them with fellow band mates Phil Rudd, Cliff Williams and yes, Brian Johnson on vocals."
Of course, while this news is definitely exciting for fans of the late guitarist, AC/DC followers are definitely still trying to work out some facts surrounding the group's current incarnation, including wether or not drummer Chris Slade is still a member of the band.
In fact, just a couple of weeks ago, Chris Slade confirmed he hadn't actually seen any of his bandmates since the end of the last touring cycle in 2016.
"It was very sad when Malcolm [Young] passed, of course — very, very sad," Slade explained to United Rock Nations. "He was a genius — an absolute genius. And the combination of him and Angus was magic — it was a magic combination. And, of course, the same with Cliff [Williams, bass]. It's sad [he left], but I understand."
"The mood, it's absolutely fine," Slade continued. "The last time time I saw the guys was at the end of the 'Rock Or Bust' tour [in September of 2016]. Yeah, everybody was fine. Malcolm hadn't passed yet, and, of course, I'm sure it hit Angus very, very hard — as with all of us, actually."
"And just before him, brother George [Young] also died, so it was a very sad time. So I think the mood is probably appropriate for those things that have happened. And as people say, time is a great healer. So you never forget them."
While Chris Slade's role in the band isn't known as yet, it's a huge day for fans of Aussie music knowing that we're set to hear Malcolm Young on another AC/DC record in the future!
Check out AC/DC's 'Highway To Hell':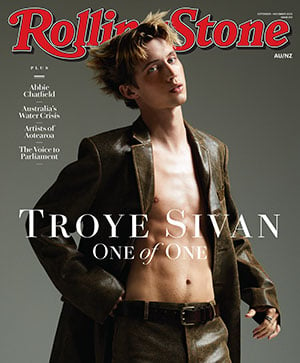 Get unlimited access to the coverage that shapes our culture.
Subscribe
to
Rolling Stone magazine
Subscribe
to
Rolling Stone magazine