Queens Of The Stone Age frontman Josh Homme has opened up about how he managed to end up in a relationship with his Aussie wife, Brody Dalle.
For the last thirteen years, QOTSA's Josh Homme has had a pretty strong Aussie connection, thanks to his marriage to the Melbourne-born Brody Dalle. However, the start of their relationship has long been one of the most intriguing in all of rock history.
Back in late 1995, a 16-year old Brody Dalle was performing at the Summersault Festival with her first band, Sourpuss. Meeting Rancid frontman Tim Armstrong at the festival, the pair struck up a close friendship despite a thirteen-year age gap, and in 1997, the pair married. Dalle soon moved over to Los Angeles, where she started The Distillers, and well and truly kicked off her path to worldwide success.
As the story goes though, following a pretty rough divorce in 2003, Brody Dalle began seeing QOTSA's Josh Homme, who she would later marry in 2005. The breakup of Brody Dale and Tim Armstrong would be noted in Rancid's dark 2003 album, Indestructible, and is said to be the reason that Rancid haven't been back to Australia since 1998.
However, ahead of their Australian tour, Josh Homme has now spoken at length about a number of topics, including how he and Brody Dalle ended up together back in the day.
"My Australian wife, Brody Dalle, can spit 30 feet and punch like a guy," Homme explained in an interview with The Brisbane Times. "She is my punk-rock dream girl. I always thought if I could go out with a chick with a mohawk who also read philosophy, I'd be winning. Brody is the real deal. She does everything the boys can do and a whole slew of things no boy ever could."
"I met Brody when she was 17 and I was 23," he recalled. "It was her first day in the US after relocating from Melbourne and I was playing guitar in the Screaming Trees. She came up to me backstage and asked if I was in Kyuss. We talked for an hour and a half and I never forgot her."
"I didn't like her ex [Rancid's Tim Armstrong], so I lied and said I had made out with her in the hope that he would find out. I didn't see her again until seven years later."
"Our bands played the Big Day Out in Australia in 2003," he concluded. "I was with someone in a casual way but had my eye out for Brody and saw her walking past. I pretended I didn't see her and tried to be cool. From that moment we clicked and it was on. We've been together ever since."
"I never thought I would get married, but I found someone I couldn't live without."
Queens of The Stone Age are set to kick off their Aussie tour in Brisbane tomorrow night. Here's hoping that the next time they come to our shores, they decide to bring The Distillers with them for one hell of a double-header.
Check out QOTSA's 'The Way You Used To Do':
Queens Of The Stone Age – Villains World Tour 2018
With special guests C.W. Stoneking and The Chats
Tuesday, August 28th
Riverstage, Brisbane, QLD (All Ages) (The Chats not appearing)
Thursday, August 30th
Entertainment Centre, Newcastle, NSW (All Ages)
Friday, August 31st
Hordern Pavilion, Sydney, NSW (All Ages) (Sold Out)
Saturday, September 1st
Hordern Pavilion, Sydney, NSW (All Ages)
Monday, September 3rd
Museum Of Old And New Art, Hobart, Tasmania
Tuesday, September 4th
Derwent Entertainment Centre, Hobart, TAS (All Ages)
Friday, September 7th
Margaret Court Arena, Melbourne, VIC (All Ages)
Saturday, September 8th
Margaret Court Arena, Melbourne, VIC (All Ages)
Sunday, September 9th
Entertainment Centre, Adelaide, SA (All Ages)
Wednesday, September 12th
Perth Arena, Perth, WA (All Ages)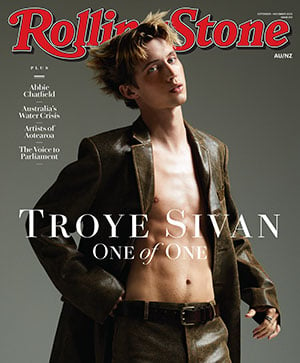 Get unlimited access to the coverage that shapes our culture.
Subscribe
to
Rolling Stone magazine
Subscribe
to
Rolling Stone magazine