Canadian heavy metal legend Devin Townsend has opened up his divisive countryman, labelling Nickelback's Chad Kroeger a "genius" in a new interview.
For almost three decades now, Devin Townsend has been at the forefront of Canada's heavy metal scene.
Performing as a solo artist, with Strapping Young Lad, and as the Devin Townsend Project to name just a few, the guitarist is a rather prolific musician who has worked with a number of big names in the industry.
However, while many would expect names like Steve Vai, Gojira, or Meshuggah to be some of the acts he'd been most excited to work with, fans would be surprised to learn that Townsend is fond of a much more contentious rocker.
Speaking to Finland's Kaaos TV recently (via Blabbermouth), Devin Townsend opened up about collaborating with Nickelback's Chad Kroeger, who appeared on his recent album, Empath.
"He sang a little harmony on 'Hear Me' and we spent a couple of days talking and spending time together and I was fascinated by his brain," Townsend explained. "I thought he was a genius."
Check out Devin Townsend's interview with Kaaos TV:
"I haven't met many of them, so to be present with someone like that was really exciting, but also confusing because I had made assumptions on his band and the nature of his work that when I met him, I recognised I was deluded in my own ways and you fall into these patterns of what other people think and jealousy and all these sorts of things."
"At the same time, they are certainly not my favourite band," Devin Townsend continued. "But what they do they do because it's what they are meant to do and the thing that I took from that experience was that's what I should be doing, too."
"By following that same process, what comes out of me is Empath, right?"
"Chad is intense, and I realised that after spending time with him why he is able to have the success that he's had because I think he's able to handle that. I couldn't do that. It's too much."
Check out Devin Townsend's 'Hear Me':
While Nickelback recently revealed they're in no rush to record their next album, bassist Mike Kroeger took the time back in February to discuss the hate the band receives on an almost constant basis.
"Initially, it kind of hurt our feelings," Kroeger explained. "I think it's safe to say anyone in the world would feel that way if people were saying negative things about you."
"I think as time has gone on, it sort of became humorous sometimes. Sometimes people try so hard to be mean, that it falls flat and I think that's the case most of the time."
"That's where you have to step back and think, 'We're obviously doing something right if someone hates us that much', and you let it go because you have better things to do," he continued.
"I don't really see a benefit to reacting to these people and being nasty back at them. When it's funny, it's funny."
Check out Nickelback's 'Feed The Machine':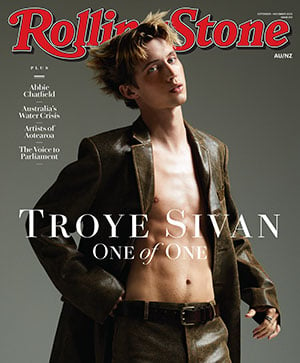 Get unlimited access to the coverage that shapes our culture.
Subscribe
to
Rolling Stone magazine
Subscribe
to
Rolling Stone magazine